The Daifuku Group has almost a century of experience in delivering systems for automotive production lines. Daifuku supplies automakers with automation and labor-saving systems that cover the entire production process from pressing, welding, painting, and assembly to part management, part supply, and engine testing. With cutting-edge distribution technologies and solutions that facilitate automotive production, Daifuku drives motorization across the globe by helping manufacturers produce vehicles for the global eco-car market and vehicles for specific domestic markets.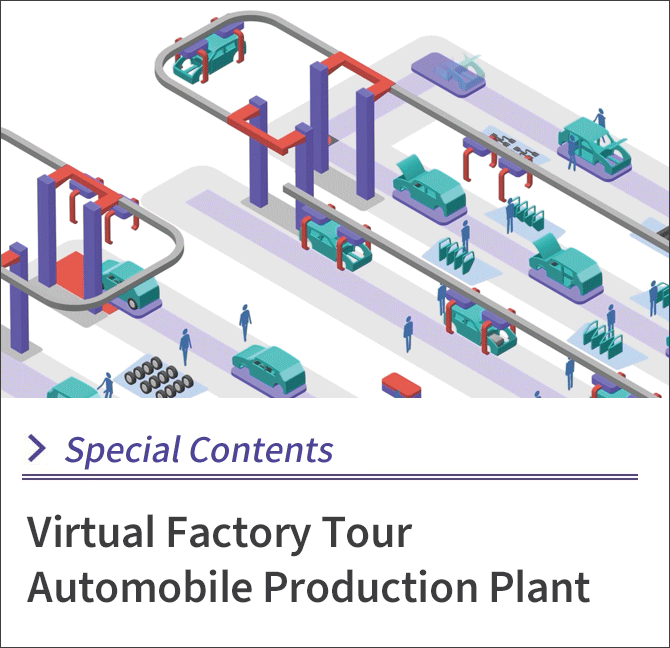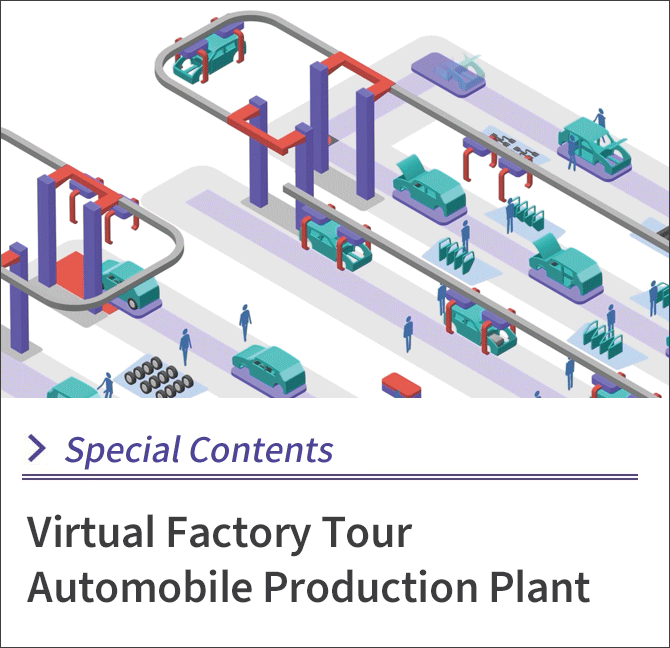 Solutions for Automotive Manufacturing
Engineering Services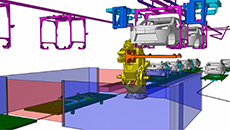 From process and facility planning to equipment procurement, Daifuku supports the production preparation operations of new factories and production line renewals in a wide range of industries, including automotive manufacturing. Through its highly efficient production process proposals, Daifuku can help you improve your work environment and ensure the production of high-quality products.
Pressing
For the pressing and plastic-molding processes, manufacturers can use Daifuku systems to transport steel, resin, and other materials, manage molded items in interim storage, and take other steps to achieve broader automation and make more effective use of labor resources. Daifuku, which boasts a solid reputation in systems for transporting and storing heavy loads, has the tools to create integrated systems that combine automatic guided vehicles, automated warehouses, and other material handling systems.
Welding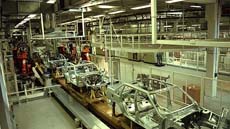 One of the first processes that manufacturers started automating was the welding process, a series of tasks where noise, weld spatter, and dust create some of the harshest work conditions on the production line. To facilitate this process, mass-production plants use welding robots capable of finishing a single vehicle in under a minute. For this reason, transport systems need to move extremely quickly and maintain excellent stopping accuracy.
Painting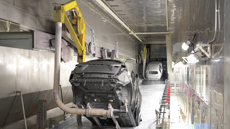 The painting process consumes considerable amounts of resources: all the paint, water, electricity, and gas used in the first, middle, and finish coating as well as in baking add up quickly. Many manufacturers are taking steps to save energy in a variety of ways. Daifuku provides systems that ensure better energy performance and productivity without sacrificing the coating quality.
Assembly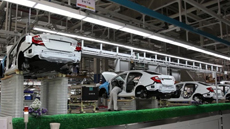 While automation is now redefining most phases of automotive production, the assembly process—a phase that involves selecting and mounting parts for specific models—still relies heavily on manual labor. Transport systems minimize unnecessary movement, provide a safe and user-friendly environment that alleviates workloads, and ensure flexible compatibility with layout modifications when users introduce new models and take steps to boost efficiency.
Engine Testing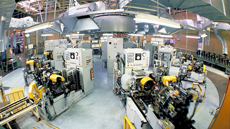 The engine testing process involves evaluating the quality of the engine—the "heart" of the vehicle—through trial operations and meticulous inspections. Daifuku uses its expertise in transport technology to provide comprehensive systems that cover transfers from production lines, test preparation, and data measurements.
Inspection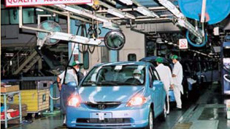 Once all the parts have been assembled, the completed vehicle moves on to the inspection process for a series of rigorous checks. Companies use slat conveyors and other conveyor systems to move products through a inspection-specific environment, where workers check to make sure that the vehicles are airtight to keep out rain and other substances, painted evenly, and free of any scratches.
Parts Logistics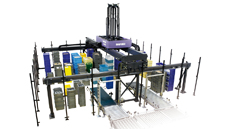 To improve productivity at their plants, automakers need parts logistics systems that make it possible to accept, store, sort, and retrieve parts according to production plans. Daifuku fuses its experience in automotive production and its systemization technologies to sustain a steady stream of new, innovative solutions, including the world's first temporary storage and sorting system.
Contact Us
For product inquiries, please reach out to us via our Contact Us page.
Contact Us
Contact Us
For product inquiries, please reach out to us via our Contact Us page.
Contact Us(English)