Basic Approach
At our Shiga Works, each and every employee has developed an awareness of coexistence with the natural environment through working in an environment surrounded by abundant greenery. The Yui Project, a biodiversity preservation program launched in 2014, aims to create three bonds (yui) that connect "water and greenery, nature and people, and people and people" so that the vast natural environment on the 1.2 million square meter site of the Shiga Works can be preserved; and, to this end, we are working to protect the rare species that have been identified on the site. Looking ahead, we will expand the scope of these activities throughout the Group and deepen our commitment to biodiversity and natural capital.
Major Initiatives
The relationship between Daifuku and biodiversity
In order to clarify the relationship between business activities and ecosystems, Daifuku has mapped the interaction of product processes, land use, and other ecosystem aspects. Based on this map, Daifuku notes the impact on ecosystems by the land use at the Shiga Works, which is endowed with nature, and is conducting business activities that take biodiversity into account.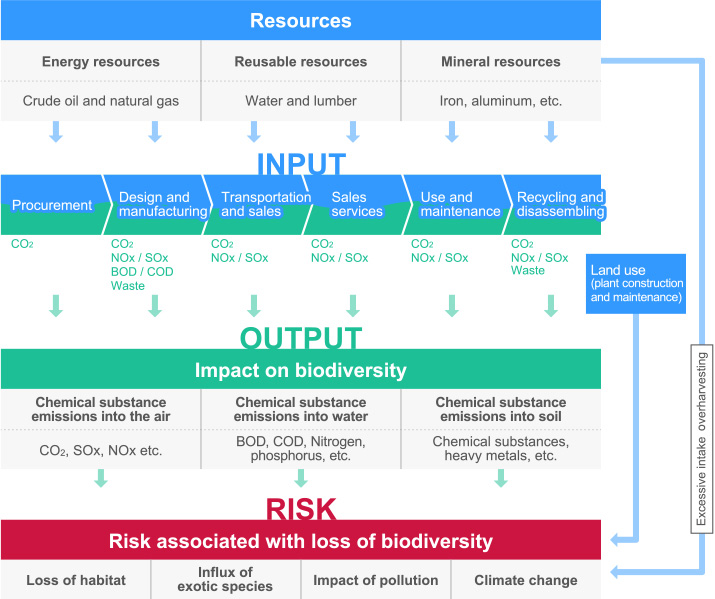 Conservation activities at Shiga Works
In terms of site area, the Shiga Works is one of the largest land users in Shiga Prefecture. A survey of ecosystems within Shiga Works confirmed more than 700 native species, and over 50 rare and endangered species. In order to preserve this precious natural environment for subsequent generations, we have established a biodiversity preservation activity called the Yui Project* to promote communication both within and outside the company, and we are pursuing various conservation initiatives.
*

Yui means to "bring together," and the project refers to various activities to bring together "water with greenery, people with nature, and people to people."
Results of ecosystems survey(rare and endangered species)
We are currently conducting an ecological survey for the redevelopment of the Shiga Works, and we plan to disclose the latest survey results by the end of fiscal 2022.
(As of July 2020)
Classification
Species
Type
Birds
Falcated duck, little grebe, little ringed plover, Eurasian sparrowhawk, buzzard, red-rumped swallow, olive-backed pipit, Eurasian bullfinch, peregrine falcon, etc.
27
Amphibians
Clouded salamander, Japanese brown frog, leopard frog, schlegel's green tree frog
4
Reptiles and mammals
Japanese pond turtle, harvest mouse
2
Insects
Asiagomphus pryeri(dragonfly), trigomphus interruptus(dragonfly), trigomphus ogumai(dragonfly), epitheca marginata(dragonfly), spring cicada, polyrhachis lamellidens, gynacantha japonica, libellula quadrimaculata asahinai, sympetrum baccha matutinum, hydrochara affinis, Yellow Dater dragonfly
11
Fish
Gin-buna, dark sleeper
2
Plants
Stalked adder's tongue fern, early amythesy(beautyberry), yellow bladderwort, platycodon, atractylodes japonica, agrostis valvata, golden orchid
7
Total
53
Yui no Mori
As part of a biodiversity preservation activity called the Yui Project, which started at Shiga Works in 2014, we set up the Yui no Mori(Mori = forest; comprised of a conservation pond, learning square, etc.). We engaged in biodiversity conservation activities for a region-specific red pine forest, the rare Yamato salamanders and other species. The project also serves as a learning environment inside and outside the company. In fiscal 2021, we removed withered pine trees and laid woodchips along the Yui no Mori forest roadside.
Breeding of Yamato salamanders in conservation ponds (artificial ponds)
We are working to preserve the endangered Yamato salamander. To ensure a secure habitat, a conservation pond was constructed in 2014, and we have continued to transfer larvae and eggs that inhabit the premises. In 2021, we confirmed the first spawning and hatching to have occurred in the conservation pond.
Creating opportunities for interacting with nature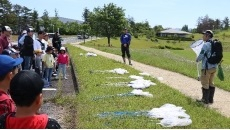 At the Shiga Works, we hold nature observation events with experts, so that employees have opportunities to interact with the many plants and animals that inhabit the surrounding area, as well as Christmas wreath-making and moss ball making events using natural materials at the Works. These events were cancelled in fiscal 2021 to prevent the spread of COVID-19.
Initiatives outside the Company
Participating in the Shiga Green-activity Network's biodiversity and CSR research association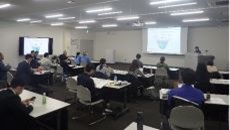 Daifuku is a founding member of a research association established in 2015 that looks into biodiversity, the environment and CSR. The association, which was formed as part of the Shiga Green-activity Network, of which Daifuku is also a member, plans and holds seminars and other events for members intended to facilitate learning about biodiversity, create opportunities to learn about the latest CSR trends centered on the field of biodiversity, and encourage communication between association members.
Participating in the Biodiversity Biwako Network's dragonfly conservation efforts through corporate collaboration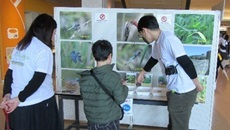 In 2016, the seven neighboring companies* of the Shiga Works launched the Biodiversity Biwako Network, which is engaged in biodiversity conservation activities using the 100 dragonfly species confirmed in the prefecture as indicators. The project, entitled Operation Dragonfly 100: Save Shiga's Dragonflies, has three strategies: search for the 100 dragonfly species in Shiga Prefecture, protect them, and educate the public about them. We are also engaged in regular monitoring at the company site, maintenance of biotopes and extermination of invasive alien species, nature observation meetings, exhibitions and presentations of our activities, as well as understanding of the current state of nature in the surrounding area.
*

Asahi Kasei Corporation, Asahi Kasei Juko Co., Ltd., OMRON Corporation, Sekisui Chemical Co., Ltd., Sekisui Jushi Corporation, Daihatsu Motor Co., Ltd., and Daifuku Co., Ltd.