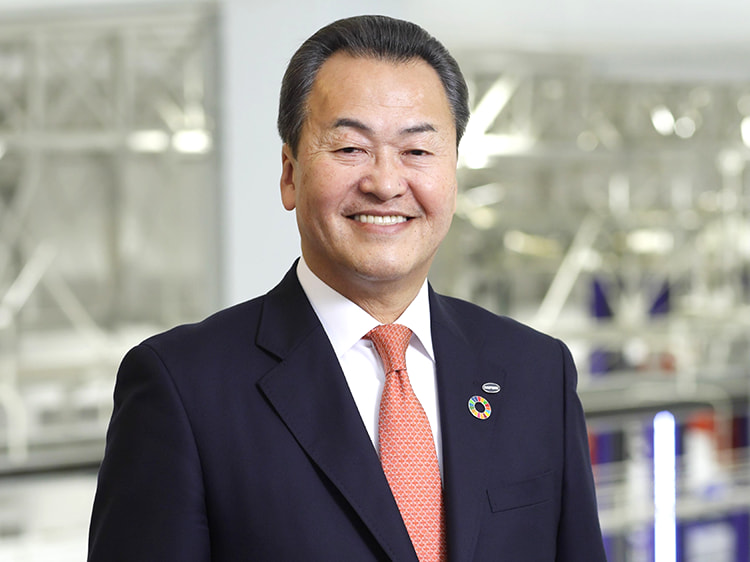 We are committed to helping create a sustainable society through our business
in line with our management philosophy,
"Automation that Inspires."
Based on our management philosophy, "Automation that Inspires," the Daifuku Group aims to create a society in which people can live healthy and fulfilling lives through the material handling technology that we have cultivated over the years, such as storage, transport, and sorting and picking.
Recently, the material handling systems that we provide have been recognized as essential social infrastructures that not only support logistics, but also contribute to labor shortages and productivity improvements, and there are growing expectations for further development of these systems. In this environment, in order for the Group to achieve sustainable growth in the future, we must transform the value we provide to customers and other stakeholders and further strengthen the management foundation that supports our business. With this awareness, we have situated Value Transformation 2023, our three-year business plan launched in April 2021, and the Sustainability Action Plan as the two cornerstones of our management strategy, and we are committed to addressing various issues related to SDGs (Sustainable Development Goals) and ESG (Environment, Society, and Governance).
The Sustainability Committee, which I chair, facilitates discussions on social issues related to the environment, human rights, and other topics with the aim of resolving these issues throughout the entire supply chain. As part of these efforts, we revised the Daifuku Environmental Vision 2050 in May 2023 to expand our focus areas and raise our environmental targets for 2030. To satisfy society's demand for higher standards in addressing climate change and other global environmental crises, we will not only reduce our own environmental impact, but also strengthen ties with our customers and suppliers to an even greater extent than before.
In order to continue to be a company that is both trusted by and essential to society, we at the Group aim to achieve further growth through flexible and creative ideas that defy convention and the ability to reform existing frameworks. We will continue to remain united in our efforts to meet the challenges of the future.
Hiroshi Geshiro
President and CEO
August 2023