Dongfeng Honda Automobile Co., Ltd.
State-of-the-art plant expands production capacity, driving advanced manufacturing and environmental friendliness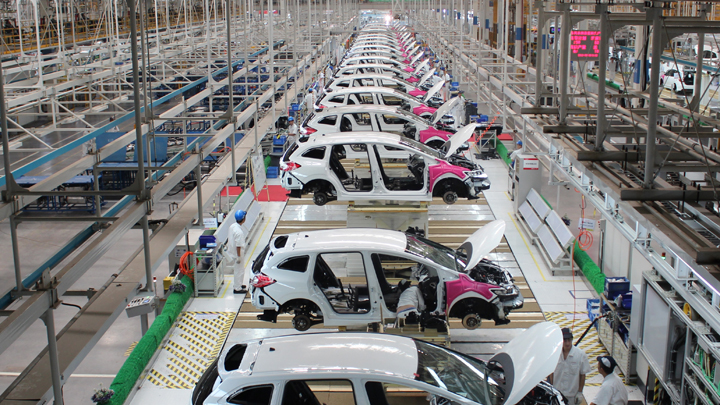 Headquartered in Wuhan, China, Dongfeng Honda Automobile Co., Ltd. is a joint venture with Honda Motor Co., Ltd. for the production and sale of four-wheeled vehicles in China. In 2012, the company commenced operations at its newly opened second plant in Wuhan, which was built to increase production capacity. Using state-of-the-art systems and processes, such as the FALS (Flexible Assembly Leveling System), which is a full pallet conveyor system that allows for adjustments of the car platform (chassis) on the production line; and "set-pack trollies" to supply parts to the line, has enabled Honda to achieve its goal of building a human-friendly and highly efficient plant.
Assembly line with adjustable transport height and integrated transport of parts
The second plant is located approximately 4 km northeast of the first plant and conducts the following processes: pressing, welding, painting, synthetic resin, engine assembly, vehicle assembly, and inspection of completed vehicles. For each process, Dongfeng Honda introduced a range of advanced production technologies and systems required for a state-of-the-art plant by using the installations in its first plant and other Honda production bases in Japan as models. This effort enabled the facility to achieve not only greater productivity but also higher quality.
The FALS adopted for the assembly line can raise and lower the vehicle body to a height that is comfortable for workers in each process, which is a function that conventional overhead type transport systems do not offer. This eliminates the need for workers to bend over or stretch, greatly reducing burdens on the body. In addition, the FALS is also effective in improving accuracy in the assembly of engines and other large components. Further, since the FALS can accommodate and transport doors under the pallet, the doors can be automatically pulled out at the designated process. This greatly simplifies the layout by reducing the number of dedicated door transfer lines that a conventional system would require.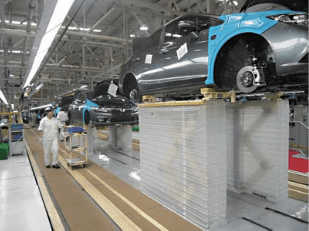 For the supply of parts to the production line, the small and medium parts required for each car to be assembled are placed on a special cart – "set-pack trollies" - in advance and transported together with the car body. Known as "set-pack supply" within Honda, this method, which is also used in the engine assembly line, removes much of the need for parts supply from the line, thus improving the work environment and efficiency.
View Case Study List
Contact Us
For product inquiries, please reach out to us via our Contact Us page.
Contact Us
Contact Us
For product inquiries, please reach out to us via our Contact Us page.
Contact Us(English)
Contact Us
For product inquiries, please reach out to us via our Contact Us page.
Contact Us(English)