Basic Approach
As we develop our business in various regions around the world, it is essential for us to respect, recognize, and make the most of diversity in terms of race, creed, gender, religion, nationality, political opinion, disabilities, and other factors so that we can create new value and achieve sustainable growth. Enhancing the capabilities of each individual and demonstrating our strength as an organization will help us gain further trust from society, our customers, and other stakeholders.
Group Code of Conduct (extract)
5-2. Realize the potential of each employee
We will respect the diversity of individuals and create an environment in which each employee can demonstrate his or her full potential.
We will strive to fairly provide opportunities for employee development as needed and as appropriate.
We will strive to expand ourselves and each other's abilities and demonstrate our full potential.
Promotion System
The Human Resources and General Affairs Division is playing a central role in developing diversity-related systems and frameworks so that every one of our employees, with their diverse abilities and values, can maximize their potential. In addition, to facilitate employment of people with disabilities at Shiga Works, our production site, we have established a department dedicated to expanding job opportunities for people with disabilities.
Major Initiatives
Promotion of women's advancement
We recognize that the current challenges to women's advancement include: (1) the training of female managers is inadequate; (2) although there is no significant difference in the average length of service between men and women, the percentage of women hired 10 years ago who continue to work is lower than that of men; and (3) the number of female employees hired is not sufficient. We are working to expand job opportunities and improve the employment environment so that women can play more active roles.
Achieving the target number of female managers
In December 2021, we revised upward the target for the number of female managers set in the Plan of Action for General Employers pursuant to the Act on the Promotion of Women's Participation and Advancement in the Workplace, and are further strengthening our efforts to promote women to management positions. Every year, we conduct a Diversity and Work-Life Management Advancement Program and Female Employee Development Session as part of the training of newly appointed managers, and we have created an environment to foster female managers by setting special recommendation slots for women in the New Business Leader Program for the purpose of cultivating executive candidates. These initiatives are intended to increase the base of female management candidates by making employees aware of career paths to management positions and providing them with opportunities to improve their skills.
Developing an environment to promote work-life balance
We carry out surveys and analyze employee needs and reasons for leaving the Company, and consider and implement specific measures to address these needs with the aim of creating an environment in which employees can easily balance their personal and professional lives even through life stage transitions and major life events. In fiscal 2021, we introduced a remote work system to support flexible and diverse work styles. In addition, we hold seminars for supervisors of employees returning to work after childcare leave or working shorter hours at their workplaces.
Number of female managers
KPI
| | FY2019 | FY2020 | FY2021 |
| --- | --- | --- | --- |
| Number of female managers* | 17 people | 18 people | 20 people |
*

The number of female employees in managerial positions is calculated based on the people who are the equivalent to section manager or higher.
Employment of persons with disabilities
We are working to expand job opportunities for people with disabilities at our main locations: Osaka Head Office, Tokyo Head Office, Komaki Works, and Shiga Works. The employment rate of people with disabilities in fiscal 2021 was 2.54%, compared to the legally mandated rate of 2.3%. (2.48% for June 2022) In the future, we will continue to focus on initiatives tailored to the circumstances of each business location to help achieve an inclusive society.
Employment rate of people with disabilities
KPI
| | FY2019 | FY2020 | FY2021 |
| --- | --- | --- | --- |
| Employment rate of people with disabilities* | 2.17% | 2.49% | 2.54% |
Activities of employees with disabilities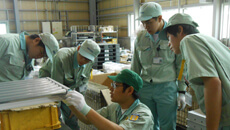 Roller assembly guidance
The Business Service Group, which belongs to the Shiga Works, regularly recruits people with disabilities in cooperation with the Public Employment Security Office, employment advisors, and school personnel, etc. We have established our own training programs to develop human resources so that each individual can demonstrate his or her capabilities and continue to work in a rewarding way. By assessing aptitude through practical training over a period of about five years after entering the Company, and by improving job skills in stages, we generate human resources who can play an active role in manufacturing and other fields in each of our business units.
Further, since 2019, we have been developing a rewarding work environment for employees with disabilities at the Work Happiness Farm in Kasugai City, Aichi Prefecture.
Male employees taking childcare leave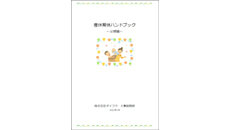 For male employees taking childcare leave, a video explaining the system and a handbook on maternity and childcare leave (fathers' version) have been created and made available on our internal network. In addition, the Workstyle Reform Committee also promotes the taking of childcare leave for men from the members of each business unit.
Paternity leave acquisition rate
KPI
| | FY2019 | FY2020 | FY2021 |
| --- | --- | --- | --- |
| Paternity leave acquisition rate | 2.4% | 3.7% | 8.7% |
Promotion of activities of senior workers
We shifted from a reemployment system, where motivated employees past the age of 60 could only continue working under a special contract, to a system that allows employees to remain regular employees until age 65. The change aims to support highly motivated senior employees and help to pass on techniques and skills to the next generation. In line with this, the compensation level after age 60 has been revised, and the regular employee benefit plans can continue to be applied up to age 65. In fiscal 2021, a seminar was held for employees who will reach the age of 60 during fiscal 2022, and in addition to an explanation of the senior employee system, a work session was held for employees to consider their own life cycle plans.
Diversity training
We hold training sessions on the theme of diversity, and videos of these sessions are distributed on our internal network the Sustainability Site to encourage employee awareness and understanding.
Related Data
Total number of employees by region (as of March 31, 2022)
Employee data (Daifuku Co., Ltd.)
FY2019
FY2020
FY2021
Regular employees
Male
2,580
2,660
2,800
Female
348
382
402
Total
2,928
3,042
3,202
Non-regular employees
Male
303
304
295
Female
162
140
136
Total
465
444
431
Average age
Male
41.4
42.7
40.9
Female
41.3
42.8
41.6
Total
41.4
42.7
41.0
Average years of service
Male
15.4
16.4
15.2
Female
14.6
13.0
14.4
Total
15.3
16.0
15.1