Preventive Service
Periodical Inspection Service
Regular maintenance is essential to ensure the long and stable performance of your material handling equipment. From our offices around the world, Daifuku provides regular inspection and maintenance programs tailored to the customer's system configuration and frequency of operation. To ensure that your material handling system is up and running, we recommend that you sign up for our periodic maintenance service.
Automated Warehouse (AS/RS)
Stacker cranes are the heart of an automated warehouse system and require regular inspection and maintenance. In some countries, inspections are required by law and records of these inspections must be kept for a certain period. Daifuku offers optimal inspection services tailored to your local regulations, operating frequency and budget.
Example
Operation rate
Jan
Feb
Mar
Apr
May
Jun
Jul
Aug
Sep
Oct
Nov
Dec
8 hours/day
80% rate
C
C
C
C
C
C
C
C
24 hours/day
80% rate

: Inspection by Daifuku, C: Self-check by customer
Other material handling equipment
For material handling equipment other than stacker cranes, such as conveyors, sorters, STVs, robots, picking equipment, etc., we recommend that customers carry out self-inspections on a specified cycle for each model. We also offer an inspection service by our technicians. We can offer an inspection plan according to the model, operation frequency and budget.
Computers & Controllers
Our technicians carry out regular inspections of WMS and control equipment, which are critical elements of material handling system. We can also offer assistance for computer renewals following the end of manufacturer's maintenance or the change of OS generation.
Mobile Pallet Racking
We recommend an annual inspection by our technician and a semi-annual self-inspection by the customer.

: Inspection by Daifuku, C: Self-check by customer
Spare Parts Sales
Daifuku owns the spare parts centre at the Shiga Works, where a large number of maintenance parts are always available for immediate response. Daifuku's service offices and spare parts center around the world also stock the most frequently used parts for quick recovery.
In the event of a sudden failure, however, the facility may be shut down until the necessary parts are delivered to the customer site. Daifuku recommends our customers to own spare parts on site to reduce the recovery time in the event of a failure. Having spare parts is also effective in preventing failures, as parts that show signs of malfunction can be replaced immediately during regular inspections.
We are ready to provide a list of recommended spare parts, which we rank according to the importance of the part, the lead time and budget.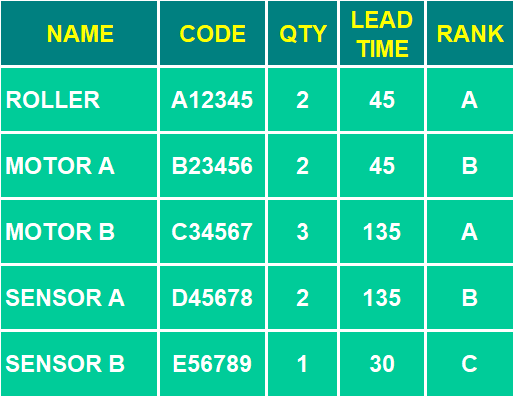 Contact Us
For product inquiries, please reach out to us via our Contact Us page.
Contact Us
Contact Us
For product inquiries, please reach out to us via our Contact Us page.
Contact Us(English)