Message from the Sustainability Officer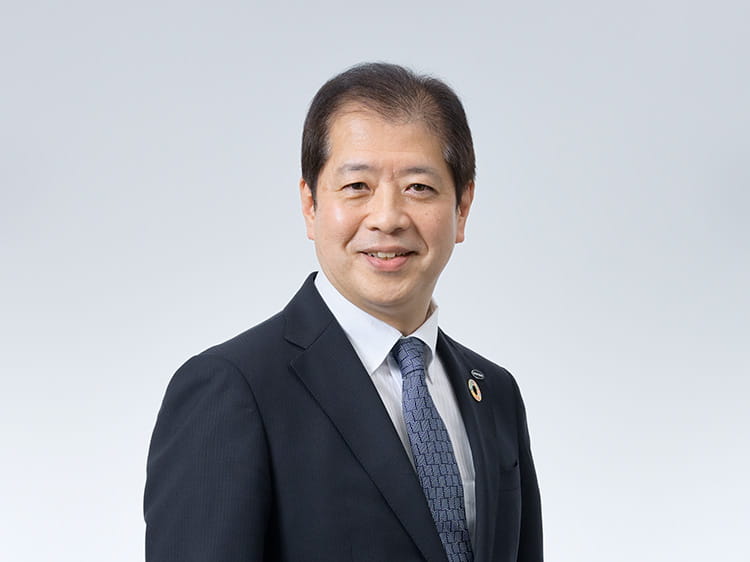 We are furthering initiatives across the Daifuku Group to match changes in social needs.
Aspiring to be a company continuously needed by market and by society
Global environmental issues such as climate change, human rights concerns, and many other social issues are emerging as increasingly serious problems. Consequently, society has very high expectations of the actions companies are taking towards resolving these issues. Businesses are expected not only to seek profits but also to take environmental, social, and governance (ESG) actions and strive to achieve the Sustainable Development Goals (SDGs). I feel that companies failing to meet these demands will be unable to survive.
The Daifuku Group aspires to remain a company trusted and needed by society through increasing its customers' competitive advantage with its core competence of automated material handling technology while simultaneously making sure its solutions are based on consideration to people, the environment, and resolving social issues. For this purpose, it is vital to retain and improve intangible assets, such as technologies, expertise, personnel, and corporate culture. I understand that my duties are to learn about what impacts social issues have on the Group's business capital and what changes there are in social demands. I will then incorporate them into management policies and strategies in collaboration with Daifuku's business units and share the viewpoint of sustainability across the Group.
Our new management philosophy following the October 2021 revision points to a policy of being needed by the market, gaining the trust of society, and enriching business capital with the use of automated material handling technology. I believe that the Group can achieve continuous growth when all of its officers and employees share a vision and move in the same direction even as the surrounding environment changes.
Activities of the Sustainability Committee
To create a sustainable society through business, the Group has identified 18 material issues (materiality). We have been executing the Sustainability Action Plan, which is a three-year action plan for addressing these problems. This plan and the three-year business plan kicked off in April 2021 are the cornerstones of our management strategy. Chaired by the CEO, the Sustainability Committee manages our progress. For the initial fiscal year, namely fiscal 2021, results were roughly in line with the targets. They are regarded as a product of efforts made by individual employees in the Group. We put particular emphasis on environmental and human rights issues, and formed separate subcommittees for addressing these issues under the Sustainable Committee in fiscal 2021. Our business units and Corporate Functions are working hand-in-hand in this respect.
With regard to the environment, we unveiled the Daifuku Environmental Vision 2050* in February 2021, concurrently with the ongoing three-year business plan, which aims for a world where our material handling systems have zero environmental impact in 2050. It also defines two crucial issue areas: Climate change and energy, and resource recycling. In each of these areas, we set a target for 2030. Our CO2 emissions largely come from energy consumed at the time of product operation and from our suppliers. We therefore are focusing our efforts on energy conservation measures through the development of environmentally friendly products and the optimization of the operations of the overall system, as well as through requests to major suppliers to reduce their CO2 emissions. We are thus working towards realizing our vision. Meanwhile, social demands for climate change and energy are now significantly different from what they were at the time we adopted the vision. I think we should consider changing it into a more challenging goal.
To address human rights issues throughout the entire supply chain, we are striving to develop a mechanism of human rights due diligence in accordance with the Daifuku Group Human Rights Policy established in October 2021. From fiscal 2022 to fiscal 2023, we will identify and evaluate latent and actual risks of negative impacts on human rights arising from our overall business activities worldwide. We will then introduce measures that tackle the problems.
*

In order to meet the demands of society at a higher standard, the Daifuku Environmental Vision 2050 was revised in May 2023. Please refer to the website below for the revised content.
Daifuku Environmental Vision 2050
Continuously strengthening our business foundations
We are aware of the importance of bolstering the business foundations that support our business activities. Aiming to strengthen the management system and facilitate quick decision-making and sound risk-taking, we launched the Risk Management Committee chaired by the CEO in April 2022. The Committee will carry out Groupwide control of material risks that may impede the achievement of the Group's management goals. We will respond to changes in business circumstances, take actions to strengthen the governance of non-Japan subsidiaries, better prepare for reputational risks arising from the widespread use of social media, as well as for large-scale natural disasters.
In addition, we set up the Information Security Committee in 2004. The Committee is working to maintain and improve information security across the Group. Since fiscal 2022, it has been chaired by the CEO and comprises the heads of business units and presidents of subsidiaries, among others. Information security efforts are handled by leaders at the managerial level, and information security representatives will be appointed in each business unit and subsidiary. We will also step up efforts at project sites.
Actions for enhancing human capital
Enhancing human capital across the Group is indispensable to its continued growth. Amid the ongoing globalization of business, we need to address the questions of how we should manage our human resources, including those of non-Japan subsidiaries, and how we should share and develop our long-established, open-minded corporate culture and the values we cherish.
Since fiscal 2021, we have been working to determine the competencies—namely, the behavioral traits and attitudes—expected from the Group's staff, to clearly specify key positions and to prepare for the systematic development of successors so as to construct foundations for personnel management throughout the Group. We will use these competencies as the basis of staff evaluation and development in the future. We will also conduct Groupwide personnel development measures such as staff transfers and exchanges between business units.
Also in fiscal 2021, we carried out an engagement survey of employees of Japan-based Group companies, focusing on the two aspects of job satisfaction and employee-friendliness. The survey revealed that our strengths lay in our customer orientation and confidence in management, while our weaknesses were in collaboration among organizations and support for the career development of individual employees. In response, we will combine companywide measures with activities for improvement in separate business units with a view to enhancing staff engagement. Going forward, we will expand the scope of engagement surveys to non-Japan subsidiaries to forge a sense of unity throughout the entire Group.
To stakeholders
The Group will follow its management philosophy of "Automation that Inspires." We will seek to create economic value as well as social and environmental value with our automated material handling technology, and in doing so will contribute to the building of a sustainable society. To be a company needed by stakeholders in the future, we will strive to fulfill the targets set in the three-year business plan and in the Sustainability Action Plan without fail, and will continuously enhance our efforts.
Hideaki Takubo
Managing Officer
Corporate Functions Head
August 2022