Painted vehicle body storage and sequencing AS/RS system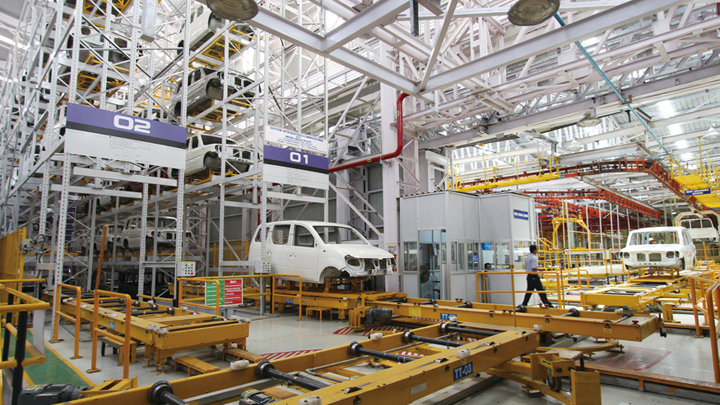 Indian automobile manufacturer Mahindra & Mahindra Ltd. (M&M; headquartered in Mumbai, Maharashtra) manufactures sport utility vehicles (SUV) and light commercial vehicles (LCV) and other vehicles. In June 2013, M&M introduced a unitload AS/RS as a painted vehicle body buffer system at Nashik Plant. The buffer system stores painted vehicle bodies temporarily and sequences them by retrieving in assembly order so that various types of vehicles can be assembled in one line. The buffer system enhances productivity in supplying vehicle bodies to the assembly line and drastically shortens cycle time in production. In addition, assembly parts, which were previously dispersed throughout the facility, are consolidated into one location next to the assembly line in the now open space created by installing the AS/RS.
History of Mahindra & Mahindra
M&M, a core company of the conglomerate Mahindra Group, was founded in 1945 as Mahindra & Mohamed, a steel trading company. In 1947, Mahindra & Mohamed changed its name to the current Mahindra & Mahinda and entered the automotive manufacturing business when they started the licensed production of the Jeep.
Now, M&M operates six plants in India. The Nashik plant, which began operations in 1980, produces five types of vehicles, including main models Scorpio and Xylo, with an annual production capacity of 200,000 vehicles.
Adjusting the shift difference between the paint line and the assembly line
A buffer system acts as the core function in adjusting the difference between the three shift paint line and the two shift assembly line.
The previous buffer system consisted of conveyors that stored vehicle bodies and retrieved them according to order instructions from the assembly line. Supplying a vehicle body to the assembly line took up to 30 minutes. In addition, the previous system took too much space. To addresses these problems, a new buffer system using an AS/RS was introduced.
Retrieval time drastically shortened to as low as 2 min. vs. original 30 min.
The new buffer system drastically shortens retrieval time from 30 minutes to two minutes. This made manufacturing cycle times shorter and also saved floor space by utilizing vertical storage, keeping almost the same storage capacity as the previous system.
Moreover, fixed racks to store assembly parts were placed in the vacated space next to the assembly line, having previously been dispersed throughout the facility, reducing picking time to supply parts more speedily.
View Case Study List
Contact Us
For product inquiries, please reach out to us via our Contact Us page.
Contact Us
Contact Us
For product inquiries, please reach out to us via our Contact Us page.
Contact Us(English)
Contact Us
For product inquiries, please reach out to us via our Contact Us page.
Contact Us(English)