Basic Approach
Numerous people on the planet today are suffering from human rights violations (the inborn right of human beings to live as human beings). The Daifuku Group—a company active around the world—sees respecting human rights as a serious responsibility that must be met. The Group respects the Universal Declaration of Human Rights*and other international standards, supports the ten principles of the United Nations Global Compact, and respects the human rights of its employees and all stakeholders in its supply chain.
*

Declaration adopted in 1948 by the UN General Assembly (in Paris) recognizing that all humans are born with basic human rights
Group Code of Conduct (extract)
5-1. Respect for human rights
We will respect the human rights of employees and all other individuals involved in our business activities.
We will prohibit discrimination or disadvantageous treatment based on race, creed, gender, religion, nationality, political opinion, disability or any other protected classification.
We will not permit child labor or forced labor.
We will not excuse any form of harassment.
Daifuku Group Human Rights Policy
In October 2021, we formulated the Daifuku Group Human Rights Policy, which was created in accordance with the United Nations Guiding Principles on Business and Human Rights. The Group has always been committed to respecting human rights in its Group Code of Conduct under its company creed, "Hini Arata," and has worked to create an environment in which each and every employee can maximize their potential. We recognize that respect for human rights is one of the most important responsibilities for the sustainable growth of its business and organization, and will continue to contribute to the realization of a sustainable society through the understanding and implementation of this policy by its employees and business partners.
Promotion System
The Sustainability Committee is an advisory body to the Board of Directors and is chaired by the CEO with the heads of each business unit as members. Under its auspices, the Human Rights and Supply Chain Subcommittee has been set up and comprises appointees from across multiple departments, including Procurement, Human Resources and General Affairs, Legal Affairs, and Sustainability Promotion, and this Subcommittee manages the creation and administration of a human rights due diligence system. It reports on crucial matters to the Board of Directors.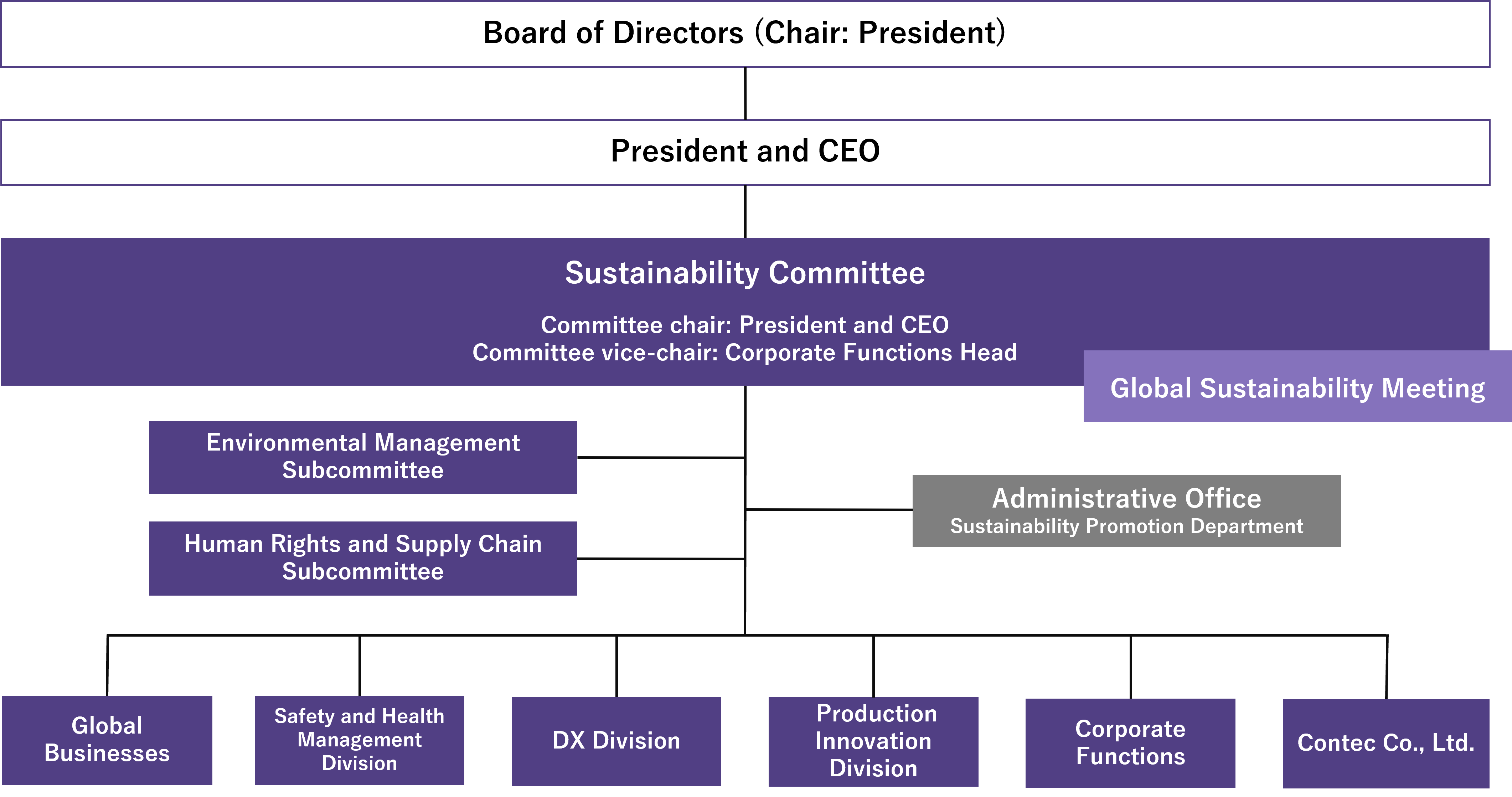 Major Initiatives
Initiatives towards human rights due diligence
Since fiscal 2022, we have been working on building and operating a system to identify, analyze, and evaluate negative impacts on human rights related to our overall business activities, including our supply chain, and to correct, mitigate, and prevent such impacts, as well as risk assessment for the ongoing implementation of human rights due diligence.
In fiscal 2022, for the first initiative of human rights due diligence, we conducted a Human Rights Risk Assessment (potential risk assessment) to evaluate the negative impact on human rights and identify human rights issues. From these results, we identified domestic foreign workers in the supply chain including contractors and workers at raw material suppliers as high-priority human rights issues to be addressed by the Group.
The risk assessment was conducted with the advice of external experts (the NPO Caux Round Table [CRT] Japan) to evaluate potential risks as human rights due diligence in line with the UN Guiding Principles (UNGPs) on Business and Human Rights. Specifically, we identified priority issues by uncovering the relevant value chains and impacted rights holders based on an internal questionnaire conducted in fiscal 2021, surveying high-risk countries within the Group's business activities using Verisk Maplecroft's human rights risk database, and conducting internal workshops and interviews with local subsidiaries in high-risk areas. In the future, we will conduct interviews within our supply chain and take appropriate and effective remedial measures when negative human rights impacts or facilitating factors come to light.
To enhance the effectiveness of these activities, we participate in various initiatives, such as the Human Rights Due Diligence (HRDD) subcommittee organized by the Global Compact Network Japan (GCNJ) and the Stakeholder Engagement Programme organized by the CRT, to deepen our understanding of industry-specific human rights issues and apply this understanding to our efforts to respect human rights.

2022 Human Rights Due Diligence Workshop (Stakeholder Engagement Programme)
Human rights due diligence schedule (tentative)
FY2022

Global: Latent risk assessment
Japan: Manifest risk assessment
Japan: Addressing human rights issues

FY2023

Outside of Japan: Manifest risk assessment
Outside of Japan: Addressing human rights issues
Respecting human rights in the supply chain
We have established our own CSR Procurement Standards, which incorporate not only safety, quality, cost, and delivery time, but also compliance, human rights, and other factors, and we cooperate with our suppliers to promote sustainability initiatives throughout the entire supply chain. We will continue to identify and assess adverse human rights impacts related to our overall business activities, including our supply chain, and promote human rights due diligence to correct, mitigate, and prevent such impacts, with a commitment to continuously implement and improve these efforts.
Personnel Consultation Office
We have established the confidentiality-guaranteed Personnel Consultation Office to handle consultation regarding personnel systems, evaluations and benefits, workplace environment, working hours, harassment, health management, etc. Our consultants receive regular training from externally trained instructors to ensure that they can appropriately respond to a wide range of consultations, and they work to improve their listening skills through group work and role-playing based on specific cases.
Human rights education and awareness
In October 2021, the Daifuku Group Human Rights Policy was formulated at the same time as the revision of our Management Philosophy, and a briefing session was held for Group companies both inside and outside Japan. During the meeting, the CEO spoke regarding the human rights policy, and our Group's commitment to respecting human rights of all of our stakeholders who may be impacted by the Group's business operations.
Lectures and workshops on human rights are given at training programs for new hires, mid-career employees, and mid-level employees. Moreover, we hold seminars by experts and make their videos available on our internal network to improve the understanding of our employees. In fiscal 2021, three harassment-prevention seminars were held for managers of Japan-based groups.
Preventing child labor and forced labor
We will not permit child labor or forced labor. To prevent child labor and forced labor, we will comply with the laws and regulations of each country and region at each of our business locations, and we will conduct regular monitoring through human rights due diligence. When hiring personnel, we verify their age through application documents (including residence cards for foreign workers), and indicate working conditions and confirm their willingness to work before they join the Company. Furthermore, we have established a whistleblowing system that allows employees to report any violation of laws and regulations, including human rights violations, or any potential violation of internal regulations.
Compliance with Modern Slavery Act
In response to the Modern Slavery Act 2015 of the UK, the Group has published an Anti Slavery Statement 2022 on our UK website.