Sustainability Management
Basic Approach
The Daifuku Group aims to achieve a sustainable society and enhance corporate value in accordance with the Group Code of Conduct, based on the company creed, "Hini Arata," and our management philosophy, "Automation that Inspires." In putting our sustainable business to practice, we assented to and signed the United Nations Global Compact (UNGC), which encompasses 10 principles across the four fields of human rights, labour, environment, and anti-corruption; and, we are also working to achieve the Sustainable Development Goals, which were adopted by the UN. Moreover, the Group positions the three-year business plan and the Sustainability Action Plan as the two cornerstones of its management strategy, and all employees strive to achieve both social value and economic value through our business activities.
Management Philosophy
Automation that Inspires
Inspire society, deliver prosperity and enhance well-being through our core competence – automated material handling technology.
We will
strive to realize a sustainable society that minimizes burdens on people and the environment, respects human rights, and encourages responsible manufacturing.
work together with customers around the world to create optimal smart logistics solutions that incorporate innovative technologies.
ensure a fair and open corporate culture that respects diversity and allows each individual to excel. Further, we will strengthen our fundamental management practices globally to have a high level of transparency.
Sustainability Promotion System
The Sustainability Committee—a Groupwide advisory body to the Board of Directors—is chaired by the CEO and includes the Global Business Heads of each business unit. The Committee provides top management with instructions on the implementation of action policies and plans regarding measures for various ESG issues such as the environment and human rights, and reports the details of its initiatives to the Board of Directors as needed. In addition, the Environmental Management Subcommittee and the Human Rights and Supply Chain Subcommittee have been established under its auspices, and are working on specific initiatives according to their respective goals.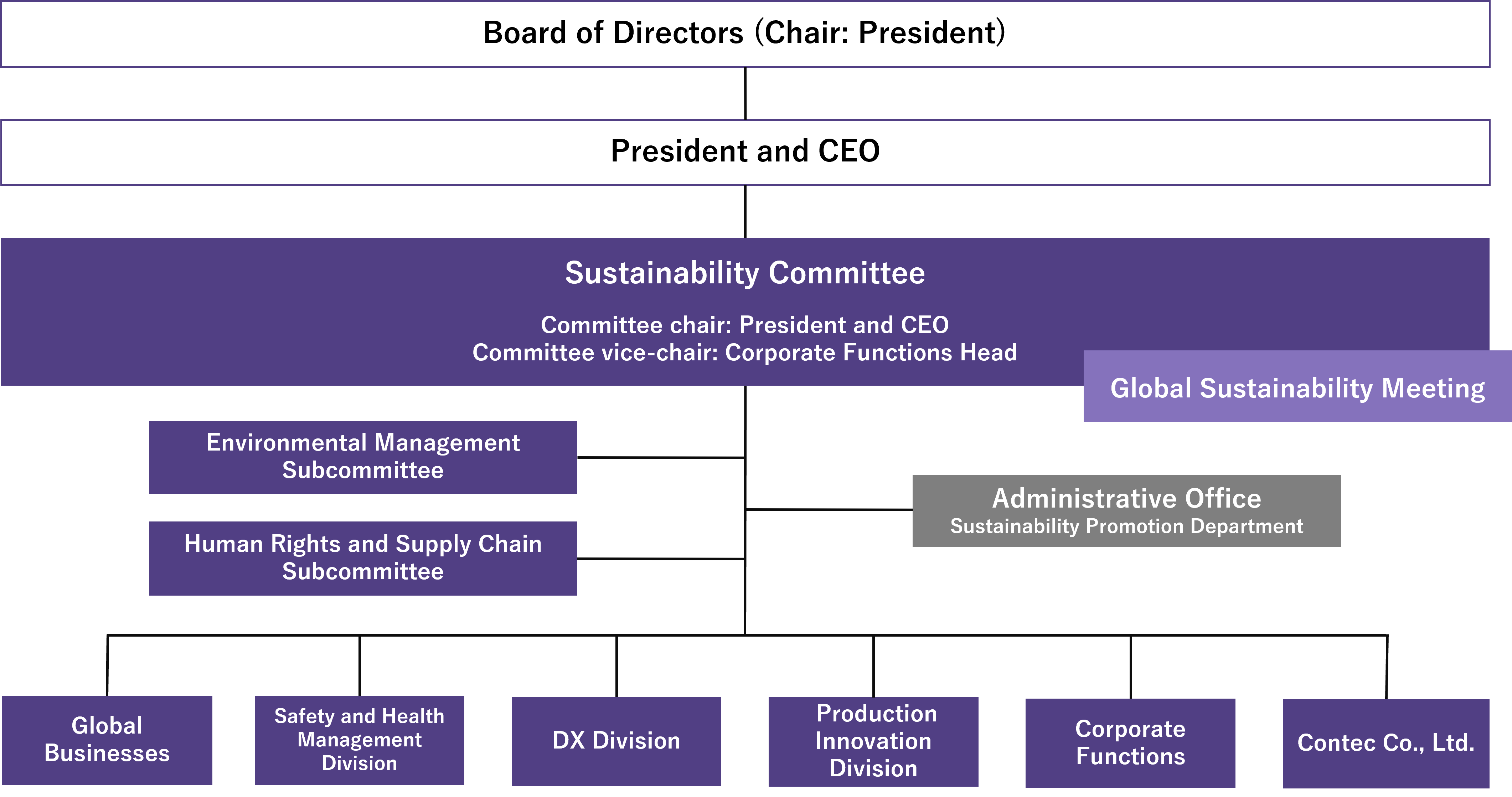 Members
Committee Chair: President and CEO
Committee Vice-Chair: Corporate Functions Head
Members: Global Business Heads of each business unit, President and CEO of Contec Co., Ltd., Safety and Health Management Division Manager, Human Resources and General Affairs Division Manager, Legal and Compliance Division Manager, Business Strategy Division Manager, Corporate Communications Division Manager, Finance and Accounting Division Manager, General Manager of Investor Relations Department, General Manager of Governance Promotion Department
Voluntary participation
Outside directors, full-time Audit & Supervisory Board members
Sustainability Committee Activities in FY2021
Sessions
Five sessions (May, August, October, December, March)
Main agenda items

Progress management of the Sustainability Action Plan
Priority measures in each subcommittee
Discussion and approval of human rights policy
Future measures based on risk assessment results
In-house sustainability awareness measures
Planning and promotion system for FY2022 etc.