Rail-guided Vehicle System "Sorting Transfer Vehicle (STV)"
Daifuku's automated rail-guided vehicle system "Sorting Transfer Vehicle (STV)" is a pallet sorting system designed to provide high-throughput material handling in conjunction with Automated Storage and Retrieval System (AS/RS). STV has the ability to sort onto multiple conveyors, enabling efficient warehousing into and out of multiple automated warehouse aisles, warehousing out of and back into order picking stations, and sorting by shipping direction. A refrigerated environment model is also available, making it ideal for cold chain automation.
Features
High Throughput
The STV runs smoothly and quietly with a maximum travel speed of 200 m/min and a load transfer speed of 30 m/min. The speed of each vehicle is automatically adjusted according to its position and the availability of goods (loaded or unloaded). In loop and dual systems with multiple vehicles, the controller optimizes vehicle allocation to avoid redundant movements and energy consumption, thus optimizing overall system efficiency.
Flexible
Available as a Single Shuttle, Dual Shuttle or Loop configuration, the system can be built to suit a variety of building layouts, space and transport volume requirements. The system is also highly scalable, making it suitable for expansion in response to changes in the business environment, such as extending the rails to accommodate additional automated warehouses, or increasing the number of vehicles as throughput increases.
Reliable
When a conveyor is used to configure an equivalent transport system, the pallets are physically moved on the conveyor, which tends to cause problems depending on the quality of the pallets.
With the STV system, a vehicle carrying a pallet runs on rails, which ensures smooth and stable transport of goods. In addition, maintenance work, except for the single shuttle system, can be carried out while the system is in operation.
Layout Variations
We offer the following three types of system to suit the volume and operation of your business.
Single Shuttle System
A single vehicle travels back and forth on a straight rail to transport a load. This means that forklift truck operators do not have to move from one end of the warehouse to the other, thus improving work efficiency.
The straight rail can be combined with a 90° curved rail to form an L-shaped layout. This is effective when the layout of buildings and production equipment makes it difficult to configure a straight line layout.
Dual Shuttle System
The system consists of two vehicles on straight rails, both of which can be operated simultaneously, thus increasing the throughput by 1.5 times compared to a single shuttle.
It is possible to disconnect one vehicle to the evacuation area and operate the system with the remaining one, which is useful as a backup measure in the event of a failure of one of the vehicles.
Multi-vehicle Loop System
Multiple vehicles are deployed on a loop rail consisting of a straight rail and a U-shaped curved rail. Each vehicle can carry a load at the same time, enabling a greater number of loads to be processed than with the shuttle system.
If the volume of goods to be processed is expected to increase in the future, additional vehicles can be added at a later stage to increase the processing capacity. The loop can also be extended to accommodate additional cranes in the automated warehouse, making it highly scalable to meet the needs of growing businesses.
In the event of vehicle maintenance, the affected vehicle can be removed to a maintenance station outside the loop, allowing operation to continue with the remaining vehicles.
Vehicle Variations
We offer the most suitable vehicle according to the shape and weight of the goods to be transported, the strength of the pallet and the installation environment.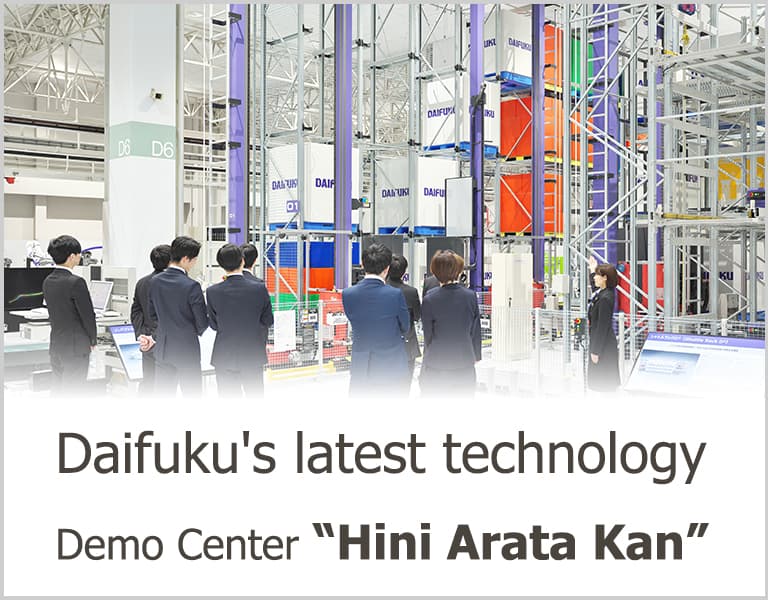 Contact Us
For product inquiries, please reach out to us via our Contact Us page.
Contact Us
Contact Us
For product inquiries, please reach out to us via our Contact Us page.
Contact Us(English)
Contact Us
For product inquiries, please reach out to us via our Contact Us page.
Contact Us(English)