Fishery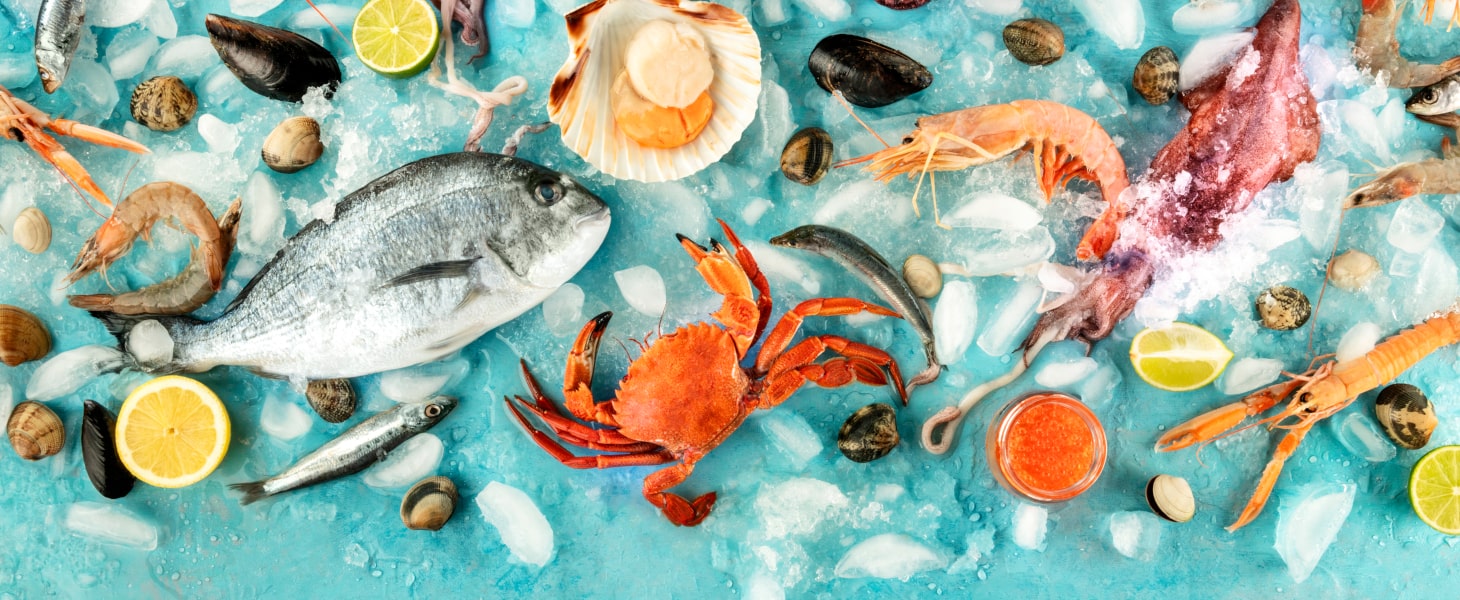 With the spread of e-commerce in the BtoC market, the seafood processing industry is also required to respond to high-mix low-volume shipments. As the amount of products and the number of SKUs increases, more storage space is needed and you run into the problem of lack of storage space. If you rent an external frozen warehouse to deal with this problem, you will have to deal with higher storage costs and difficulty in inventory management.
In the past, frozen warehouses in the fishery processing industry were generally operated with flat storage, pallet supporters, and nesting racks, as shipments were mainly made in pallet units. However, these storage methods do not facilitate the small-lot case picking work required for high-mix, low-volume shipments, resulting in reduced work efficiency.
Furthermore, with the decrease in the working population, it is becoming more and more difficult to secure the required work force for logistics operations. In particular, people tend to avoid working in dark, cold, and freezing warehouses, so dealing with the labor shortage is an urgent issue.
Daifuku's cold warehouse solutions help solve these issues, along with changing logistics needs and labor shortages.
Cold Mobile Rack
For maximizing the use of limited single-story warehouse space, we recommend Mobile Rack. It improves work efficiency by reducing loading and unloading work, and maximizes the utilization of freezer warehouse. After business hours, it is possible to use the "evenly spread" mode to circulate cold air evenly.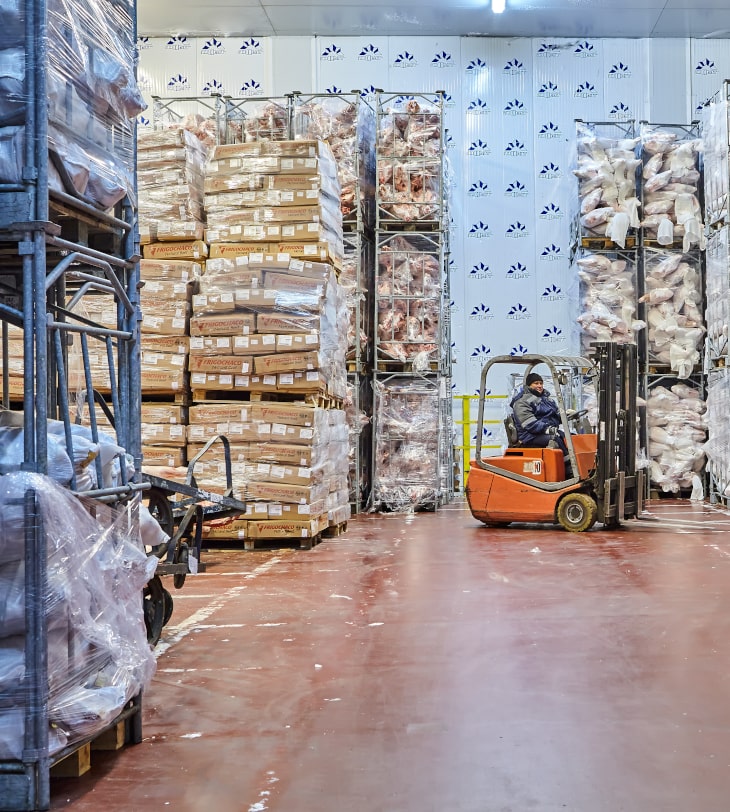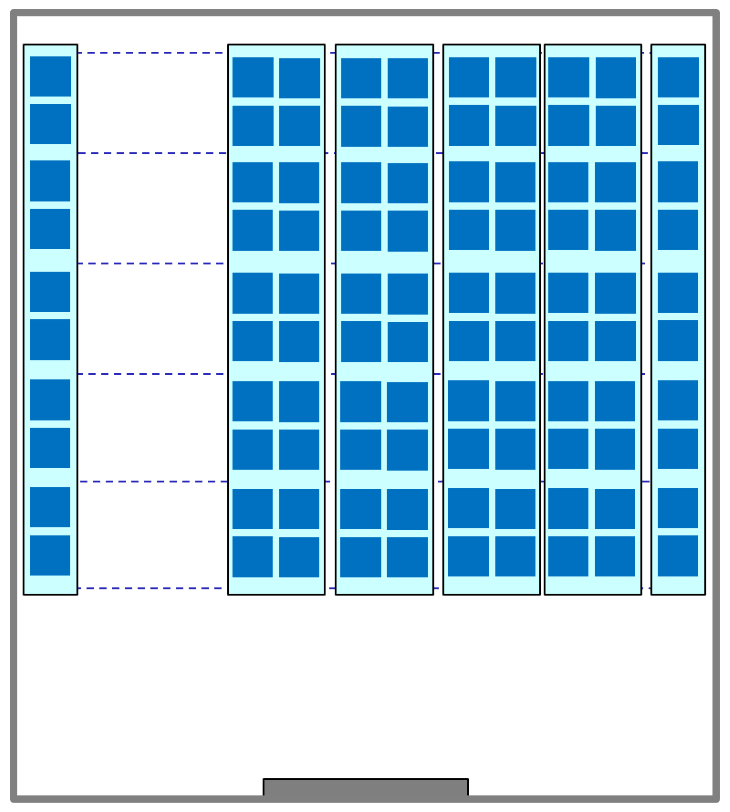 Mobile Rack Model System
Rack
Mobile Rack : 3 levels x 5 openings x 4 rows
Fixed rack : 3 levels x 5 openings x 2 rows
Storage capacity
300 pallets
Required space
21 x 18 x 5 meters
Load size
1,100 x 1,100 x 1,200 millimeters
Load weight
1,000 kilograms
Rail type
Concrete embedded rail
Temperature
-30 degrees Celsius
Refrigerated AS/RS
The introduction of the Mobile Rack improves workability and storage efficiency compared to floor or nesting rack storage. However, since workers still have to work inside the freezer, the issues of sub-zero working environment and manpower unavailability remain. In addition, since they are operated by forklifts, it is not possible to utilize a height higher than the lifting height of the forklift truck.
Daifuku's unit load AS/RS, with cold-resistant specifications, is most effective when a larger storage volume and reduced workload are required. The stacker crane performs fully automatic transportation in the warehouse, eliminating the need for forklift operation while maximizing storage capacity. Since the WMS handles work orders and inventory management, both work efficiency and inventory accuracy are greatly improved.
In addition, the opening required for input and output is smaller than in forklift operation, which leads to improved air conditioning efficiency.
Refrigerated AS/RS Model System
Configuration
8 banks x 40 bays x 14 levels
Size
15 x 66 x 20 meters
Floor area
1,000 m2
Load size
1,100 x 1,100 x 1,200 millimeters
Load weight
1,000 kilograms
Storage capacity
4,424 pallets
Equipment
2x double-deep stacker crane
1x conveyor
1x STV
Temperature
-30 degrees Celsius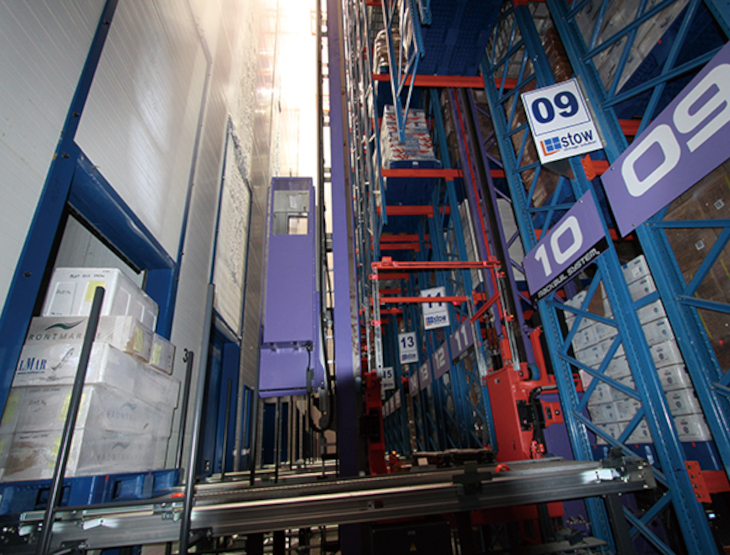 Stacker crane
The stacker crane automatically carries out the transport work in the freezer. This eliminates the need for people and forklifts to enter and exit the freezer, which is effective in maintaining the environment inside the freezer.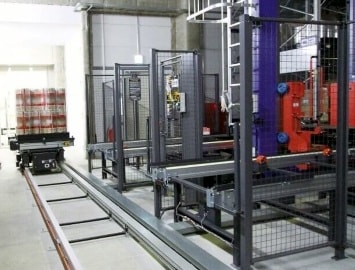 Sorting Transfer Vehicle (STV)
STVs transport and sort goods from the processing lines to the AS/RS and from the AS/RS to the picking stations or shipping conveyors.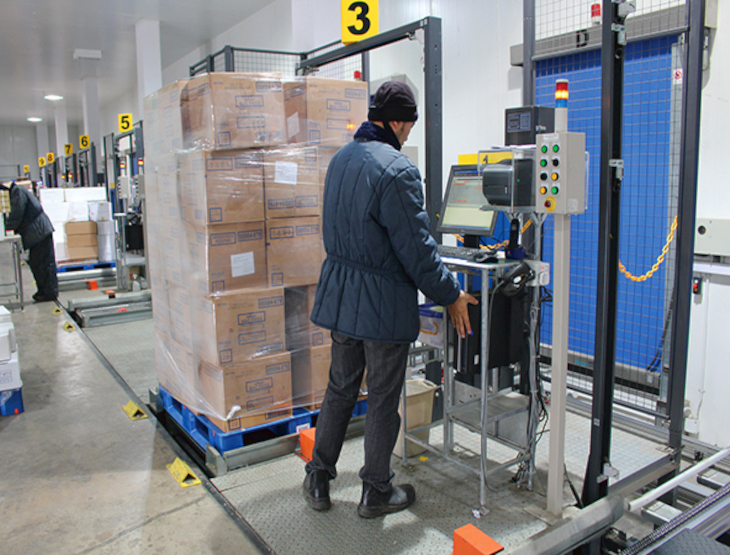 Case picking station
Case picking is done in a chilled environment of around five degrees Celsius. The operators only has to pick according to the instructions on the display. This frees them from working in a dark and cold environment.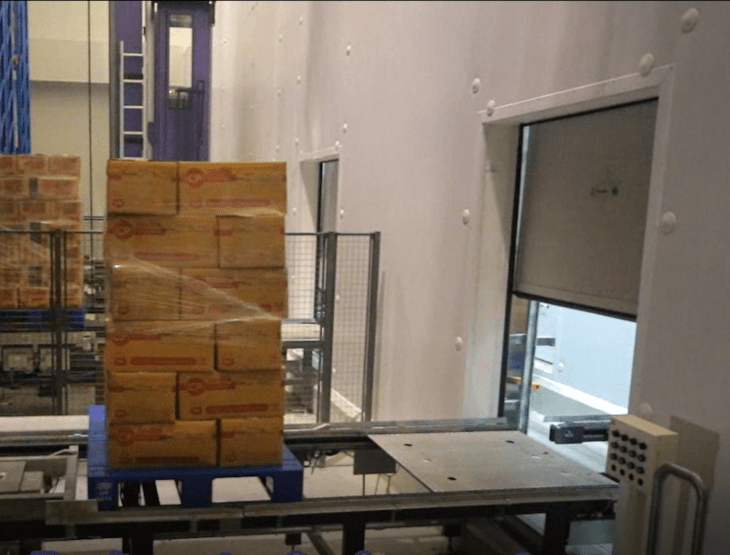 Automatic shutter
Compared to forklift operation, the opening required for storage and retrieval is smaller, resulting in better air conditioning efficiency.
Contact Us
For product inquiries, please reach out to us via our Contact Us page.
Contact Us
Contact Us
For product inquiries, please reach out to us via our Contact Us page.
Contact Us(English)
Contact Us
For product inquiries, please reach out to us via our Contact Us page.
Contact Us(English)