E-Commerce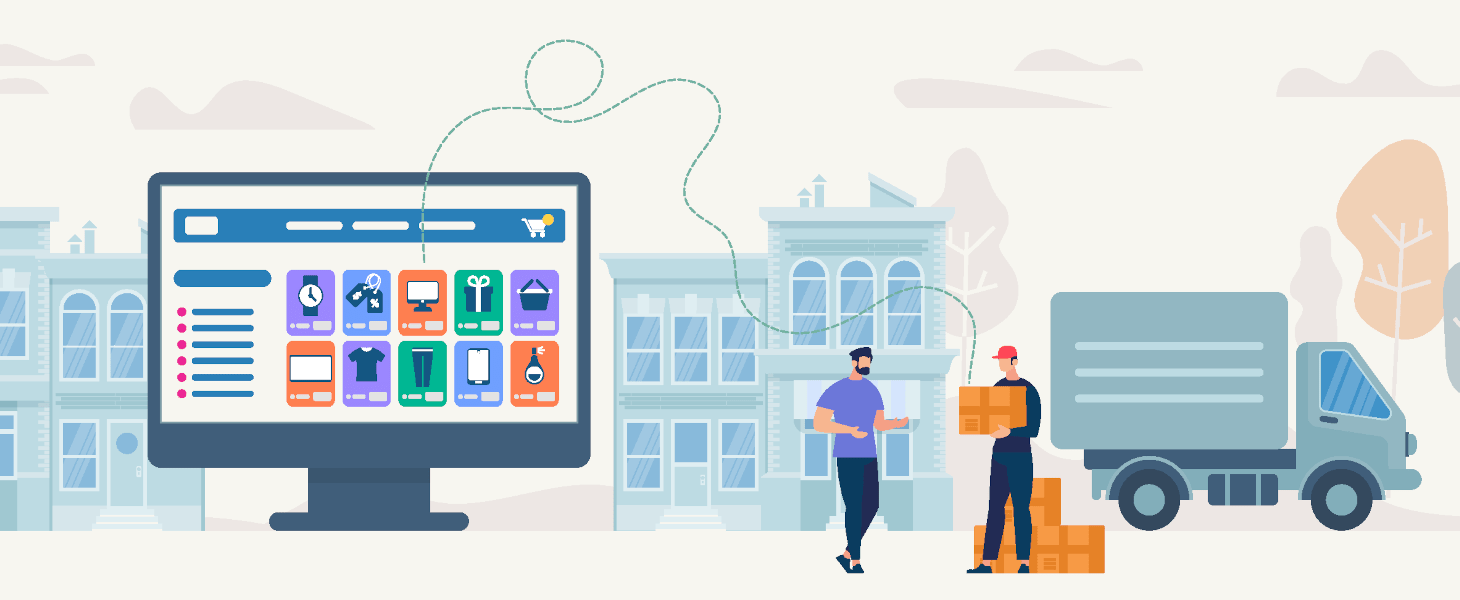 The e-commerce market, which spread from the B2C domain in the late 1990s with the spread of the Internet, has now expanded to include B2B and C2C, and continues to grow daily. In addition to factors such as product assortment, quality, and price, the usability of the website as a store, and logistics quality such as packaging conditions and delivery speed affect overall customer satisfaction.
No matter how good the quality of the product, damage in transit, long lead time from order to arrival, or discrepancies between the order and the actual product can result in low customer reviews and marketing losses. Today, logistics is an important factor in shaping customer satisfaction in e-commerce businesses.
Although the e-commerce business varies from company to company in terms of items handled, number of products, and scale of sales, it is essential for any company to accurately and promptly inspect incoming goods, store, collect, inspect shipping goods, pack, and ship. When your e-commerce business exceeds a certain size and it becomes difficult to maintain logistics quality due to an increase in quantity or SKUs, Daifuku's automation solutions can help you solve the problem.

Within e-commerce, logistics varies in scale and number of products depending on the business, and the extent to which it is operated manually and where it is automated differs from customer to customer. This page introduces examples of solutions based on the number of products handled and the number of orders per day.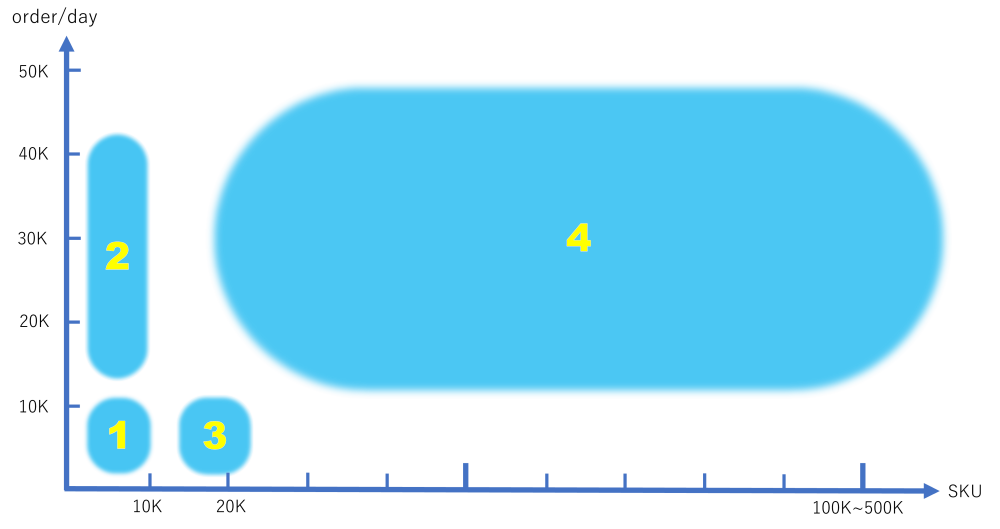 1. Small-SKU, Low-Order-Volume, Single-Category E-Commerce
For an e-commerce business of this size, the investment in automation equipment is too costly. For this reason, it is common to store products on fixed shelves and use WMS and handheld terminals to inspect incoming goods, manage inventory, give picking instructions, and inspect shipping items. Cloud-based WMSs that specialize in e-commerce are available from software vendors, and there are also rental services for auxiliary equipment such as handheld terminals for product inspection. Another possible option is to outsource logistics operations to a 3PL company.
2. Few-SKU, High-Order-Volume, Single-Category E-Commerce
In B2C e-commerce, which specializes in specific genres such as health foods, cosmetics, and apparel, it is necessary to process a large volume of orders, as many as 30,000 to 50,000 per day, for a relatively limited number of products of about 1,000 to 3,000 SKUs. Compared to the general large-scale e-commerce business described later in this article, it is characterized by a higher ratio of high-frequency products and a higher-order hit ratio per SKU.
One of the key points to look at when considering automation is an ABC analysis. At first thought, it would seem simple and convenient if all items handled could be stored in the same automation system. However, handling products that sell in large quantities every day and products that sell only a few units together would result in inefficient operations and unnecessary large investments. Therefore, it is necessary to classify products into high-frequency (A), medium-frequency (B), and low-frequency (C) products, and consider the appropriate system for each type of product.
In addition, many businesses that specialize in certain categories of e-commerce, such as cosmetics and health foods, have started their business with store sales, so they need to handle both logistics for stores (BtoB) and logistics for mail order (BtoC) in their automation plans.
Let's look at an example. At a center for both B2C e-commerce logistics and logistics for stores, the system is divided into two systems. The mail-order line is further divided into two lines based on the frequency of shipments and the type of cargo.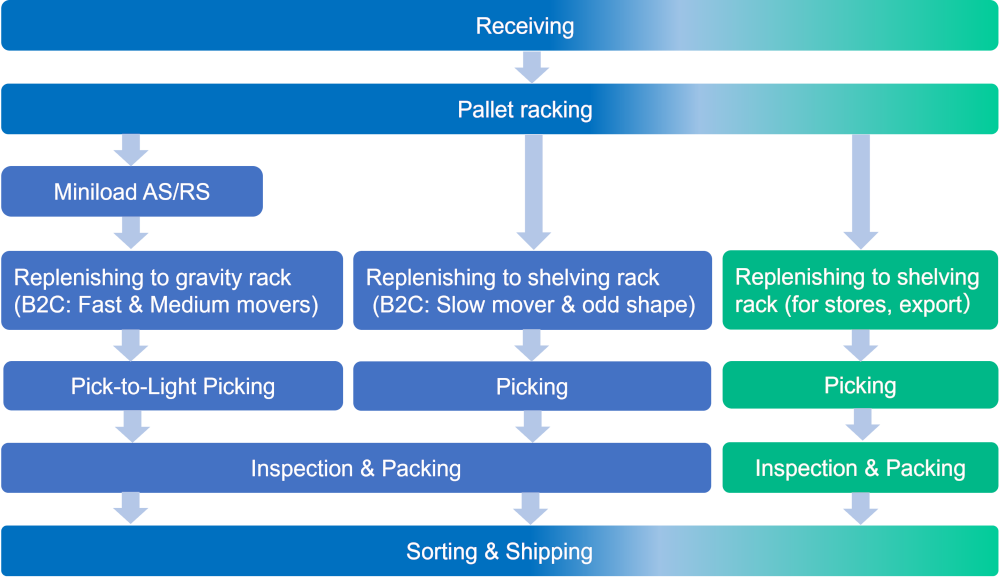 3. Many-SKU and Medium-Order-Volume Online Grocery Model
Online grocers handle a wide range of products, including processed foods, frozen foods, refrigerated foods, and household goods, and their logistics processing has the following characteristics.
Three temperature zones (room temperature, refrigerated, and frozen) must be delivered together according to order.
The number of SKUs handled is large, so an efficient picking system is required.
The average number of items per order is around 16, so a labor-saving inspection system is needed.
To deliver to individual homes efficiently, it is necessary to retrieve order containers in the reverse order of the delivery route.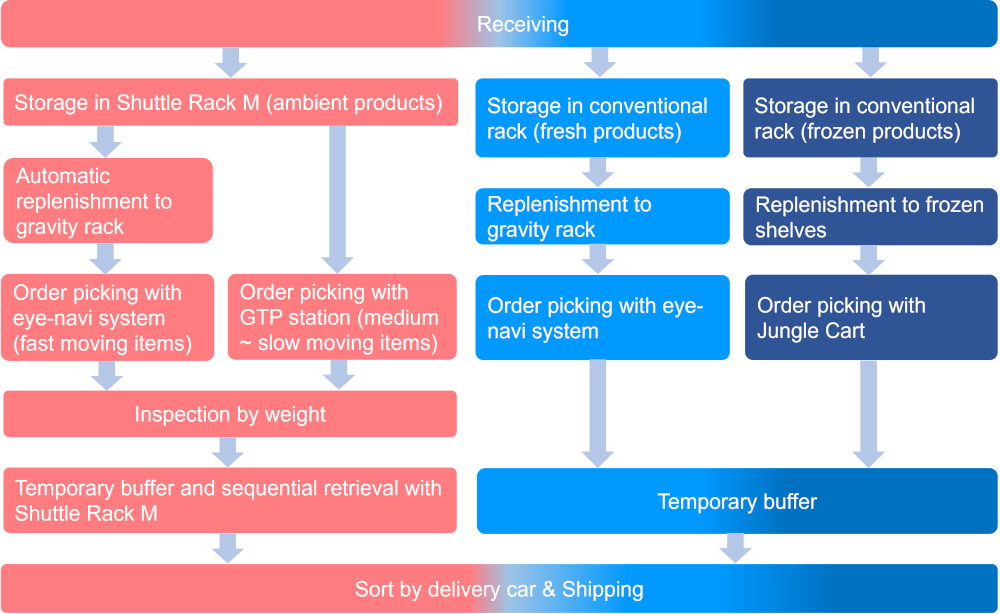 4. Many-SKU, Large-Order-Volume, Multiple-Category E-Commerce
Large general e-commerce companies handle a wide range of products, including food, daily necessities, stationery, clothing, and business tools. The basic concept is the same as (2) and (3) above, but the ratio of low-frequency products tends to be higher than in the two aforementioned businesses. In order to handle a larger variety and volume of goods, we propose a system that combines a variety of picking and automatic packing equipment. Please contact us for details.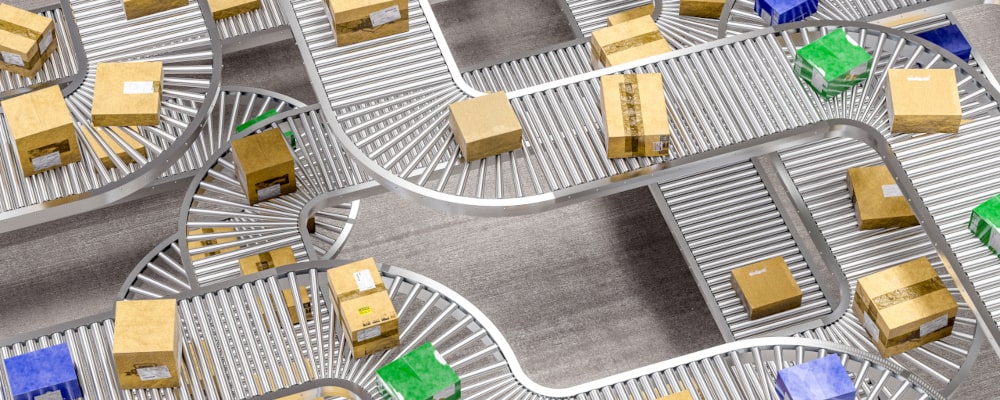 Contact Us
For product inquiries, please reach out to us via our Contact Us page.
Contact Us
Contact Us
For product inquiries, please reach out to us via our Contact Us page.
Contact Us(English)
Contact Us
For product inquiries, please reach out to us via our Contact Us page.
Contact Us(English)