Since its establishment in 1937, the Daifuku Group has always moved to keep ahead of the times, responding to the needs of customers across a broad range of industries and business sectors. The Group seeks to streamline logistics and, as a comprehensive manufacturer and integrator of material handling systems, has been able to achieve significant growth. Under our company creed, Hini Arata, and our management philosophy, Automation that Inspires, we promote Value Transformation that helps enhance the competitiveness of our customers and, in tandem with contributing to the development of society, raise our corporate value.
This page presents examples of the social value (outcomes) created by the Group.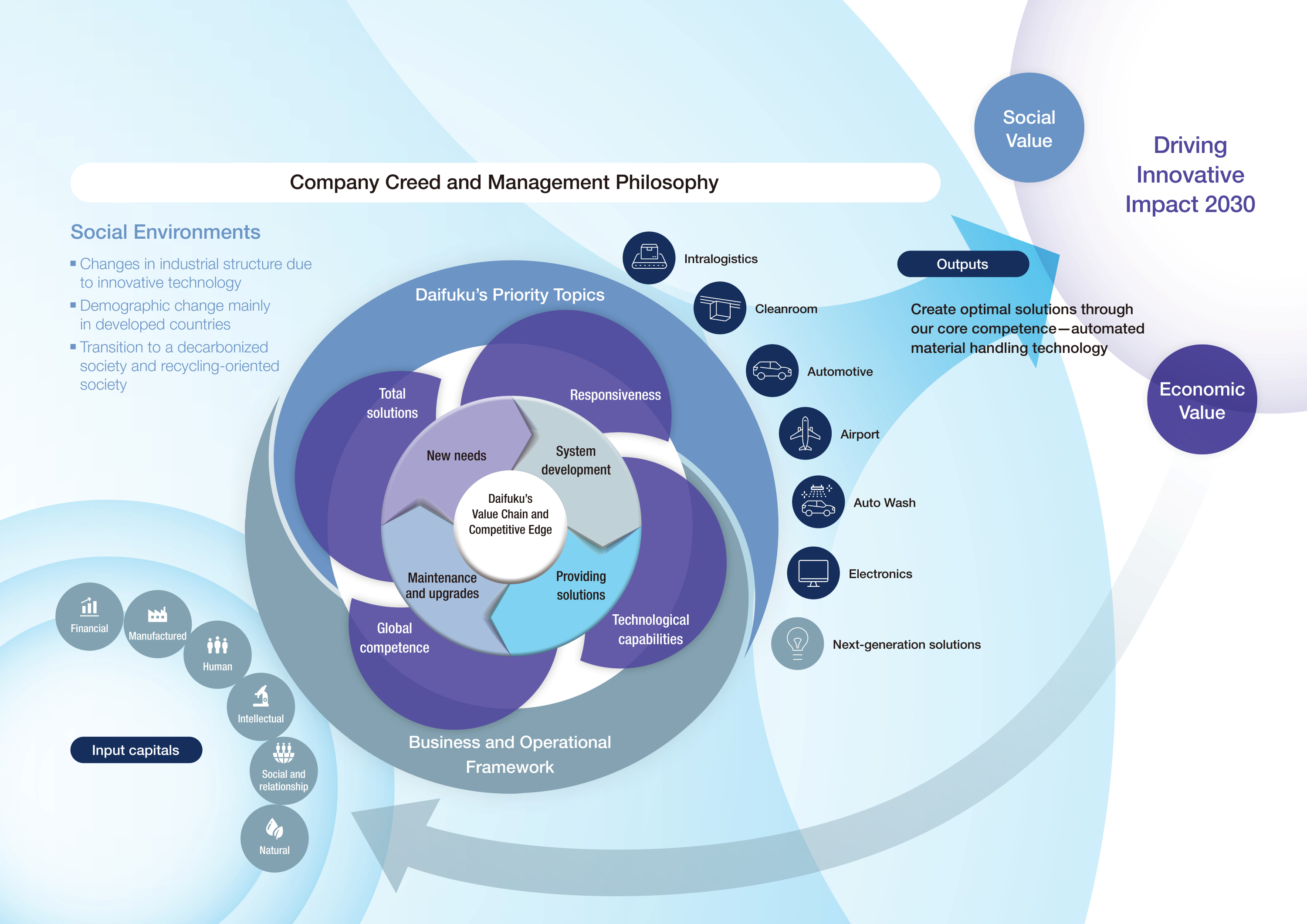 *

Clicking on the image will bring up a new window
Contributing to the Advancement and Expansion of Many Industries
The Group's automated technology, with material handling at its core, contributes extensively to factory automation in general industry, semiconductors, LCD screens, and automobiles, as well as to labor saving in logistics centers and more efficient airport operations, thereby underpinning supply chains around the world. Recently, logistics and production sites are facing labor shortage and productivity improvement issues due to shrinking workforces, and expectations are increasing for material handling systems to help solve these problems. The Group assists in the development of various industries by meeting the increasingly sophisticated needs of our customers and providing the best quality and safety focused solutions.
Key points of value creation
Reducing the impact of labor shortages in logistics and production sites
Reducing time, cost, and workload through labor-saving technology
Ensuring quality and safety in unique environments
Contributing to the stable production of products essential to modern society
Contributing to improved productivity, reliability, and service levels in airport operations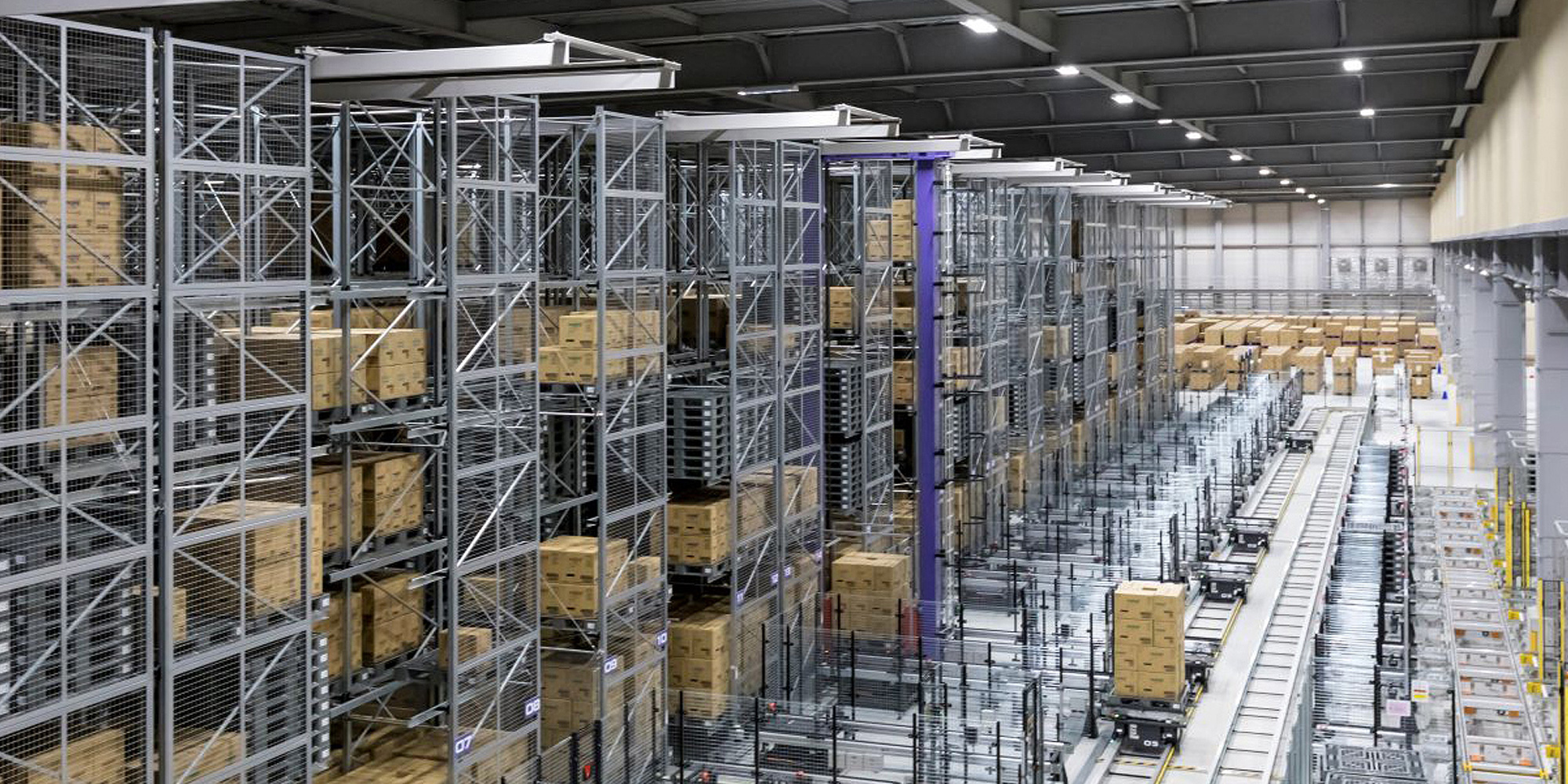 Distribution centers with increasingly sophisticated functions underpin our lives, offering conveniences like 24-hour convenience stores, product variety in supermarkets, and e-commerce. As the volume and variety of goods being handled increases, we can help save labor by streamlining logistics systems, and reduce the burdens of time, cost, and workload of our customers.
We also support unique environments, such as the frozen or refrigerated environments of the food and pharmaceutical industries, high-temperature environments required for the aging of ingredients and food fermentation processes, and blast-proof environments required in the chemical industry. Our systems not only maintain the quality of our customer's products, but also improve the working environment.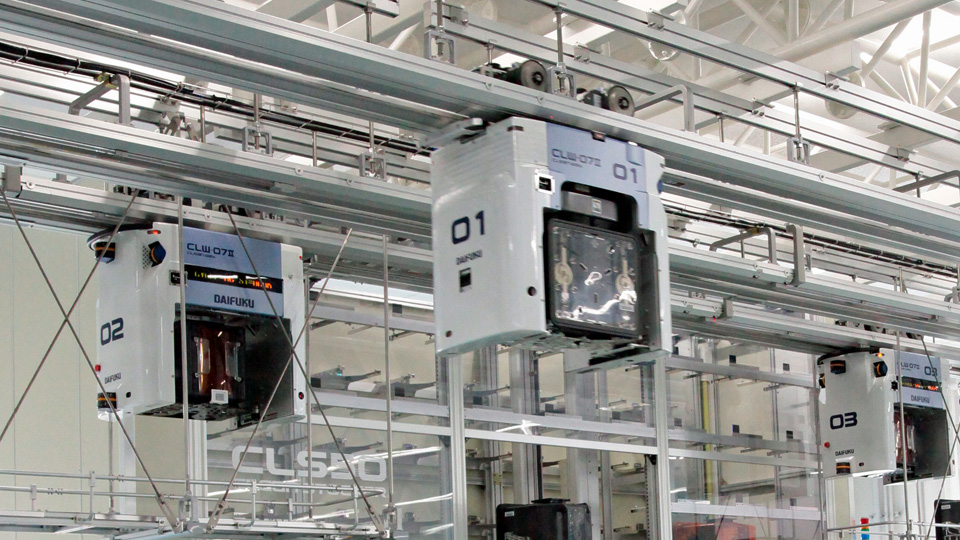 We offer highly reliable storage and transfer systems for semiconductor production processes in clean rooms that operate 24 hours a day, 365 days a year without interruption. These systems support the stable supply of semiconductors indispensable to life in our modern digital society.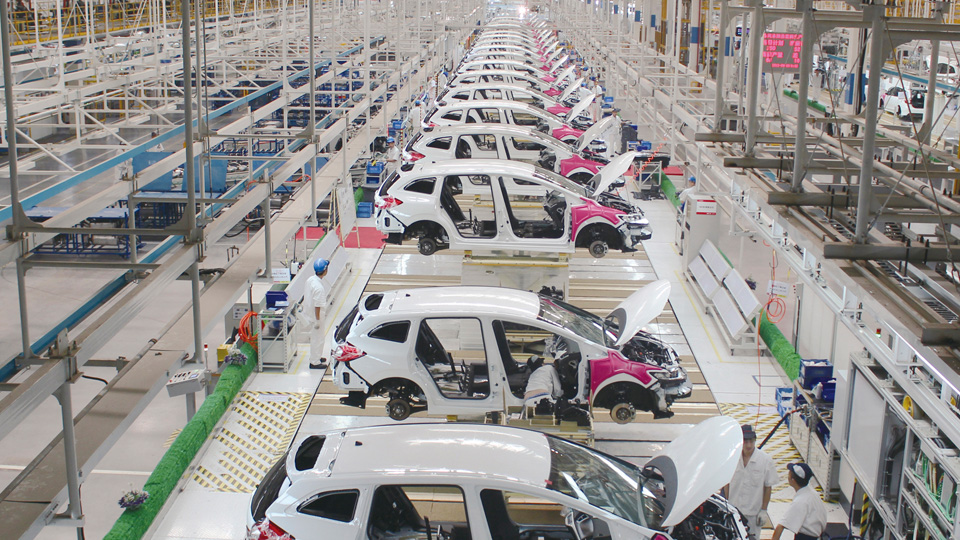 We support the production sites of the automotive industry with our extensive experience in production line systems. We contribute to labor savings, productivity improvement, and quality improvement in all processes of automobile manufacturing, including pressing, welding, painting, assembly, parts storage and supply, engine testing, and more.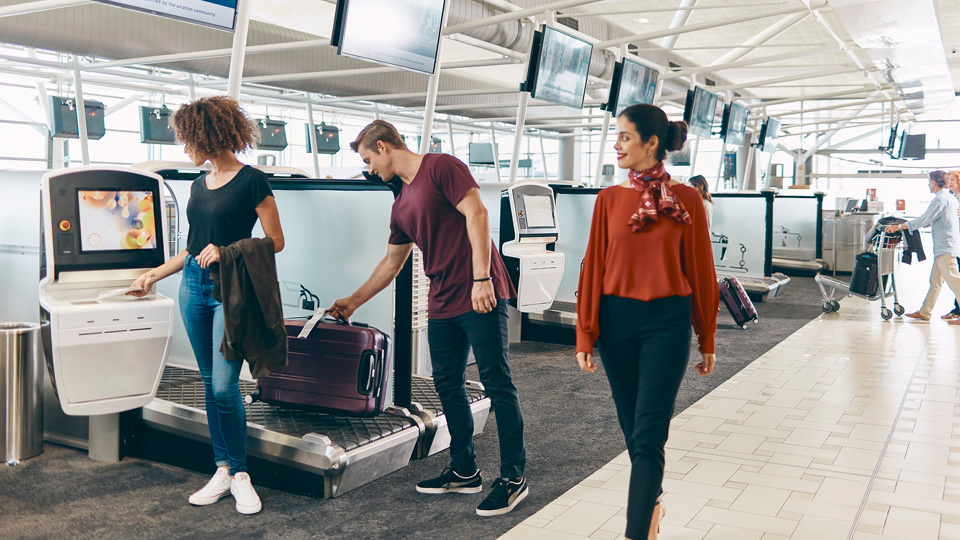 We provide automated baggage check-in machines, baggage handling systems, and security systems for airports. The Group's cutting-edge solutions contribute to improved efficiency, reliability, and service levels in airport operations, supporting the safety and security of air travel around the world.
Supporting a Society with Unceasing Logistics

Material handling has come to play an infrastructural role in supporting society, and the challenge today is how to keep material handling operations running, or, should it stop, how to rapidly restore it. The material handling systems of the Group are responsible for the transport of products indispensable to people's lives; therefore, we provide preventive maintenance, regular inspections, and a 24-hour, 365-day system support center to assist in the stable operation of our customers' systems. Additionally, in order to shorten the time required to restore a system should a problem occur, we utilize remote monitoring with sensors, cameras, and AI to pinpoint the cause.
Moreover, supply chain disruptions and logistics delays triggered by natural disasters pose a major risk to companies, leading to the growing importance of business continuity plans (BCPs). We provide total solutions that include countermeasures for possible natural disasters or other emergencies. In the past, during a major flooding event that shut down a customer's factory, we mobilized more than 10,000 staff members to help the factory rapidly resume production.
Key points of value creation
Contributing to the stable operations of essential work
Rapid recovery from system problems during emergencies, etc.

At the System Support Center, technicians with expertise in material handling equipment are always on standby to support the stable operation of customer systems through coordination with approximately 70 service locations and departments across Japan.
Minimizing Impacts on People and the Environment
We use our position as part of our customers' supply chain to take on the responsibility of addressing social issues, such as climate change, resource recycling, and human rights issues. We will help to create a sustainable society by meeting society's expectations with innovative technologies and optimal best-practice solutions, while minimizing the impact on people and the environment.
Key points of value creation
Contributing to the improvement of the working environment and job satisfaction at customer facilities
Providing products and services that help address environmental issues such as climate change and resource recycling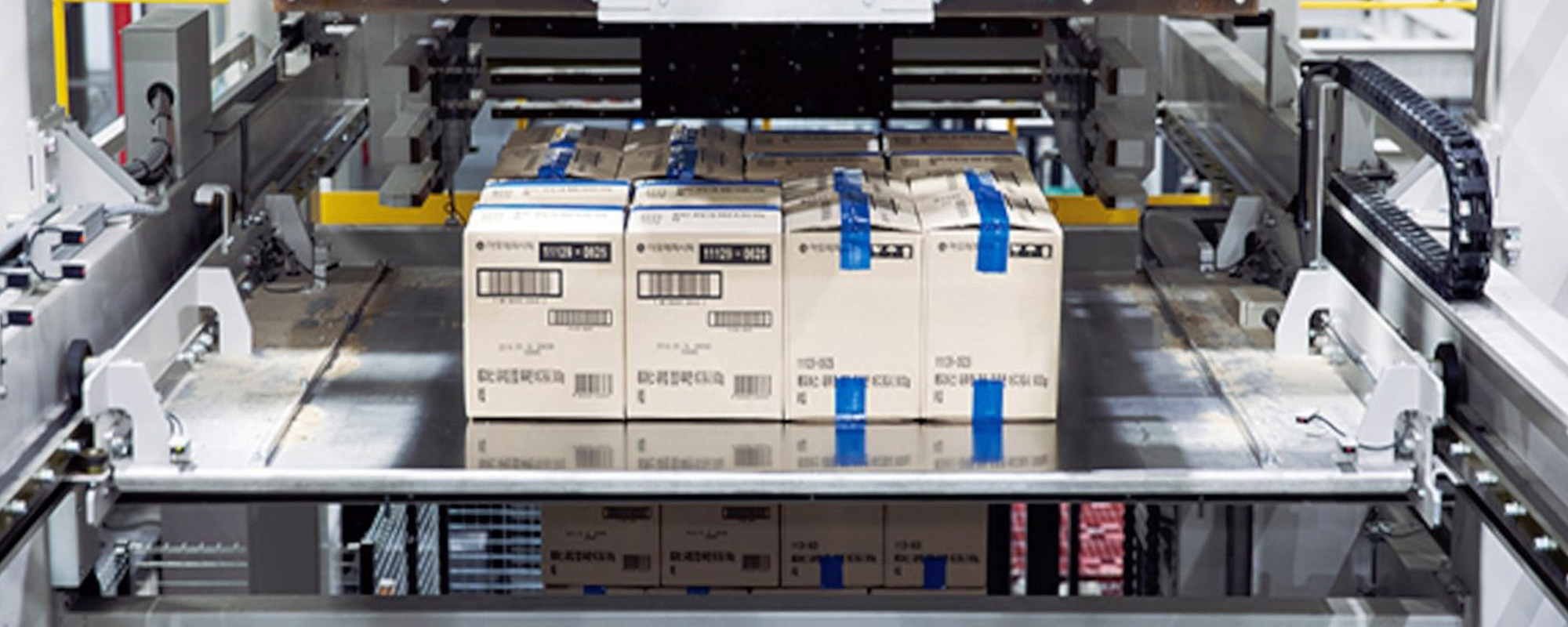 Layer picking equipment picks cases stacked on pallets in layers and feeds them into a conveyor or stacks them on other pallets. It is mainly used for products with large and heavy boxes, such as beverages, and each unit has a processing capacity of up to 2,000 cases per hour (the work of about 5 people). It frees workers from monotonous and burdensome work.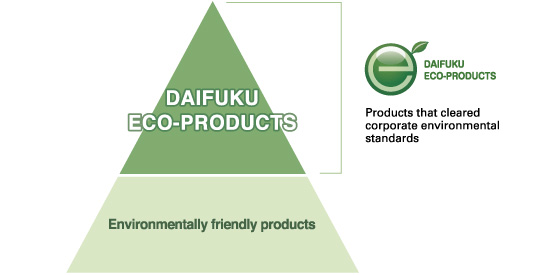 The Group operates the Daifuku Eco-Products Certification Program, which is used to evaluate the environmental performance of our products based on our own internal standards. We evaluate the performance and LCA (Life Cycle Assessment) results of all Group products in terms of energy savings, recycling, weight reduction, etc., in accordance with Group-wide standards.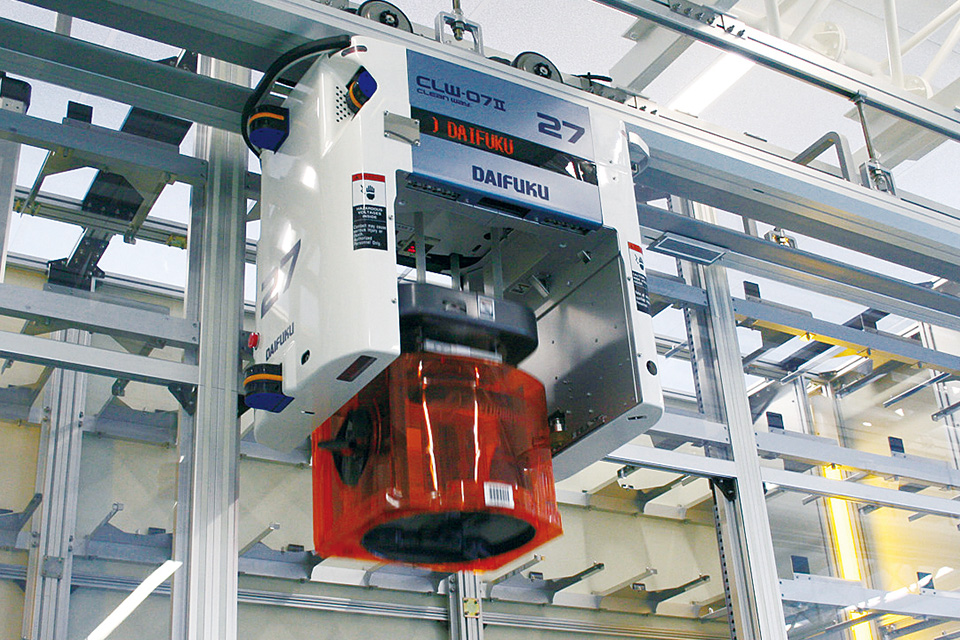 Since its development in 1993, the monorail system based on High Efficiency Inductive Power Distribution Technology (HID), one of our leading core technologies, has been drawing attention as a next-generation transport system that can also make contributions to the environment and safety. The system has been adopted in the automotive, semiconductor, and flat panel display industries, where it enjoys high acclaim.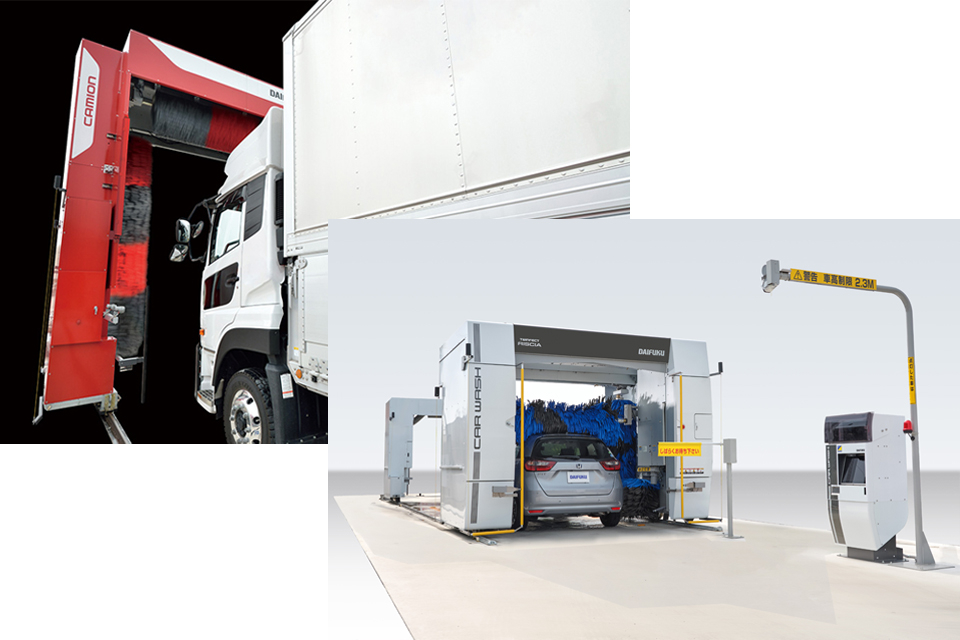 We have applied our automated material handling technology to car washing machines as well. Automating car washing reduces workloads and significantly shortens the time required to wash a car. In addition, car washing machines generally use less water than hand washing at home, and help to protect the environment by treating oil and waste from wastewater in an oil-water separator tank. In addition to working to conserve water and improve energy-saving capabilities, the Group is also striving to be environmentally friendly by utilizing liquid solutions that are biodegradable and made primarily from plant-derived materials and resin water tanks to extend the service life of the machines.
Aiming to Create More Value
Efforts to expand existing areas and develop new business segments are indispensable for sustainable growth in a rapidly changing business environment. In addition to actively utilizing open innovation with external parties and promoting M&As, we are also working to incorporate AI, IoT, and other cutting-edge technologies into our material handling systems. Through these efforts, we aim to further enhance the value we provide to our customers and other stakeholders and realize smart logistics.
Key points of value creation
Providing novel automation solutions through innovation
Leveraging cutting-edge technology to further improve system efficiency
We employ AI to efficiently control a large number of vehicles that run on overhead transport lines in semiconductor factories. In fiscal 2021, we developed software to improve the efficiency of transport lines within the same floor. In fiscal 2022, we expanded the scope of application of AI to improve the efficiency of transport between floors, including between buildings and levels. By collecting vehicle position information in real time and calculating predictive data based on machine-learned travel results, we have achieved highly accurate route control and a 10% increase in transport volume. We have introduced this software into our customers' systems and have applied for a patent for this software.