Daifuku's lineup of car wash machines makes the most of the techniques and quality that the company has accumulated over the years as a manufacturer of material handling systems. From tunnel-type car washes for passenger vehicles to drive-throughs, gate-type car washes, and large-scale car washes for trucks, buses, and semi-trailers, Daifuku offers a wide variety of car wash machines and products to service stations, car dealerships, maintenance shops, transportation companies, and coin-operated car washes.
Products
Tunnel-type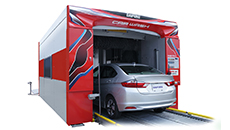 The Magic Thru, which incorporates conveyer system technologies, is the industry's only roller conveyer-based tunnel-type car wash. By achieving industry-leading vehicle processing rates, the machine washes quickly and thoroughly, even during seasons with high demand.
Drive-through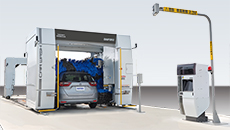 Daifuku's smart-looking Twinfect Riscia is a one-way drive through car wash machine that offers improved drying power and processing capacity by separating the washer and dryer. In addition, the Treus/Cordia, a 1.5-way drive-through car wash machine, is also available.
Gate-type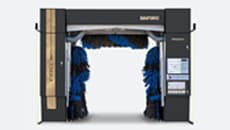 The lineup includes the Grossa, which features inclined and split side brushes for improved cleaning quality; and the Zechs, a compact system that boasts the industry's smallest footprint. Each model can be equipped with a variety of options to suit different purposes and applications, which can help boost non-oil profits for service stations and operational efficiency for car dealers and auto-repair shops.
Large-scale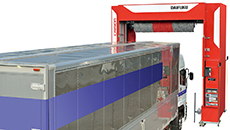 The Camion Custom is a vehicle wash machine designed specially for large vehicles. Installing the system reduces driver workload and work hours, thereby improving the working environment. In recent years, the system has been increasingly adopted in distribution centers and truck terminals.
Contact Us
For product inquiries, please reach out to us via our Contact Us page.
Contact Us
Contact Us
For product inquiries, please reach out to us via our Contact Us page.
Contact Us(English)