Information Disclosure Policy
This Sustainability website lists reports for fiscal 2021 about Daifuku Group's initiatives to ESG (Environmental, Social and Governance) and SDGs.
Various financial and non-financial data disclosure tools are positioned as shown below.
We will continue to place strong emphasis on communication with stakeholders as we pursue our sustainability initiatives.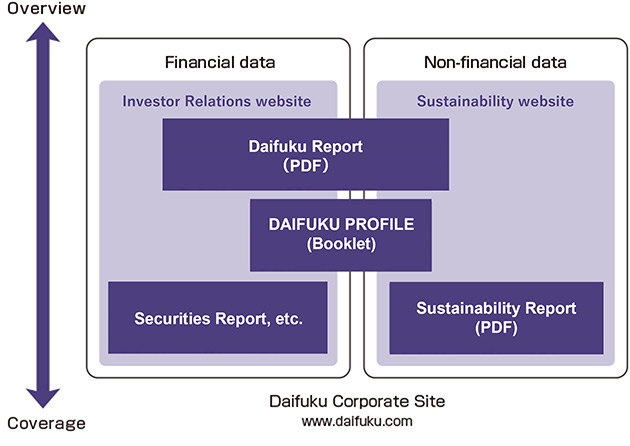 Targeted Scope of Report
Although the targeted scope of this report is the Daifuku Group, some items refer to the content of specific group companies including Daifuku Co., Ltd.
Reporting Period
FY2021(April 2021 - March 2022)
*

Numerical data as of March 31, 2022, is shown.

*

Information from other timeframes are listed for some items.
Referenced Guidelines
GRI(Global Reporting Initiative)Sustainability Reporting Standards
ISO26000
Ministry of the Environment, Environmental Reporting Guidelines(2018 Version)
Recommendations of the Task Force on Climate-related Financial Disclosures (Final Report)