Freightflow
Middleware system for Freight, Parcel and Distribution hubs
* PRODUCT EXCLUSIVELY FOR AUSTRALIA AND NEW ZEALAND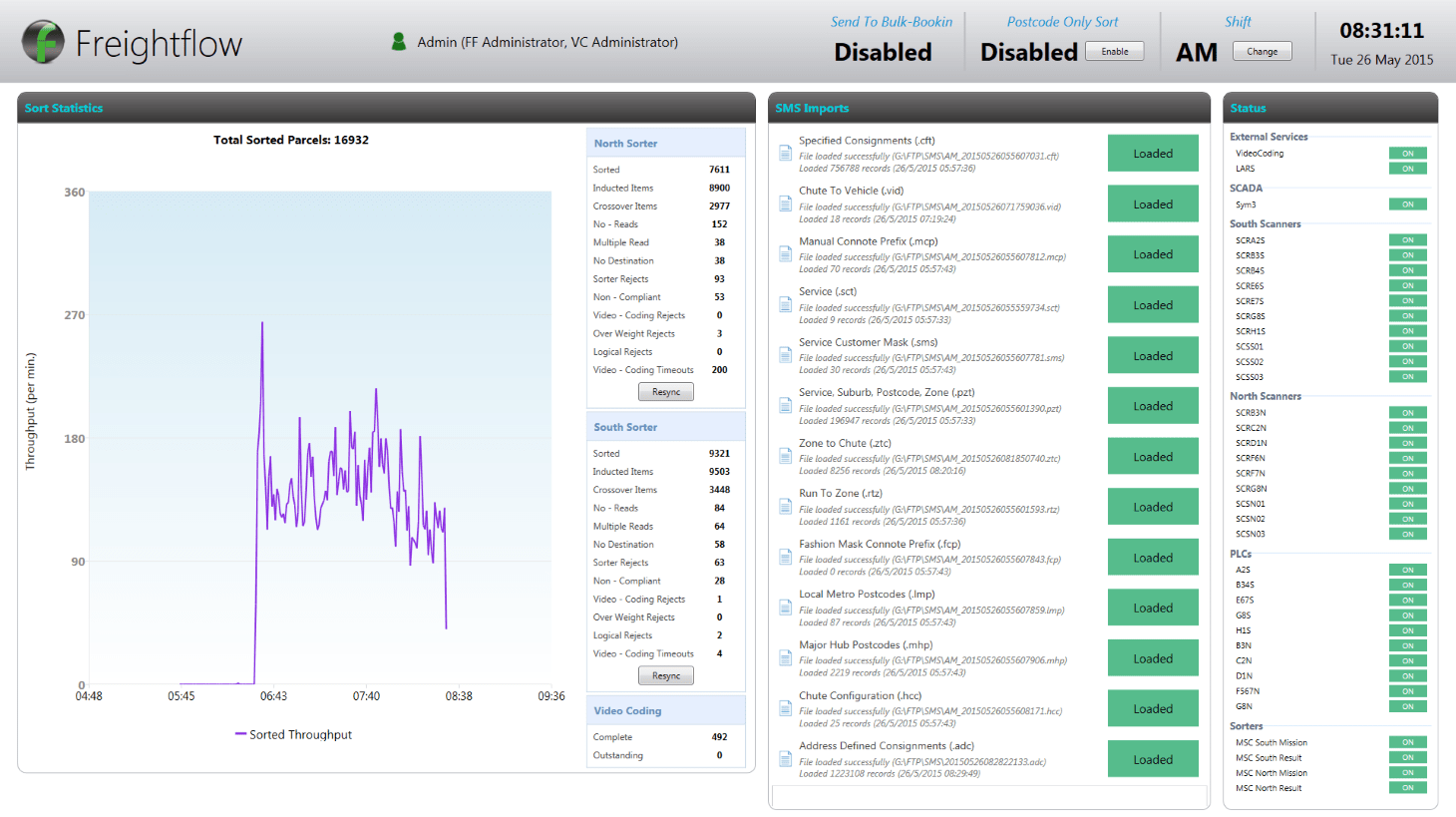 Freightflow is the middleware system that provides a comprehensive range of sortation and handling functionality within a modular framework. Its customisable functionality enables it to meet the unique needs of Freight, Parcel and Distribution hubs.
Freightflow's powerful functionality is designed to handle:
Planning
The critical interface between your system low level controls (LLC) and IT sub systems, providing the flexibility to meet varying volumes and scheduling required for dynamic hub operations.
Sortation
Interfaces with ERPs and Freight Management Systems to receive work orders or manisfest data to deliver the sortation information to the control system with the required high speed communication. Freightflow also stores a products movement and tracking to update ERPs in real time.
Visualisation and Control
Integrates with Daifuku's award-winning 3D control system software, Sym3. Producing a dynamic 3D view of your hub operation coupled with the ability to display product tracking with associated data to drive better informed and more responsive operational management.
Reporting and Optimisation
Communicates with automated dimensioning systems for height, length, width and weight capture in addition to video coding, and camera capture.
Scalability
Able to be deployed on either low and very high volume operations thanks to both its scaleable modular architecture, virtualisation technology, and software performance.
Freightflow modules
The sortation engine communicates with the low level controls to direct item to the designated chute. It may also interface with video coding system.
The business logic engine is in charge of interfacing with IT systems to receive a daily item manifest and report back.
A historian which stores operational data into the database.
An operations database handling all the live sort plans and tracked items.
A historical database for reporting and business intelligence.
The workstation is used to manage and configure the sortation engine, and display reports and live dashboards.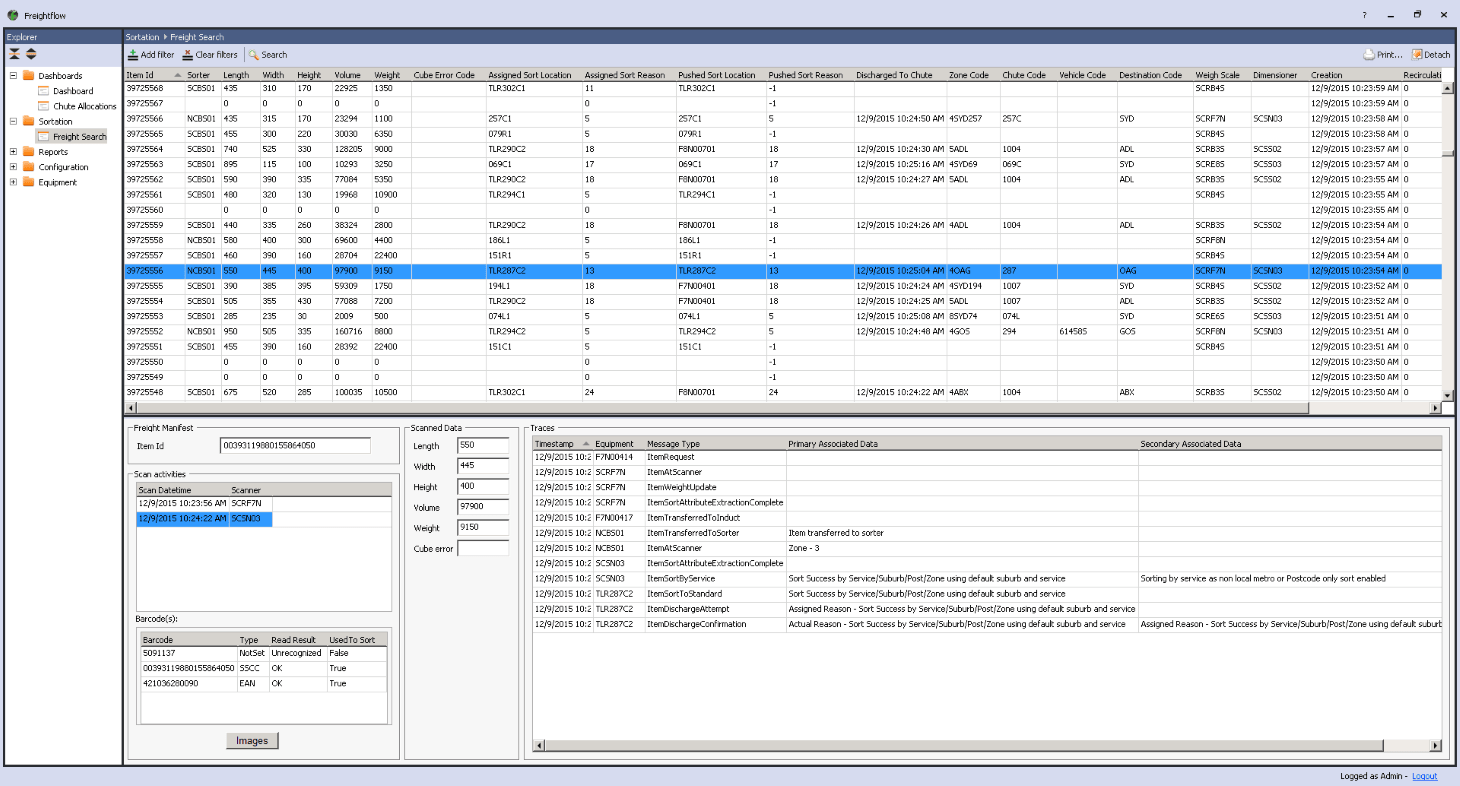 Case Studies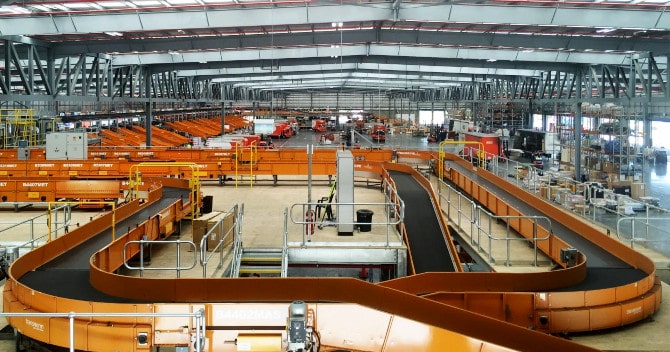 TNT Express Sydney, Australia
TNT open super hub facility installing major high speed sorting systems and 3D software suite, Sym3.
Asia Pacific
3PL/Warehousing