One of the World's Top Material Handling Suppliers
Daifuku is an exceptional material handling systems manufacturer,
with a unique existence, having more than 80 years of know-how and expertise.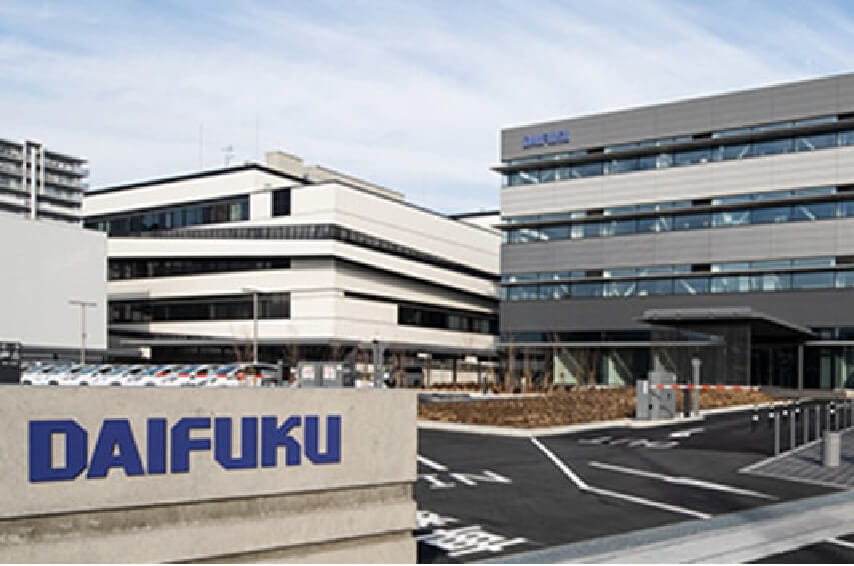 Company Creed & Management Philosophy
Company creed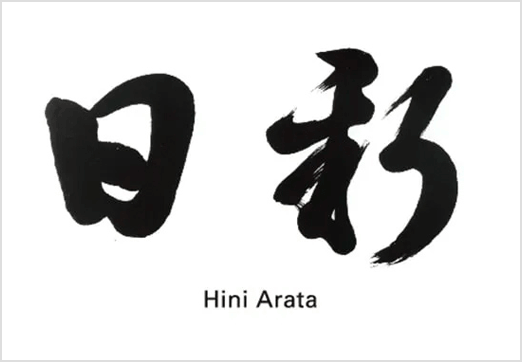 Today we are doing better
than we were yesterday.
Tomorrow we will be growing
ahead of where we are today.
Management philosophy

Inspire society, deliver prosperity and enhance well-being through our core competence – automated material handling technology.
We will
strive to realize a sustainable society that minimizes burdens on people and the environment, respects human rights and encourages responsible manufacturing.
work together with customers around the world to create optimal smart logistics solutions that incorporate innovative technologies.
ensure a fair and open corporate culture that respects diversity and allows each individual to excel. Further, we will strengthen our fundamental management practices globally to have a high level of transparency.
Our Strength
Strong presence in the material handling industry
Daifuku has provided the best solutions to customers in various fields around the world. We have been the world's No. 1 in sales within the material handling industry for the ninth straight year. Going forward, we will continue to work with our human resources and sites globally to meet growing demand.
More than 65% of sales in non-Japan markets
Daifuku strives to develop an optimal global production and supply framework, operating affiliates in 25 countries and regions. It has 69 consolidated subsidiaries and affiliates.
Leading the evolution of material handling
Since 1937, Daifuku has focused on material handling – the movement of finished goods and work in progress. Our world-class systems lead the industry by combining conveying, storage, sorting, picking and controls. Our products serve customers in a range of industries and countries.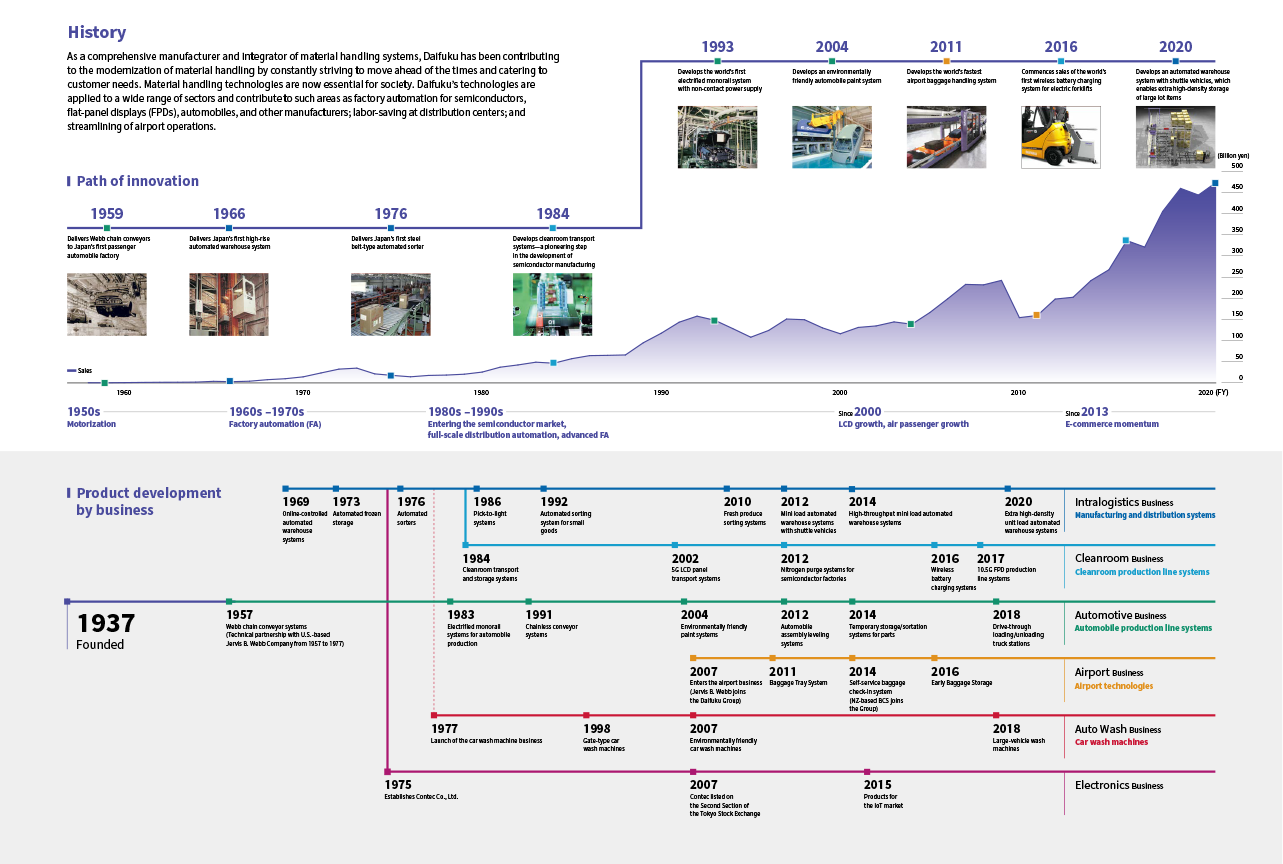 History
One-stop support structure
Our strength lies in our in-house development of hardware and software, and our comprehensive support system for customers that includes consulting, design, production, installation, and maintenance. Daifuku boasts a wealth of manufacturing and system integration experience, quickly responding to needs that include designing systems with complex requirements and making on-site adjustments when problems occur. We will establish these strengths at a global level toward achieving further success amid fierce market competition.

Building long-term relationships with customers through aftermarket services
Our service includes maintenance and regular inspection of products we have delivered. We provide an extensive servicing menu, which leads to stable earnings.
After-sales service

Periodic inspection
System maintenance contracts
Safety training
Facility services
Troubleshooting
Supply of parts/components
Remote maintenance
Prediction/Forecast system
On-site services
Upgrades, retrofits
Human resources for future growth
Along with an expansion in our global network, consolidated employee numbers increased. We invigorate our organization by employing diversified human resources.
Cultivate Human Resources
Daifuku's Growth Strategy
Given the drastic changes in the environment surrounding the Daifuku Group, in the new business plan the Group will promote DX2 (DX Squared) = Digital Transformation × Daifuku Transformation with the goal of contributing to the realization of a sustainable society and the enhancement of corporate value through solutions that solve the challenges faced by customers and society.
Management targets

Earnings and Shareholder Return
Consolidated sales and operating income
Basic policy for dividends
Daifuku regards the return of profits to shareholders as its most important management task. We aim to achieve a consolidated dividend payout ratio of 30% or more on a three-year (FY 2021-2023) average during the ongoing three-year business plan, Value Transformation 2023.
Stock Information
Daifuku's Value Creation
Under our company creed Hini Arata, we promote Value Transformation that helps enhance the competitiveness of our customers and, in tandem with contributing to the development of society, take up the challenge to enhance our corporate value.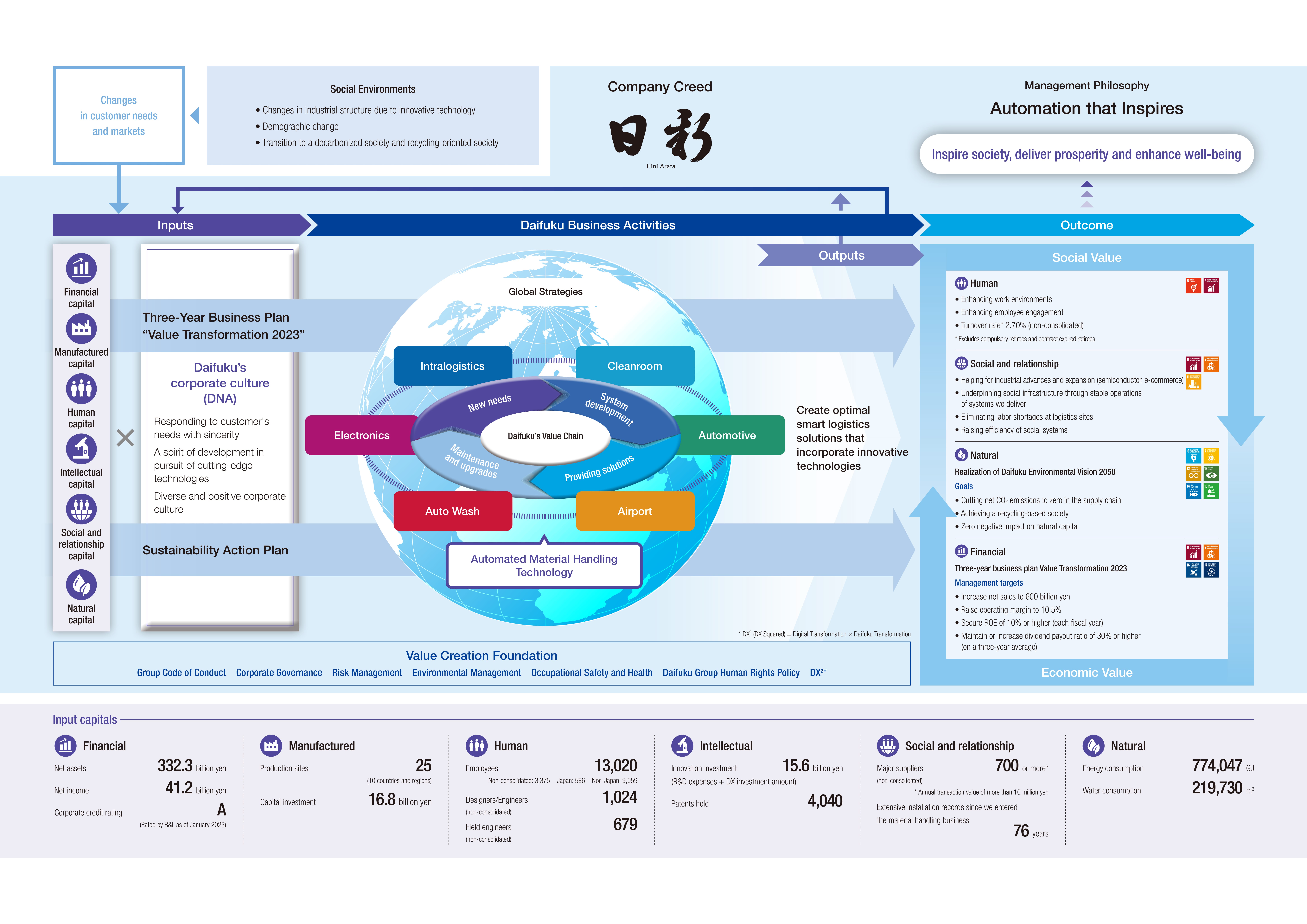 Latest Daifuku Report
Sustainability Action
"Toward realizing a sustainable society" encompasses our efforts to help achieve the Sustainable Development Goals (SDGs) of the United Nations. To do this, we have positioned our three-year business plan alongside our Sustainability Action Plan as the two wheels of our business strategy, working from the perspective of promoting efforts in ESG (environment, society, and governance), sustainability, and related endeavors.
Corporate Governance
Download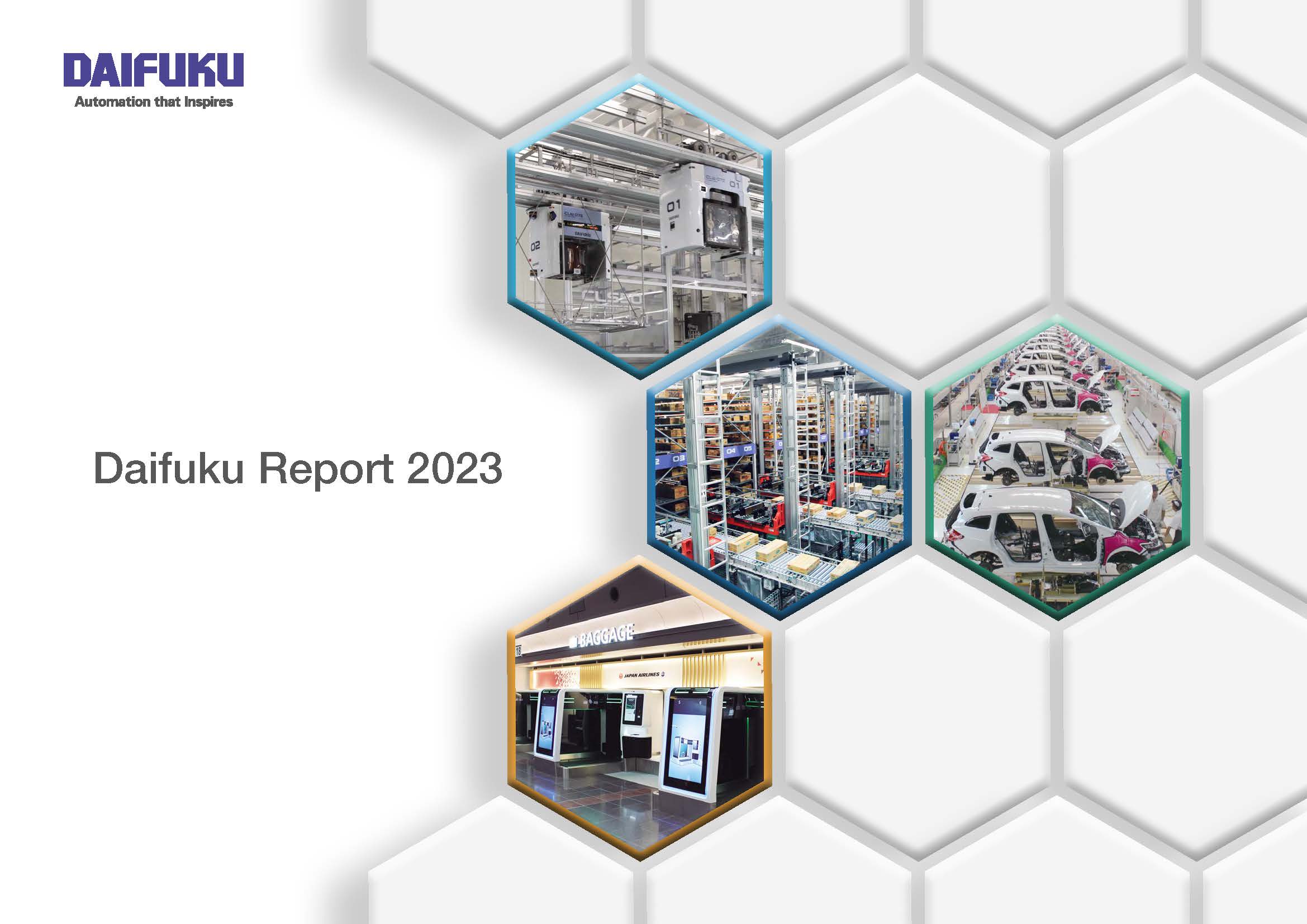 View our corporate reports describing our value creation, growth strategies, sustainability initiatives and more.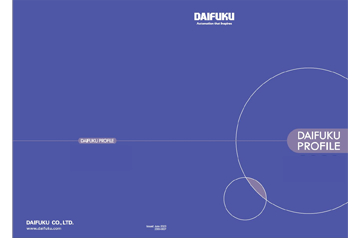 View DAIFUKU PROFILE, a compact compilation of company information.