PT Mitra Pinasthika Mulia
Intralogistics solution cut the lead time by a third
Enabling same-day shipment of orders
PT Mitra Pinasthika Mulia ("MPMulia"), a motorcycle parts retailer located in East Java, Indonesia, has constructed a new automated parts warehouse including AS/RS. The warehouse handles the increasing sales volume and item quantity of motorcycle parts. The automated warehouse has contributed to an increase in storage capacity and reduction of shipping lead times by two-thirds, thereby allowing MPMulia to differentiate itself from competitors in the industry.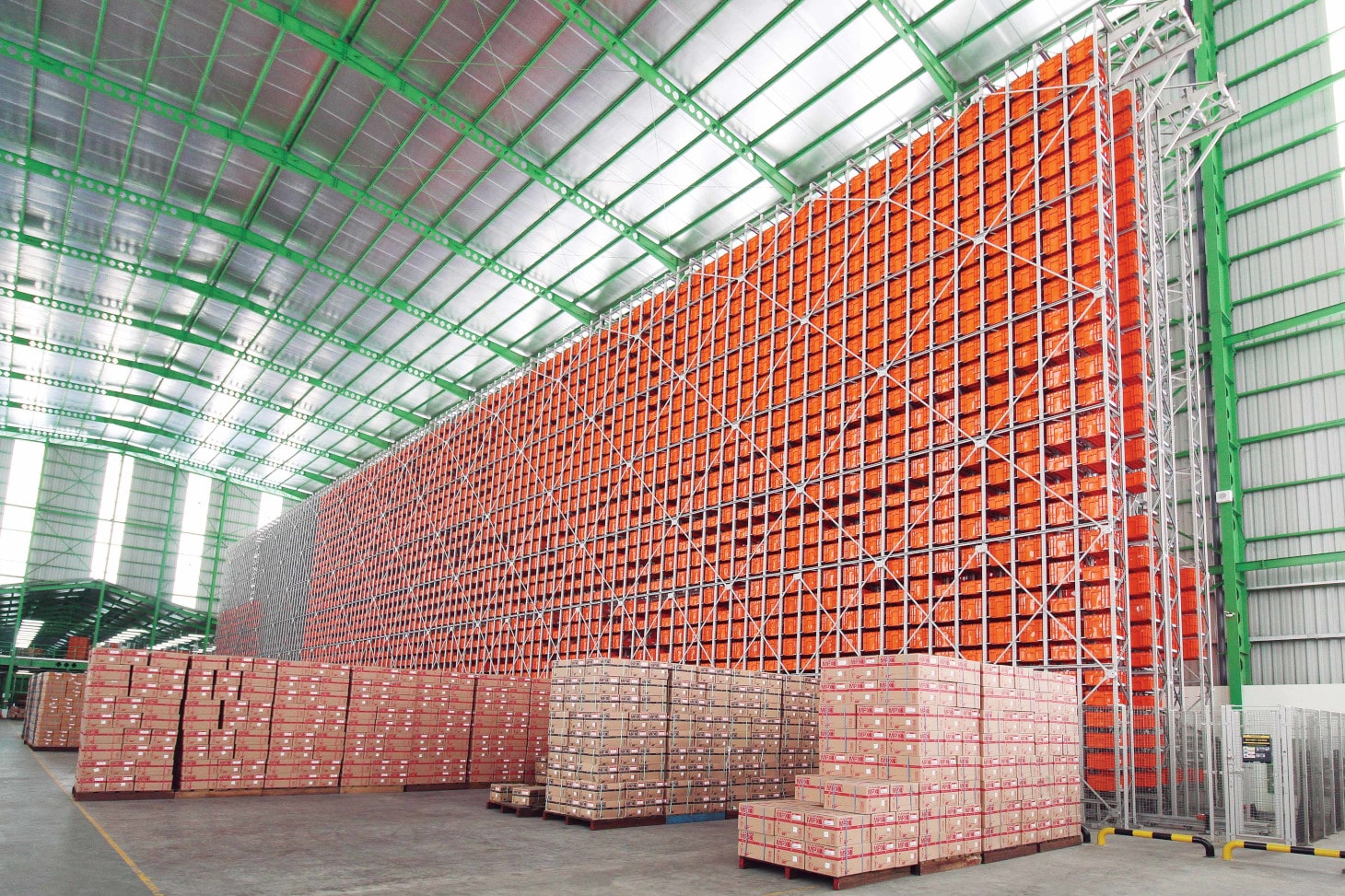 MPMulia, headquartered in Surabaya, Indonesia, was established in 1988 as a subsidiary of the MPM group, which deals in motorcycles, automobiles, and transportation services). As an authorized distributor of the Honda brand, MPMulia holds a market share of more than 70% of Indonesia, which ranks third in the world in terms of motorcycle sales after China and India.
MPMulia has a warehouse in Sidoarjo, located south of Surabaya City, where it ships its products to dealers and retailers in East Java. Their previous warehouse was operated by storing products on pallets in conventional racking. However, to accommodate growing customer needs, the volume of goods handled increased. The demand exceeded operational capacity; hence, the previous warehouse system was unable to efficiently manage the operation.
Therefore, in November 2020, a new two-story warehouse with a building area of 2,600 m2 was constructed on the land adjacent to the previous warehouse. By installing a Mini Load AS/RS (two stacker cranes with a storage capacity of 14,384 cases) together with a picking system, MPMulia greatly improved the efficiency of both receiving and shipping operations.
Improved efficiency reduced shipping lead time by two-thirds
The new warehouse consists of an automated warehouse area for storing products of both large volume orders and small volume orders.
Products for small volume orders are inspected and sorted. Since piece picking is required, they are repacked from cardboard boxes into special containers before being stored in the automatic warehouse. When an order is received from a customer, the warehouse management system (WMS) issues a warehousing instruction to the automated warehouse, and the designated container is transferred from the output port on the second floor to the four picking stations by Sorting Transfer Vehicles (STV).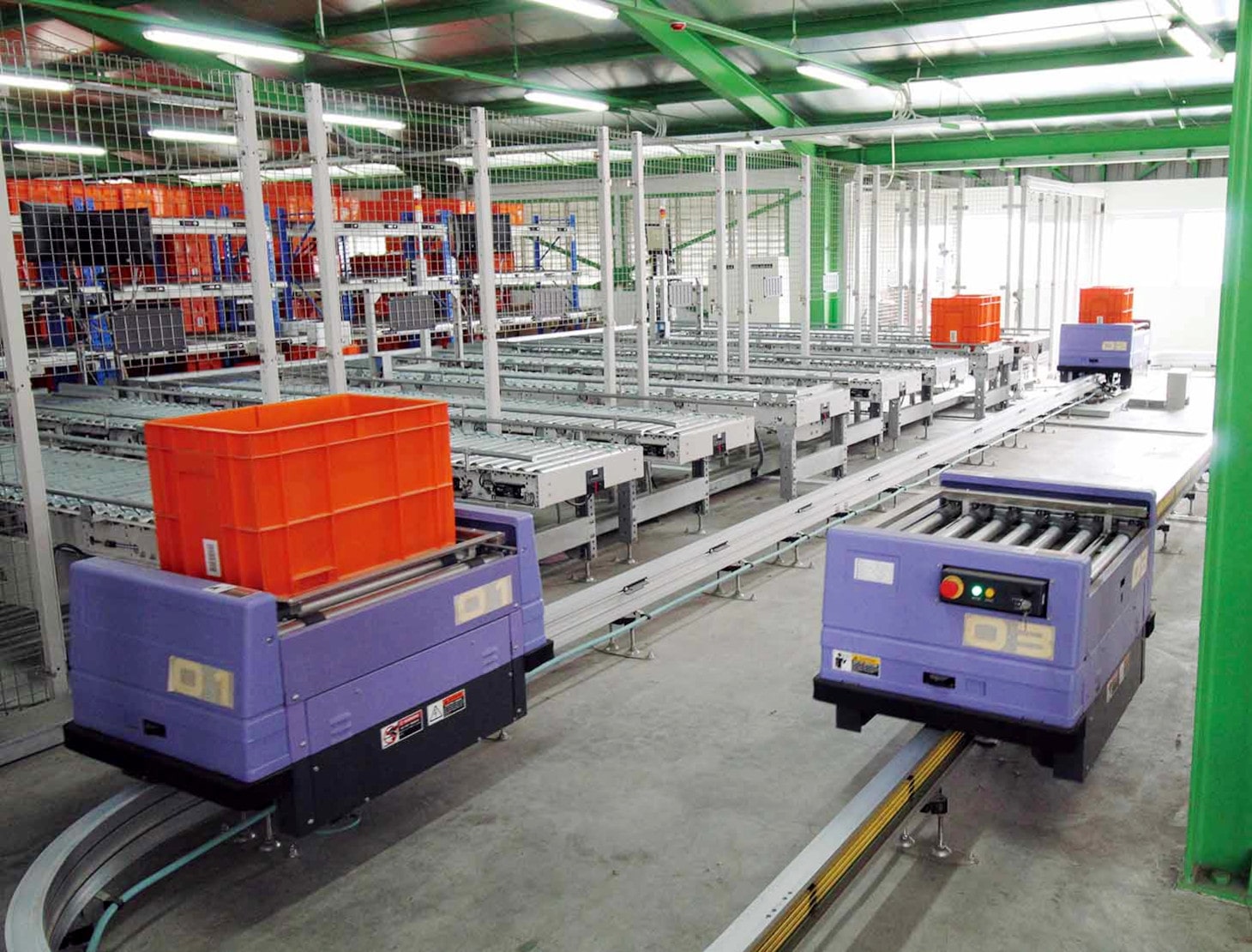 Each pick station employs batch picking for each item. Necessary quantities are picked from the retrieved containers and put into a consolidation container for each order as a part of the digital picking system. The products are then packed by destination and transported by conveyor to the shipping area on the first floor. The products are then matched with shipping loads processed as large volume orders and arranged in the truck loading order for shipment.
The installation of AS/RS has increased storage capacity to a maximum of 13,000 SKUs of goods. Previously, it took three days from receipt of order to shipment. However, by installing stations to pick at a fixed point, work efficiency has greatly improved. Furthermore, order accuracy has improved to 99.9%.
Customer's Voice
Inventory and Logistic Head of MPM's Parts Department
Hari Widodo
"While the entire motorcycle parts industry struggles from the COVID-19 situation, our sales have not fallen as far as our competitors, and I believe this is because we have shortened delivery by automating our warehouse. We plan to install a Unit Load AS/RS by the end of 2025 in order to begin handling heavy items such as oil and tires in response to growing customer needs."
View Case Study List
Contact Us
For product inquiries, please reach out to us via our Contact Us page.
Contact Us
Contact Us
For product inquiries, please reach out to us via our Contact Us page.
Contact Us(English)