History of Daifuku Conveyor Systems for Automobile Assembly Lines
In 1957, Daifuku entered into a technical affiliation for chain conveyors with Jervis B Webb International Co.., a US company which was one of the top conveyor manufacturers in the world. In 1957, Daifuku delivered its first product, the Trolley Conveyor, to Toyota Auto Body Co., Ltd.'s Kariya Plant. The domestic production quantity of automobiles in that particular year was approximately 182,000, three times more than that of 1955. The year 1957 was when Japanese automakers started mass production of automobiles. Webb-type chain conveyors, which had been widely used in the US, made a grand debut in Japan.
The following describes the development of Daifuku's conveyor systems for automobile assembly lines, from the Webb-type chain conveyors, which was the driving force of the growth of the Japanese automobile industry to the New Flexible Drive System, the present main model.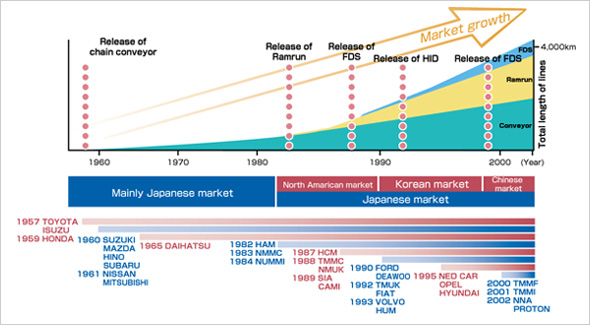 Chain Conveyor System
The biggest advantage of chains used for Webb-type chain conveyors is that they are extremely strong, as they are made of forged steel and have a rivetless structure, and can be readily assembled and disassembled by hand. There are two types: the U Conveyor Chain for light load transport allows steep inclination angles and flexible layouts, and the JX-type Chain for heavy load transport with a high breaking strength. Daifuku's chain conveyor systems can be used in overhead and floor installations. The trolley model and the Daifuku Magic model are also available. They can be used under various transport conditions (Figure 1). Its high functionality and reliability are still useful in current configurations. We have delivered many chain conveyors not only to automakers but also to manufacturers in other industries.
The Daifuku Magic Conveyor is an advancement of trolley-type conveyors, which were available only in a direct-hanging configuration. The Daifuku Magic Conveyor can accommodate complicated transport layouts, including for accumulation (Photo 1). In 1957, Daifuku delivered its first Daifuku Magic Conveyor to Isuzu Motors Limited for the Tsurumi Plant's engine assembly line. This particular conveyor system attracted attention as a revolutionary product that would take the place of conventional roller conveyors, which widely used in assembly lines at that time. From then on, orders for the conveyor model increased along with the rapid expansion of new plant constructions for passenger cars.

During the early 1980s, trade conflict surfaced between Japan and the US when automobile exports from Japan to the US reached 1.8 million and the market share of Japanese cars in North America exceeded 20 percent. Japanese automakers continued to expand their overseas operations and local production. Daifuku delivered various types of conveyor systems to many plants, including Honda Motor Company's Ohio plant and Nissan Motor Company's Tennessee plant. Meanwhile, automation of production lines became an urgent matter due to the increasing demand in automobile production. The implementation of industrial robots reached its peak during those years. However, demands for new transport systems appeared because chain conveyors were not able to catch up with the rapid motion of industrial robots, resulting in unsatisfactory production efficiency.
In 1983, Daifuku developed the RAMRUN monorail system (Photo 2). In the same year, we delivered the first and second RAMRUNs to Toyota Motor Corporation's Motomachi Plant and Kanto Auto Works Ltd.'s Higashi-Fuji Plant respectively. RAMRUN's biggest advantage is that it enables the construction of highly advanced car production lines with its computer-controlled continuous and intermittent operations. In addition to high performance, including a maximum transport speed of 120 m/minute and a transmission range of 1:20, it also has the following benefits.
Applicable not only to robotic work but also to manual work
Allows a flexibe laid out
Easy expansion and contraction of functionality
Quiet, clean, and little dust
Good appearance and contributive to the creation of comfortable working environments
Daifuku RAMRUN precisely met the needs of customers at the time. It sold very well and became one of the best selling products for Daifuku. An additional model RAMRUN-LIM, with a linear induction motor installed, provided a high-speed transport (400 m/minute) of light and small loads and helped reduce the number of carts in process.
Pallet-type Flexible Drive System (FDS)
In 1988, Daifuku developed the pallet-type FDS to replace slat conveyors (Photo 3). The FDS is a urethane-roller conveyor that continuously carries car bodies mounted on pallets. Workers can step on the pallet to do assembly work, they do not have to walk along the assembly line, as was necessary with conventional slat conveyors. The FDS eliminates motion sickness for workers and has the advantage of enabling the construction of a worker-friendly environment. The first FDS was delivered to the Kanto Auto Works Ltd.'s Fukaura Plant in 1988.
Non-Contact Power Supply System HID (High-Efficiency Inductive Power Distribution Technology)
In 1993, Daifuku developed the noncontact power supply system HID jointly with New Zealand's University of Auckland. The HID is used in RAMRUNs (Photo 4) and the pallet-type FDS, for instance, to supply electric power to lift units. This noncontact power supply system has contributed to the implementation of safe and clean working environments and helped reduce maintenance costs drastically.
Conventional contact power supply technology using trolley lines and collectors has drawbacks, including wear of collectors, wear debris and dust, and sparks generated by line separation. HID consists of two induction cables instead of conventional trolley lines, a pickup coil instead of collectors, and a power receiving unit (Figure 2). The power supply panel converts commercial electric power to a frequency suitable for non-contact power supply and feeds it to induction cables. A magnetic field is generated around the induction cables to supply electric power to moving objects efficiently.
The HID was first installed on the RAMRUN, which was delivered to the Kanto Auto Works Ltd.'s Iwate Plant. We then provided a similar transport system to General Motors Company. This delivery gained worldwide attention and the HID has been utilized by many customers around the world. Currently, the non-contact power supply system is widely used, not only in automobile plants, but also in the material handling equipment for semiconductor and liquid crystal plants which require a clean environment.
New Flexible Drive System (New FDS)
In 1999, Daifuku improved the functionality of the FDS, which was available in a pallet type only, and added overhead and floor types (Photo 5). We enhanced the lineup as we named it the New FDS. One of the advantages of the New FDS is that users can choose friction (Figure 3), chain, and roller drives. The selection of drive methods was not possible with a conventional FDS. For example, you can eliminate the necessity of transferring car bodies from carrier to carrier for drying operations by implementing a chain drive and a friction drive for transport operations on the same assembly line. It also has the following advantages:
Transport speed can be set in a range from 1 to 40 m/minute (basic spec)
Carriers are simply constructed and do not have their own drive source. They are easily maintained. Cost-performance is also high
Since a wire saving unit is used for line control, the construction period is shortened
Only necessary parts of friction-driven urethane rollers operate. Energy saving is excellent, and the noise level is more than 10 dB lower than chain conveyors
Unlike conventional systems that utilize a single driving mode, the FDS enables the selection of the optimum driving methods as necessary and the construction of transport systems that best matches the purpose of the assembly line. The FDS is mostly applied in automobile production lines.
Conclusion
After World War II, Japanese automakers achieved amazingly rapid growth and expansion. During the late 1980s, annual production quantity reached 11 million. Since then, automakers experienced the effects of trade friction and the appreciation of the yen, and have been expanding business overseas, with automobiles produced around the world. Meanwhile, the transport system requirements of automakers have been rapidly and drastically changing, including demands for mass production, automated systems, multi-model mixed production, lead time reduction, and emphasis in ecology and safety. Daifuku has developed material handling equipment to meet a variety of needs.
Recently, automakers have shown a stronger tendency toward diversification of products. Assembly lines supporting multi-model mixed production is now most common. In addition, as development period of a new car model becomes shorter year by year, delivery times of material handling equipment must become shorter as well. To meet this demand, Daifuku has improved the efficiency of design and production by employing digital engineering and implementing production at the optimal locations worldwide.
Contact Us
For product inquiries, please reach out to us via our Contact Us page.
Contact Us
Contact Us
For product inquiries, please reach out to us via our Contact Us page.
Contact Us(English)
Contact Us
For product inquiries, please reach out to us via our Contact Us page.
Contact Us(English)