Education and Awareness-Raising Activities
The Daifuku Group positions our three-year business plan and the Sustainability Action Plan as the two cornerstones of our management strategy, and each and every one of our employees aims to contribute to the achievement of the Sustainable Development Goals (SDGs). In practicing sustainability management that contributes to society in a broad range of areas and balances social values and economic values, the Group works to facilitate understanding among our employees through the measures below.
Raising Awareness about Sustainability
Rank-based training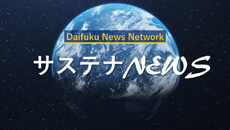 Lectures and workshops on sustainability are held by job level for new hires, mid-career employees, and mid-level employees.
Organizing seminars with experts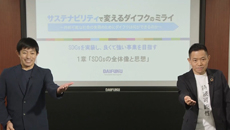 We organized four seminars by experts from November 2020 to February 2021 to improve understanding of the SDGs. The events were recorded and the videos are made available on our internal network for employees to access at any time.
Communication through videos and manga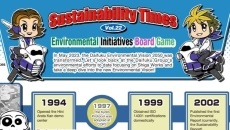 We distribute videos and manga to inform our employees about our company policies, the importance of sustainability, and the larger social context in an accessible manner so we can promote their understanding and action. In fiscal 2021, a total of six videos and five manga were distributed along five themes to promote the spread in the Group of the newly formulated Sustainability Action Plan. These videos are available in multiple languages and posted on the company network so that they can be accessed by Group employees at any time.
Raising Awareness about Environmental Issues
Daifuku Eco-Action Program
In 2012, Daifuku established its Daifuku Eco-Action Program, which rewards eco-points for environmental activities undertaken by employees in a bid to foster an environmental mindset. With a variety of ecological activities provided in each region, we recorded 11,608 instances of employees participating in volunteer activities and environmental learning events in fiscal 2021. Eco-points gained by employees can be exchanged for green goods and other rewards. In addition, we donate an amount equivalent to the total points gained by them to external organizations.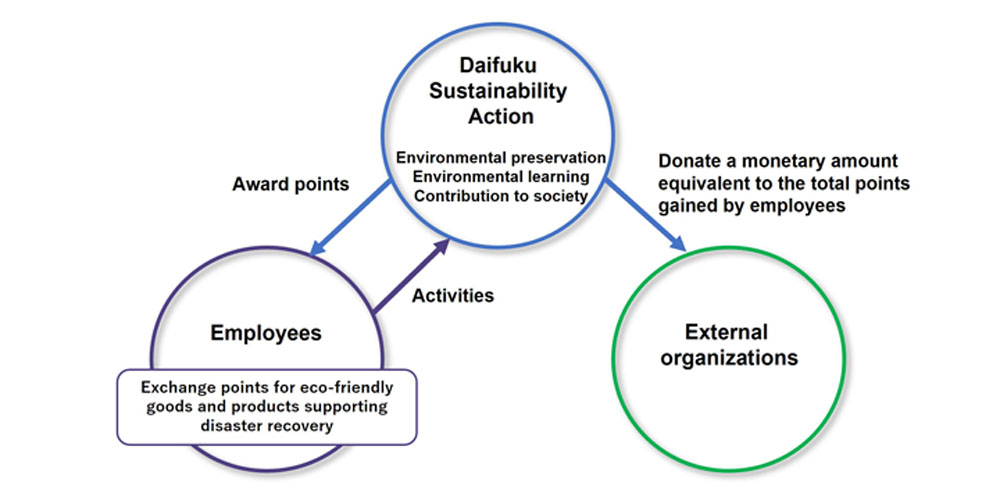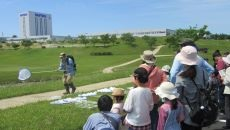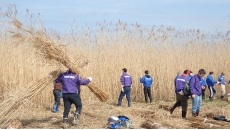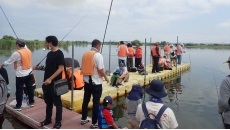 Daifuku Eco-Action events(examples)
Program
Content / Description
FY2021
Total number of participants (non-unique)
Eco Field Report
Learn about the environment through experiences at nature parks, zoos, museums, environmental facilities, etc.
233 people
Eco Quiz
Eco Quiz published in the in-house newsletter. Disseminate information about the environment and deepen the understanding of this topic
4,607 people
Environment oriented household account book
Allows entering data about usage of electricity and water etc., for visualization to raise awareness of energy conservation
130 people
Number of participants
| | FY2019 | FY2020 | FY2021 |
| --- | --- | --- | --- |
| Total number of participants (non-unique) | 13,403 people | 7,122 people | 11,608 people |
Donations
In fiscal 2021, Daifuku made the following donations as a part of the Daifuku Eco-Action Program, which is an employee participation-style environmental initiative.
Donation recipients
Amount
Content
(Continued)10th year
Shiga Prefectural Lake Biwa Museum
1,000,000 yen
(previous year: 1,000,000 yen)
Museum Renewal Operating Cost
(Continued) 9th year
Hini Arata Kan carbon offset
550,000 yen
(previous year: 460,000 yen)
Offset through contributions to the regional reduction framework of amounts equal to CO2 emissions generated from operating the Hini Arata Kan and associated with visitor movements there
(Continued)3rd year
The Nature Conservation Society of Japan
150,000 yen
(previous year: 200,000 yen)
Various projects to facilitate education and awareness of, and investigative research on nature conservation
(New)
National Land Afforestation Promotion Organization
1,500,000 yen
To promote the greening of the earth, the Organization has established a tropical rainforest development fund based on donations from companies and individuals, and carries out afforestation overseas.