Basic Approach
In the course of developing our business, we must not only comply with laws and regulations, but also address the demands of society in areas including labor, human rights, and the environment. This applies to not only us, but also all our various business partners, who provide us with goods and services. By making sure our business partners are also committed to addressing the demands of society, we are able to build trust and long-term relations with our stakeholders. The Daifuku Group has established the Daifuku Group Human Rights Policy, Basic Procurement Policy, CSR Procurement Standards, and Green Procurement Guidelines. We expect those associated with our operations, including in the supply chain, to understand and put into practice these policies, and we are advancing efforts to build a sound and sustainable supply chain.
Basic Procurement Policy
Our principles for dealing with suppliers are as outlined below, in keeping with the Management Policy and Group Code of Conduct.
Fairness, Impartiality

We will open the door wide, both in Japan and overseas, and provide opportunities for free competition.
We will select our business partners through the comprehensive evaluation of quality, technology development capabilities, economy and stable supply, as well as business conditions, etc.
We will establish a relationship of mutual trust with all our business partners and endeavor to conduct fair, impartial and transparent transactions.

Safety, Quality, Cost, Delivery

We will pursue the creation of a safe and healthy working environment.
We will pursue the optimization of procurement through the maintenance, improvement and enhancement of Q (quality), C (cost) and D (delivery).

CSR Procurement*

We will conduct CSR activities to fulfill our social responsibility in terms of compliance, human rights, labor, environmental preservation, regional contribution and so on.

*

The activities carried out by an enterprise in the entire supply chain in the procurement of products and materials in cooperation with suppliers through the addition of CSR elements such as compliance, human rights, labor, environmental preservation and regional contribution to existing elements such as safety, quality, performance, price and delivery period
CSR Procurement Standards
Safety

To prevent labor accidents, etc., we will endeavor to secure the safety of employees, etc. by taking appropriate safety measures.
We will assess the state of labor accidents and work-related illness and take appropriate measures for the prevention of recurrence.
We will work on the creation of a safe and healthy working environment by placing top priority on ensuring safety and health at work.

Quality, Cost, Delivery

We will endeavor to maintain, improve and enhance quality, costs and delivery.
We will secure appropriate quality and delivery and pursue optimal costs.
We will endeavor to establish a production system that can provide stable supply and a crisis management system for incidents such as accidents.

Compliance

We will faithfully perform work according to laws and regulations, social norms and corporate ethics relating to all countries and regions in Japan and overseas.
We will properly manage confidential information and personal information and thoroughly ensure information security.
We will not provide benefits or facilities, including the grant and receipt of improper benefits and the demand for returns related to work.
We will not have any relationships with antisocial forces, including transactions, by taking a resolute attitude against them, and will conduct fair business.

Human Rights, Labor

We will understand the cultures and customs of countries and regions and work on the creation of a company where the human rights of all people are respected.
We will eliminate child labor, a poor environment, forced labor and working for long hours, and will work on the creation of a positive environment that is suitable for work.
We will endeavor to develop human resources with the knowledge, technologies and skills necessary to support business activities in Japan and overseas.

Environmental Preservation and Regional Contribution

We will promote environmentally friendly procurement.

*

(The Green Procurement Guidelines (formulated in 2005, updated in 2021) shall apply to procurement in Japan.)

We will conduct energy saving activities such as resource conservation and waste reduction.
We will live in harmony with the communities and society where we conduct business activities.
We will endeavor to participate actively in social support activities.
Promotion System
We promote supply chain management initiatives focused on employees involved in procurement in our Corporate Functions and Business Divisions. Regarding our due diligence in the supply chain, a Human Rights and Supply Chain Subcommittee has been established under the auspices of the Sustainability Committee, consisting of members appointed from multiple divisions, including Procurement, Personnel, Legal Affairs, and Sustainability, to create internal policies and frameworks for CSR procurement and to ensure its reliable implementation. As initiatives to enhance our efforts in fiscal 2022, this Subcommittee will launch the Human Rights Due Diligence Promotion Project to promote human rights due diligence throughout the Group and the Sustainable Procurement Project to formulate guidelines and establish a framework for sustainable procurement.
Major Initiatives
Procurement Worker Qualification Course System
The Procurement Worker Qualification Course System, which primarily targets employees involved in procurement-related work, is an e-learning course held several times each year to allow employees to gain a compliance mindset and knowledge of the relevant laws and regulations necessary for order work, such as production and procurement, with the aim of engaging in ordering work with integrity and high ethical and moral standards in line with our management philosophy and the Group's code of conduct. Students obtain qualification by passing a confirmation test after taking the course.
Engagement with suppliers
Management/Safety Policy and Production Trends Presentation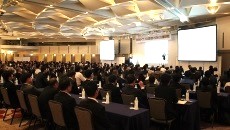 A seminar was held annually under the name of the Management and Production Trends Presentation, which invites major suppliers ranging from manufacturers and trading companies to processing, construction, service industry, design, and software development companies. However, beginning in fiscal 2021, to help prevent the spread of COVID-19, the presentation has been held jointly with the Safety and Health Seminar for Suppliers, and the name was changed to the Management/Safety Policy and Production Trends Presentation. In this Presentation, we report on production trends and health and safety initiatives in each of our business divisions, and external experts give lectures. In fiscal 2022, 288 business partners were invited.
Supplier Quality Development (S.Q.D.) Award

In fiscal 2003, we established a Supplier Evaluation System and launched the S.Q.D. Award to commend outstanding goods-related suppliers, manufacturing subcontractors, designers, construction and installation contractors, and others. In fiscal 2022, the S.Q.D. Award was presented to five suppliers at the Management/Safety Policy and Production Trends Presentation from among a total of 190 candidate companies. The candidates were evaluated based on quality and environmental criteria. We support our suppliers by sharing and spreading the practices of the award-winning companies.
Informing suppliers of our policies
To ensure that our stakeholders around the world, including our suppliers, are fully aware of our sustainable procurement policies, we have published on our website the Group Code of Conduct, the Daifuku Group Human Rights Policy, the Basic Procurement Policy, the CSR Procurement Standards, and the Green Procurement Guidelines. After the Daifuku Group Human Rights Policy was formulated in 2021, the CEO invited major suppliers to the Management/Safety Policy and Production Trends Presentation held in June 2022 to promote understanding and implementation of the policy.
CSR surveys for suppliers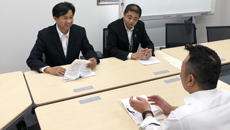 A visit in progress
We promote CSR initiatives throughout the entire supply chain by encouraging an understanding of the need for CSR, such as through CSR surveys (self-assessment check sheets) for suppliers in Japan and by on-site monitoring.
Main questions in the CSR surveys

Safety
Quality, cost and delivery
Compliance
Human rights, labor
Protecting the environment and contributing to local communities
Supplier Operations Verification System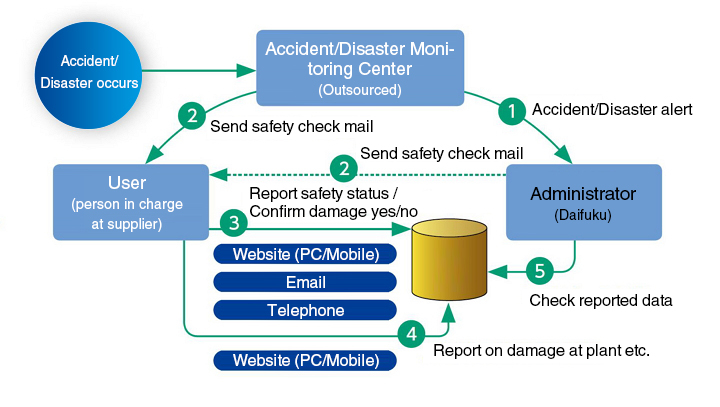 We are using a system to confirm the operational status of our suppliers in an emergency as part of a scheme to strengthen our business continuity plan. In the event of an emergency, this system confirms damage status of suppliers and safety of personnel by e-mail. We use this system with the aim of ensuring quick recovery and return to normal operations of the whole supply chain by sharing information quickly and accurately.
Green procurement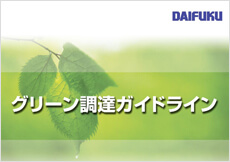 We believe that the manufacturing of environmentally friendly products is a mission it must achieve as a global company. Under the motto, "We will not buy, use, or sell any hazardous materials," we formulated our Green Procurement Guidelines in November 2005.
Action for fair and transparent transactions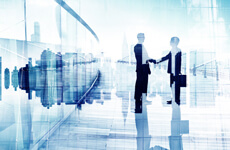 In order to build fair and transparent relationships with business partners and conduct the transactions in accordance with healthy business practices, we have established internal rules that prohibit, excepting in certain circumstances, the reception of entertainment, gifts and other personal benefits or conveniences from business partners.