Daifuku's Retrofit Solutions
1. Why retrofitting is necessary
It has been more than 50 years since Daifuku delivered its first automated warehouse. During this period, Daifuku has delivered more than 33,000 automated stacker cranes. Many of them are still operating normally and contributing to our customers' logistics operations. However, there are some automated warehouses that are not fully performing their required functions due to aging from long-term use or changes in logistics environments.
When equipment is used for a long period, the incidence of problems inevitably increases due to wear and deterioration of parts. In addition, the number of technicians who can deal with legacy machines is decreasing, and it may take a long time to restore them.
Retrofitting is one of the most effective ways to revive such material handling equipment and make it last longer and more comfortably. In order to maintain stable operation over a long period, in addition to regular maintenance and inspection, it is necessary to renew the machines, controls, and computers according to their respective life cycles. Since 1994, we have had a dedicated renewal service department, which provides high quality and quick delivery solutions by developing dedicated retrofitting modules tailored to machine specifications and control generation. From the perspective of business continuity, we recommend that you incorporate the retrofitting into your long-term business plan.
Operation stop due to failure from aging
Service parts termination
System no longer fits the current operation needs
Inadequate throughput for current needs
Opportunity loss, product loss
Increasing maintenance cost
Inefficient operations, low productivity
Increasing overtime wage
2. When retrofitting is recommended
Under the Japanese accounting system, automated warehouses, mobile racks, sorters, and other material handling equipment are supposed to be depreciated over 8 to 12 years. This is of course for accounting and taxation purposes, and does not mean that 8 to 12 years is the life of the equipment. With regular inspection and maintenance, the equipment can be used for more than 20 years.
As a typical example, let's look at an automated warehouse. An automated warehouse consists of three components: the inventory management computer (WMS), the machine controller, and the machine hardware. Although it would be ideal to renew all three components at the same time, it is not always the best option due to the high cost and long outage periods.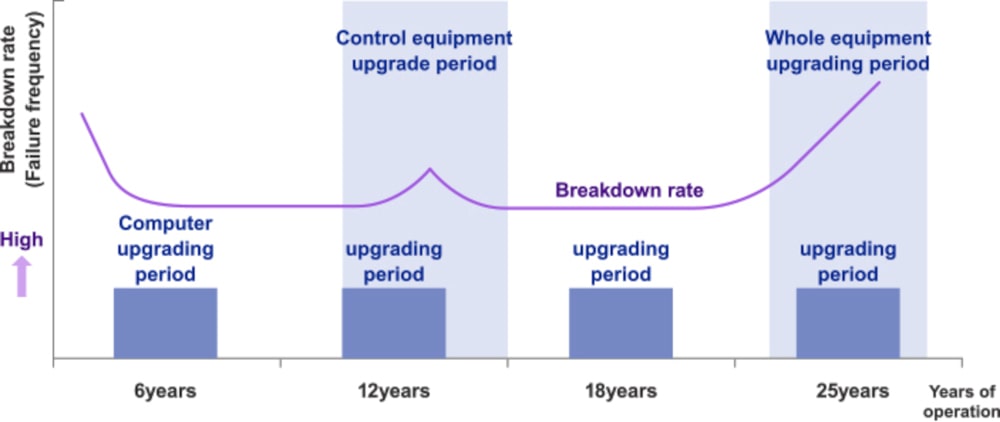 | | | |
| --- | --- | --- |
| 6~7 years | Computer | Our inventory management computers (WMS) use industrial PCs, which are more durable than ordinary consumer PCs and can be used for a longer period. Since the maintenance period for industrial PCs is 7 to 10 years after the discontinuation of production, we recommend updating the computer hardware before it reaches this date. The end of OS support is also an important time to think about updating. |
| ~12 years | Controller | The electronic components used in control devices are discontinued after a few years to keep up with technological innovations, making them difficult to repair or replace. In general, the maximum service period is set at 12 years based on the depreciation period of the equipment. For control modules manufactured in-house by Daifuku, we consider the serviceable period to be 12 years, which includes a 7-year service period and another 5-year repair period. |
| ~25 years | Machine | Stacker cranes can operate for more than 20 years if daily inspections and regular maintenance are carried out. Daifuku considers the equipment life of a stacker crane to be 25 years and recommends replacing it with a new crane. We also recommend updating peripheral equipment such as conveyors and STVs to match the crane throughput. |
3. Daifuku's Retrofit Solutions
Below are the typical retrofit menu by equipment. Contact us for the detailed retrofit plan tailored to your system configuration.
*1

Daifuku acquired the logistics systems business of KITO Corp. in 2004.

*2

Daifuku acquired the after-sales business of the logistics systems of Komatsu Utility (Currently Komatsu) in 2009.
Contact Us
For product inquiries, please reach out to us via our Contact Us page.
Contact Us
Contact Us
For product inquiries, please reach out to us via our Contact Us page.
Contact Us(English)
Contact Us
For product inquiries, please reach out to us via our Contact Us page.
Contact Us(English)