Becoming an Automation Leader in China's Stationery Goods Industry
Founded in 1981, China-based Deli Group Co., Ltd. is a prominent manufacturer of stationery and office supplies. The group covers independent sub-brands such as Deli Office, Deli Stationery, Agnite, Nu Sign and Deli Tools. Its product lines cover twenty-four categories, including office and student stationery, office equipment, office consumables, and office paper products, and has been a leading player in its sphere for many years. Deli's products are exported to more than 130 countries and regions, such as the United States, Europe, South America, the Middle East and Southeast Asia.
Challenge
The business model of Deli Group covers OBM (own brand manufacturing), OEM (original equipment manufacturing), and ODM (original design manufacturing). Conventionally, Deli Group outsourced its warehousing operations. However, that approach often required a sizeable workforce and expensive warehouse rentals and management costs, which made it incredibly difficult to scale-up its logistics and warehousing operations in line with business growth.
Further, acquiring large warehouses in larger cities, which are typically more expensive, proved to be exceedingly difficult. With the increasing scale of Deli's business, the need for warehousing was growing rapidly. The company determined that in order to meet it needs and improve and strengthen its warehousing and logistics capabilities, it needed to shift from a leased and manual approach.
Solution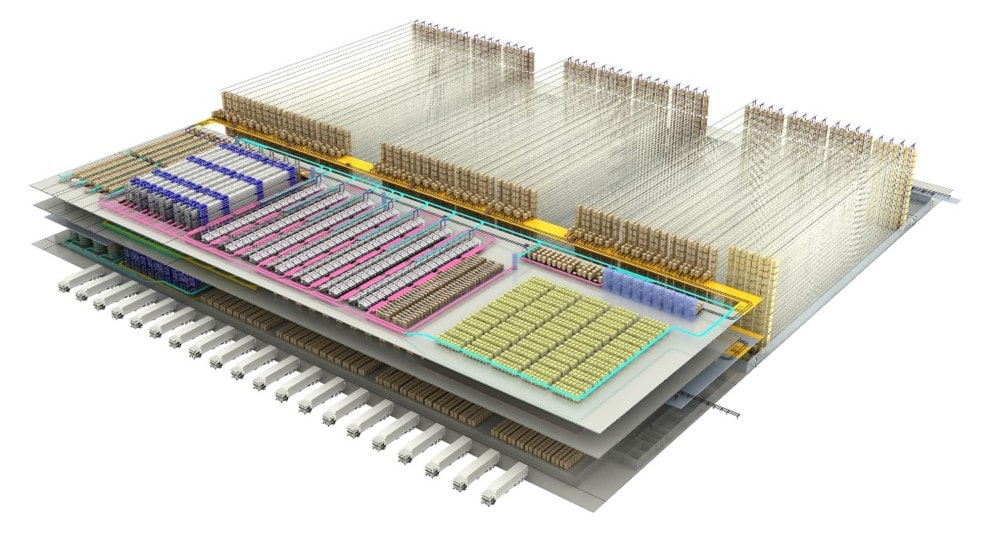 The Deli Intelligent Logistics Centre has a total site area of about 110,000 square meters. The automated storage area comprises two unit load AS/RSs, one featuring rack-side picking; a mini load AS/RS; Shuttle Rack M; Sorting Transfer Vehicles (STVs); robot picking area; high-speed sorting system; and automated handling system. The high degree of automation supporting the flow of goods from receiving to shipping has streamlined all intralogistics processes, which has helped to reduce labor costs.
The center uses 50 stacker cranes up to 30 meters high, together with hundreds of STVs, automated guided vehicles (AGVs), robots, and high-speed sorting systems. Thanks to the use of automated storage and retrieval systems, the center boasts a storage capacity of 2.8 million cases, which supports the efficient delivery and circulation of products.
From receiving to storage, conveying, picking, and shipping, the adoption of automation and supporting software has improved efficiency across all intralogistics operations in the warehouse while solving the high-error rate found with manual operations.
Receiving: The warehouse uses an OEM goods-based receiving system that uses AGVs to automatically move goods to the goods staging area.
Conveying: Pallets of goods are transported to the designated storage space in the AS/RS via conveyors and stacker cranes working together.
Storage: OEM goods that require quality inspection are transported by forklift-type AGVs and elevators to the second floor for quality inspection; OEM goods that do not require quality inspection are carried by AGVs to the conveyor for inbound operations.
Picking: The stacker cranes and conveyors work in tandem to move pallets to picking stations. Staff confirm the required case quantity according to the WMS and perform the picking operation.
Shipping: Picked cases are transported by conveyor to the Shuttle Rack. Finally, cases are sorted by a sorting system.
Outcome
Compared with traditional warehouses, the Deli Intelligent Logistics Centre makes full use of its vertical space, which not only reduces the required land use area, but also significantly enhances on-site storage capacity.
At present, the maximum daily incoming and outgoing cargo volume of the logistics center can reach 400,000 cases, far exceeding the average daily incoming and outgoing requirements of 200,000 cases as originally expected by Deli, which can meet the demand for larger numbers of SKUs and leave enough margin for Deli's subsequent business development.
Compared with its conventional processes, Deli has reduced its labor and management costs in its warehouse operations, meanwhile, the use of end-to-end automation for intralogistics processes has greatly improved order processing capacity and met Deli's fast-growing business demand.
Currently, the center's service area extends throughout China. In the future, the company hopes to be able to resolve delays in informatization and systemization at the end of the product distribution chain. Once this is achieved and the information linkage between the logistics center and the distribution network is strengthened, Deli believes that the entire supply chain will become more efficient due to the synergistic effect.
View Case Study List
Contact Us
For product inquiries, please reach out to us via our Contact Us page.
Contact Us
Contact Us
For product inquiries, please reach out to us via our Contact Us page.
Contact Us(English)
Contact Us
For product inquiries, please reach out to us via our Contact Us page.
Contact Us(English)