Responding to passenger increases with SBDs accelerates the spread of automation and digitalization toward sustainable growth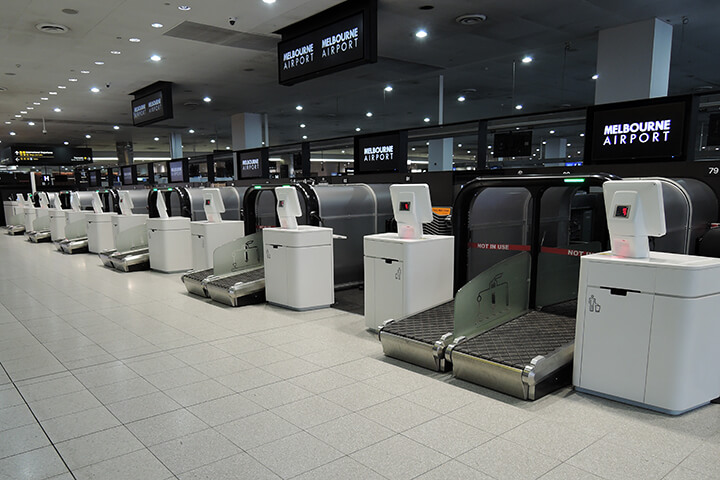 In recent years, Melbourne Airport, located in Victoria, Australia, installed self-service check-in systems as part of their efforts to expand and optimize the airport and its operations in response to an increasing number of passengers, a drive to improve customer service, and shift to reducing operating costs.
Based in Victoria, Australia's south-eastern state, Melbourne Airport is a 24-hour international hub used by nearly 40 million passengers annually. Along with many international flag carriers, including Australia's Qantas, low-cost carriers (LLCs) also operate out of the airport. Six airlines operate flights to 31 domestic locations, with another 35 providing direct flights to 42 international locations.
Since 2001, Group company, BCS Group Limited, has supported Melbourne Airport in its effort to automate and digitalize by providing the airport with both hardware and software components of its baggage handling system (BHS), and operation and maintenance (O&M) services.
Domestic passenger numbers at the airport almost doubled from 13.62 million during 2000-2001 to 25.84 million during 2017-2018. This significant increase led to challenges for the airport in processing such high volumes while maintaining their high level of service. In addition, to minimize operating costs, the airport considered ways to reduce the costs of baggage handling. In response to these challenges, the airport looked to automation, deciding to transition staffed check-in counters across its domestic LCC terminal (Terminal 4) in 2015, to self-service check-in systems, enabling passengers to check in independently without assistance from airline or airport personnel. To realize this self-service goal, the airport selected BCS's Self Bag Drop (SBD) as the solution.
First, passengers are issued a boarding pass and bag tag at the kiosk terminal then proceed to the SBD. Then, scanning the boarding pass at the SBD, the passenger places their bag, with the bag tag attached, onto the conveyor. Next, the SBD measures the bag's weight and size, scans the bag tag, determines whether the bag is oversized or not, and, if not oversized, deposits the bag into the BHS. As all the procedures can be completed independently by the passenger, only one airport or airline staff is required to operate six SBDs. Further, the amount of baggage processed by an SBD is about ten times that of conventional staffed check-in counters, allowing airlines to reduce the number of required staff for check-in operations and deploy them to other higher-value tasks.
For passengers, shorter times for checking in baggage is a great advantage. It improves the airport experience, freeing them from the stress of waiting in line and worrying about departure times.
BCS's SBDs are also installed at Melbourne Airport's other terminals, with 94 units in operation across the airport. Self-baggage check-in systems provide a host of advantages for airports, airlines, and passengers alike, and are expected to see growth across airports globally.
Contact Us
For product inquiries, please reach out to us via our Contact Us page.
Contact Us
Contact Us
For product inquiries, please reach out to us via our Contact Us page.
Contact Us(English)
Contact Us
For product inquiries, please reach out to us via our Contact Us page.
Contact Us(English)