27 year-old AS/RS reinvigorated with new twin-mast cranes at one of Britain's largest printers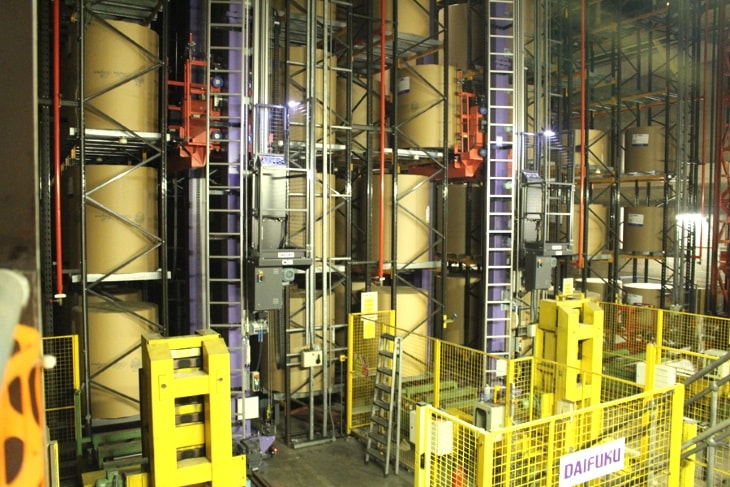 Trinity Mirror Printing Oldham Ltd. (headquartered in Oldham, U.K.), part of the printing arm of the U.K.'s largest newspaper, magazine and digital publisher Trinity Mirror plc (headquartered in London, U.K.), installed two high-bay twin-mast cranes to its existing storage system at the Oldham facility. The installation provided improvements in efficiency, increased safety features and all but removed the need for extensive and costly regular maintenance & repairs.
Trinity Mirror's Business
Founded in 1987, Trinity Mirror Printing Oldham Ltd., part of the Trinity Mirror Group, prints 80 national and regional newspapers and magazines, including the Daily Mirror, Daily Mail and regional prints such the Manchester Evening News. Printing around 8.2 million copies weekly, the facility takes near-daily deliveries of paper reels from around the world, including from Russia, Norway and Canada among others. Using around 1,200 paper reels is equivalent to 27.6 million meters of paper every week, with prints shipped out to wholesalers and retailers within a 100 mile radius of the site every morning.
27 year-old AS/RS system in trouble
In 1989, in a 70-sq.m space at the Oldham facility, the original three-aisled AS/RS, with 1,728 storage locations and three single-mast cranes for the storage of paper reels was installed. However, after 27 years, metal fatigue resulted in increased man hours used for maintenance and repair, including extensive welding on fatigued components, which raised safety concerns and system downtime, impacting both input during paper reel deliveries and reel-to-press work.
In addition to this, obsolescence issues resulted in spare parts becoming increasingly unavailable. In 2016, one crane reached a stage where repair was no longer a feasible option, resulting in its scrapping. Along with equipment issues, acquisition of additional newspapers and contract work from the Guardian Media Group meant printing volume increases were on the horizon. Combined, these factors spurred the facility to replace two of the three old cranes.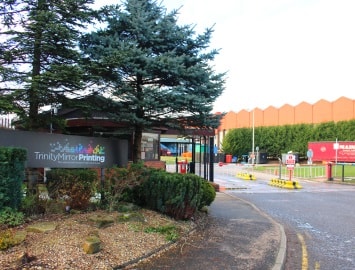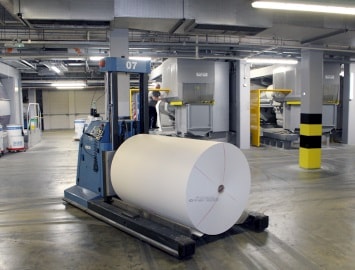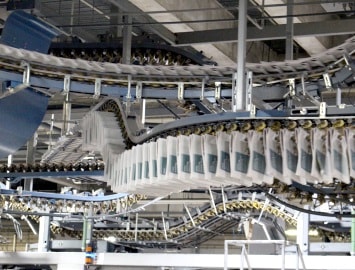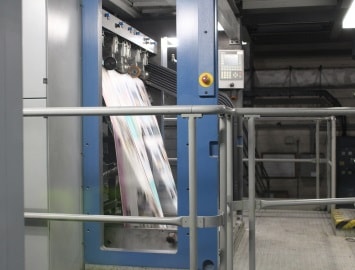 Renewing AS/RS cranes & WMS
The company selected Daifuku for the project. When replacing the equipment, whilst solving issues of downtime and safety were key, it was also vital that 1) as a 24-7 facility, installation have minimal impact on existing operations, 2) the new cranes offer an existing or higher throughput to prevent delays in deliveries and to presses, and 3) be able to operate with a remaining original crane.
20% faster system with 50% lower maintenance cost
Daifuku, which completed its installation over a twelveweek period finishing in May 2016, responded to the challenging requirements. Working with other contractors Daifuku ensured that installation took place primarily on weekends, which are quieter.
Improving efficiency, the new cranes increased througput by around 20%, with the system capable of processing up to 34 paper reels in and out of the AS/RS per hour, ensuring it can efficiently process reel deliveries and send to presses in a timely manner. Daifuku worked with a software contractor to provide the necessary update to the WMS to ensure compatibility with the old and new cranes.
Naturally, as newly installed equipment, Daifuku's state-of-the-art cranes do not require repair, however, overall maintenace and related costs dropped by over 50%. Even on a basic maintenance level, there is a reduction from 24 man-hours every three months to 8 hours every six months. Consistent downtime and man hours required to repair the cranes in the original system, consequently no longer persist.
Furthermore, safety improvements have also been implemented, with sensors installed prior to entry to the AS/RS, which check the load profile of the item on the conveyor to confirm that only set items are entering the system. Other safety features include doors with sensors to the AS/RS that stop the system when opened, ensuring compliance with U.K. health and safety regulations.
Customer's Voice
Rob Frames, Project, SHE & Service Manager,
Trinity Mirror Printing Oldham Ltd.
We are very happy with how positively Daifuku have responded to us. Now that Trinity Mirror has bought the Daily Express and Daily Star newspapers, if work volume increases again in the future, we will consider replacing the last oiginal crane.
View Case Study List
Contact Us
For product inquiries, please reach out to us via our Contact Us page.
Contact Us
Contact Us
For product inquiries, please reach out to us via our Contact Us page.
Contact Us(English)
Contact Us
For product inquiries, please reach out to us via our Contact Us page.
Contact Us(English)