JA Fukuiken (former JA Echizen Niu)
Temperature-controlled AS/RS increases storage capacity, stabilizes quality, and improves inventory accuracy.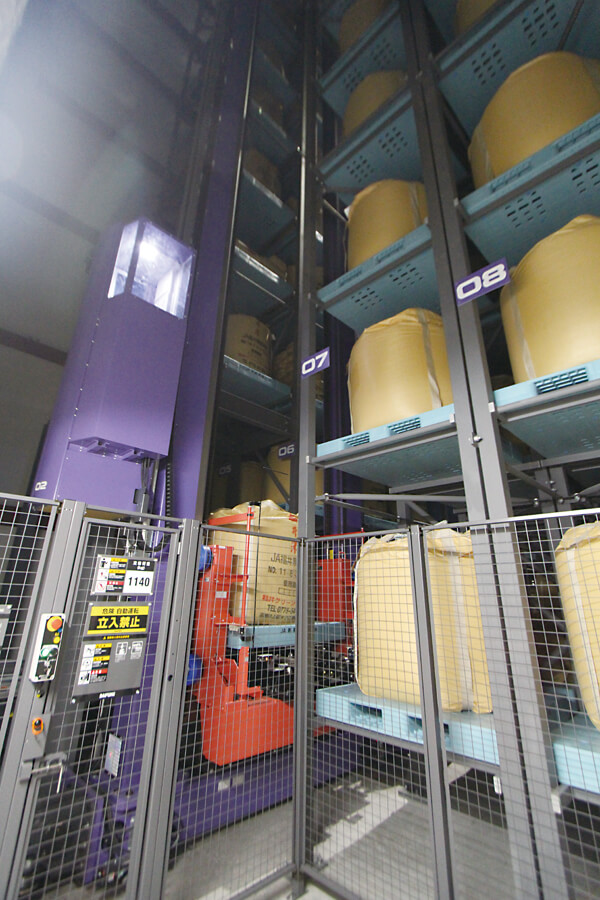 Fukui Prefecture is one of the leading rice-growing regions in Japan, where paddy fields account for 90% of the total arable land and 80% of the farmers are engaged in rice farming. The Echizen Niu district, located at the western end of the Reihoku region, is blessed with clear water sources and a suitable climate for rice cultivation, and handles a total of about 4,800 tons of eight varieties of rice per year.
The harvested rice is brought into the country elevator as raw paddy rice, measured for protein value, dried by protein value category, and then packed in flexible containers as brown rice. After a grading inspection, the rice is stored in a storage facility and shipped as needed.
Challenge
In the past, there were six rice storage facilities, where flexible container bags on pallets were stored flat or stacked on the warehouse floor. Under such storage conditions, it was difficult to circulate cold air thoroughly across the inventory and keep First-In-First-Out operation. Consequently, JA Fukuiken had been struggling with the sales loss due to quality degradation over storage period. Therefore, avoiding the sales loss due to quality degradation during the storage period was their main issue.
Solution & Result
To overcome the challenge, JA Fukuiken built a new distribution facility equipped with AS/RS and STV, consolidating three dispersed storage facilities.
1.Improved quality
The temperature inside the storage facility is set at 15 degrees Celsius to allow the rice to temporarily lie dormant. By storing the rice on a pallet-by-pallet basis in the rack, the cool air can be distributed evenly and the quality of the rice can be maintained.
2.FIFO operation established
It is now possible to ensure First-In-First-Out management based on the inspection date and protein classification.
3.Labor saving
By consolidating three locations into one, JA Echizen Niu managed to reduce the number of forklift operators from a total of six to three.
4.Safer operation
Forklift operators no longer need to do pallet shuffling to take out a target pallet from deep behind the pallet cluster.
The new storage facility is part of the government's "Support for Building Strong Agriculture" development project. The facility is designed to streamline logistics, strengthen production capacity, improve quality, and promote farm management support.
Customer's Voice
Takao Takahashi, Representative Director and President
With the introduction of the automated warehouse, the storage quality of rice has been greatly improved and efficient collection and shipping can now be performed. We will contribute to the promotion of local agriculture and the improvement of incomes by making full use of the facilities for producers. We will continue our efforts to improve the quality and taste of Fukui rice and strengthen the brand value.
View Case Study List
Contact Us
For product inquiries, please reach out to us via our Contact Us page.
Contact Us
Contact Us
For product inquiries, please reach out to us via our Contact Us page.
Contact Us(English)
Contact Us
For product inquiries, please reach out to us via our Contact Us page.
Contact Us(English)