Hitachi Transport System Metropolitan Co., Ltd.
A model center of automation and labor saving for sustainable 3PL operations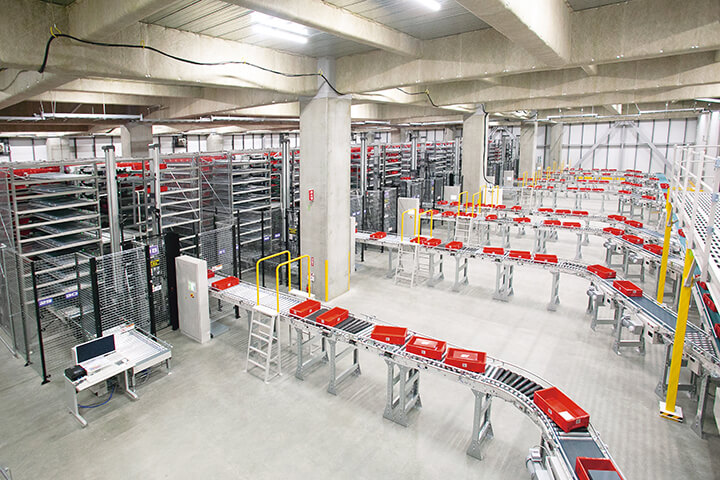 Hitachi Transport System Metropolitan Co., Ltd. (HTSM) launched the Kashiwa Platform Center, a logistics base for handling sports shoes, in Kashiwa City, Chiba. In line with its management strategy of promoting automation and labor saving, HTMC has built a model center with a material handling system with a high-capacity case automated warehouse at its core.
Implementing a material handling system to deal with the growth of the shippers
Since 2015, HTSM has been operating a distribution center in the Tokatsu region on behalf of a major foreign sports shoe manufacturer as a 3PL. Sales of sports shoes have been strong, and the shipment volume had been expanding year by year. Since HTSM had set up seven logistics bases in proportion to the growth in the volume of goods, there was frequent goods moving among the bases. In addition, the increase in manual labor was also an issue since no automated equipment had been adopted. To tackle these problems, HTSM proposed to the consignor to build a highly automated logistics center with a material handling system for labor-saving. While short-term contracts are common in the 3PL industry, HTSM has started to tackle the issue by signing long-term contracts with shippers.
Changed from order picking to batch picking for higher efficiency.
In contrast to the order picking method that was mainly adopted at the previous centers, HTSM has changed to a "batch picking & sorting" method, in which products for multiple orders are picked together and then sorted by shipping order. While the batch picking requires less travel distance for picking operators, it requires sorting in the next process. To improve the efficiency of this sorting process, HTSM chose automation by a material handling system. HTSM initially considered installing a piece sorter, a put-to-light system, and an automated case warehouse. HTSM finally selected Daifuku as its partner after evaluating the company's comprehensive capabilities, including its layout that meet throughput requirement while meeting space constraints, its ability to respond to desired delivery dates, and its after-sales service.
The material handling system on the fourth floor, which is responsible for the sorting function, consists of the Shuttle Rack M, a high-throughput case buffering and sequencing system, as well as receiving stations, shipping stations, empty container pool lines, shipping sorting lines, automatic box-making machines, automatic box-sealing machines, scrap compressor and a conveyor system connecting them.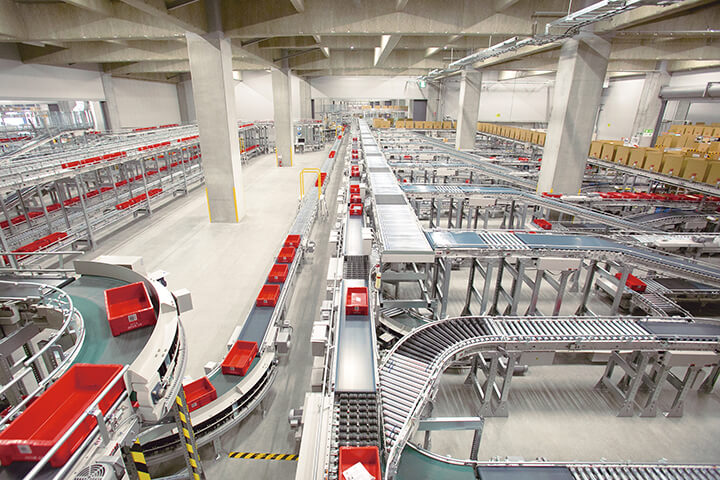 140% higher productivity achieved
The center receives all footwear products for the Japanese market from overseas factories and stores them in pallets on the Mobile Rack on the fifth floor. The products are then picked in batches, stacked on pallets, and transported by vertical conveyors to the fourth floor. After attaching price tags for the stores, each shoe case is placed into a dedicated plastic container from the receiving station and temporarily stored in the Shuttle Rack M. Based on the shipping and packaging information data, up to 13,000 pairs can be batch-processed. When all the items for an order are ready, they are retrieved from the Shuttle Rack M in the shipping order to the shipping station, where they are inspected and packed before being shipped out to the all over Japan.
Shuttle Rack M consists of high-speed lifters and a shuttle vehicle at each rack level. By switching to goods-to-person operations at the fixed receiving and shipping stations, the entire process of picking, sorting, and shipping has been greatly streamlined, resulting in a 140% increase in productivity.
Customer's comment
Strategic investment for the future
The introduction of material handling systems is a strategic investment with an eye on the future. In constructing the new distribution center, we focused on the sustainability of the operation to respond to changes in the business environment. In the future, we will propose the Center's strengths in automation and labor saving to other shippers as well. The needs of shippers vary widely depending on the type of business and the items handled. The Hitachi Transport System Group is always one step ahead in creating logistics infrastructure to meet each of these needs.
View Case Study List
Contact Us
For product inquiries, please reach out to us via our Contact Us page.
Contact Us
Contact Us
For product inquiries, please reach out to us via our Contact Us page.
Contact Us(English)