Wireless Power Supply Solutions
Since the development of the world's first monorail-type, non-contact power supply system in 1993, Daifuku's wireless power systems have been employed in a wide range of industrial fields including the automotive, semiconductor, flat panel display (FPD), medical products, food, and food container industries. Clean, safe, and maintenance-free, we have sold over 8,000 units.
D-PAD Wireless Charging System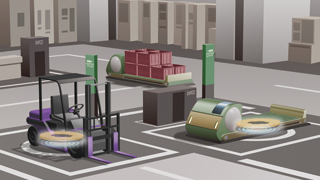 Daifuku's D-PAD is a wireless charging system for electronic vehicles, such as fork lifts and automatic guided vehicles. Conductive parts are not exposed, so sparks are not generated and there is no risk of electric shock. This allows for safe charging even in environments with water, oil, or dust. The system's non-contact design means that there is no wear, providing maintenance-free operation even in situations where charging has to be performed frequently. The system can charge batteries even if the stopping position deviates slightly for easy opportunity charging. Automatic charging prevents stoppages due to insufficient battery power.
Noncontact Power Supply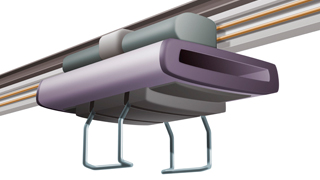 This system can supply power without using trolleys and movable cables, or cableveyors, to carriers and machines while they are moving. Since it can be used in the dust-free cleanroom environment, Daifuku's noncontact power supply system are widely used for intrabay and interbay transportation in semiconductor production and for transport and storage of glass board cassettes for flat panel displays. Since it does not generate dust or sparks and can be used in harsh environments with water, steam and oil, the noncontact power supply system is also employed for transport systems in automobile assembly and coating lines.
Contact Us
For product inquiries, please reach out to us via our Contact Us page.
Contact Us
Contact Us
For product inquiries, please reach out to us via our Contact Us page.
Contact Us(English)