Unicharm Products Co., Ltd.
The Challenge of Smart Factories for the Next 20 Years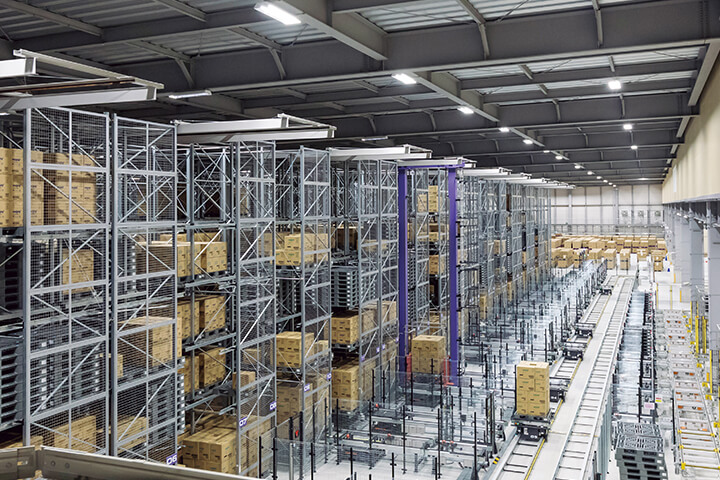 Unicharm Corporation boasts one of the world's top market shares in the business of disposable diapers and sanitary products. Unicharm Products Corporation, which centrally manages everything from procurement to production and delivery in Japan for the Unicharm Group, started operations at its Kyushu Plant in May 2019. The plant has been equipped with an automated pallet warehouse and high-speed rail-guided vehicle system to automate and improve the efficiency of the logistics flow from material storage to product delivery.
In response to the growing popularity of highly functional Japanese products in China and other Asian countries, Unicharm Products selected Fukuoka as the site for the new plant because it is suitable for export and is in a different area from the existing domestic plants from the perspective of business continuity planning. Under the policy of "maintaining corporate competitiveness by taking on the challenge of new technologies with an eye to the next 20 years," the Unicharm Group has created a smart factory that incorporates the most advanced automation technologies.
Reduced forklift operation by automating transfer between processes
For the product warehouse, a pallet automated warehouse having 7,000 pallet storage capacity and a high-speed rail-guided vehicle system "STV" have been installed. Products transported from the production lines are carried by STV to the automated pallet warehouse. By automating these processes, the company has been able to drastically reduce the amount of forklift work involved in storage and retrieval, and has even achieved unmanned operation at night. In addition, three stations have been installed to evacuate pallets with errors in order to prevent product transfer from the production lines from stopping in the event of a system error during the night when no workers are present. The Smart Factory, which was completed by combining the manufacturing wisdom cultivated by the Unicharm Group with new technologies, has significantly improved efficiency compared to existing factories, and has established a system that allows the logistics process to operate 24 hours a day, unmanned at night.

Customer's comment
We feel that the elimination of the need for manual work at night has been a major achievement, leading to a change in the way we work. The Unicharm Group will continue to adopt new technologies, such as IoT and AI, and utilize them for safety measures and preventive prediction of facility problems.
View Case Study List
Contact Us
For product inquiries, please reach out to us via our Contact Us page.
Contact Us
Contact Us
For product inquiries, please reach out to us via our Contact Us page.
Contact Us(English)