Establishment of an automated joint distribution hub for six companies in Japan delivers optimized food distribution.
In May 2019, F-LINE commenced operations at its Fukuoka Distribution Center in Fukuoka, Japan. The center, which handles the distribution and delivery of products from six food manufacturers, was highly automated by Daifuku to help the company build a sustainable food supply chain and reduce on-site workloads. As a result of efforts to automate and by bringing together the know-how accumulated by each of the involved companies, F-LINE has cemented the site as a prime example of optimal food distribution.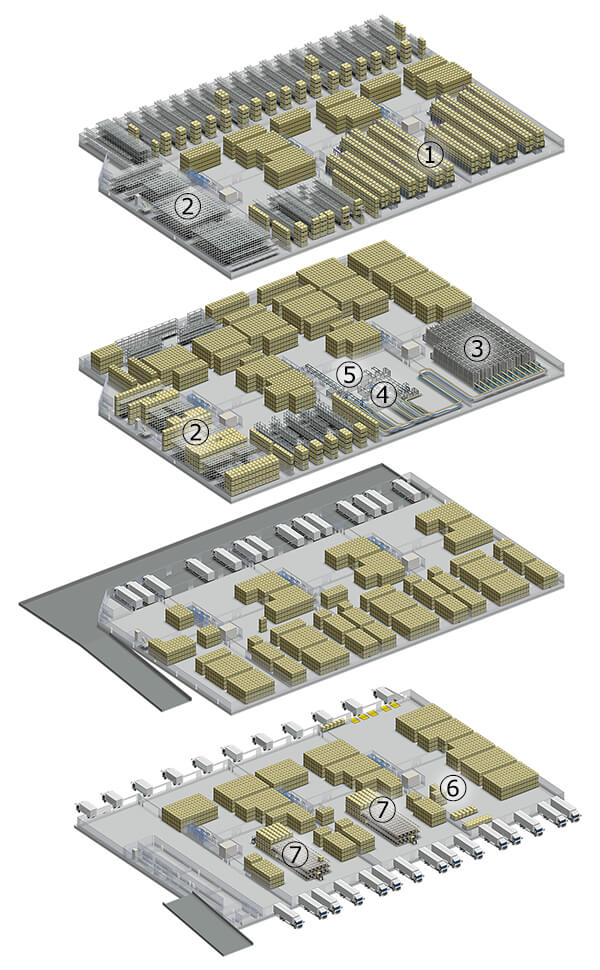 F-LINE reached out to Daifuku to help it automate its processes to reduce workloads. During the planning phase, the company analyzed its SKUs and operations that were hit by bottlenecks, and used that information to select the right materials handling solution.
①

Unit load AS/RS (high-frequency, medium-lot items): 6 cranes

②

Mobile Rack (low-frequency items)

③

Mini load AS/RS (high-frequency, small-lot item): 11 cranes

④

Palletizing/depalletizing robots: 4

⑤

Sorting Transfer Vehicles: 2

⑥

Automatic guided vehicles: 3

⑦

Shuttle Rack L (high-frequency, large-lot items): 2 systems
Multifunctional robots
One of the key labor-saving goals was to automate the case picking of fast-moving, small-lot items, which is one of the main tasks at the facility. To tackle this challenge, the company installed multifunctional robots that work as both palletizers and depalletizers and linked these with the mini load AS/RS.
When a pallet arrives, a robot unloads cases from the pallet to a conveyor. The cases are then temporarily stored in the mini load AS/RS, which comprises 11 stacker cranes and 20,000 storage locations. During the shipping process, a mixed-loading simulator calculates the optimal palletizing pattern of each order, according to load profile such as placing heavy cases at the bottom and fragile products at the top. The cases are then retrieved from the AS/RS and fed to robots based on stacking order. The robots stack cases on pallets by shipping destination.
The robot is equipped with an image recognition system and a robotic hand with suction pads. When a case nears, a camera identifies it and the robot then calculates the case intensity and shape, and adjusts the angle of the hand and the position of the suction pads accordingly. When picking up the case, it automatically controls each suction pad to ensure optimal gripping. Further, it controls its movement speed in line with the weight of the item it is picking up.
Fast-moving, medium-lot items are stored in the unit load AS/RS that is equipped with case picking windows on its first level. During picking operations, operators pick cases from these picking windows based on the instructions given by the tablet PC mounted on the order-picking trucks.
As all picking windows are located on the first level, operators can carry out their work without having to mechanically raise their trucks to pick up items located on higher levels, making picking operation smoother and more efficient.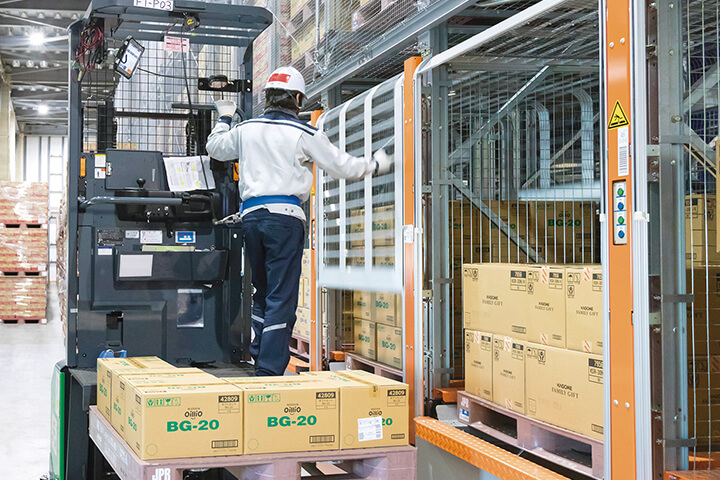 The Shuttle Rack L, a high-density storage system that uses shuttle vehicles to move pallets, was selected to handle fast-moving, large-lot items in a first-in, first-out basis. In addition, three automatic guided vehicles transport pallets between the load-handling area and lifter.
In addition to the distribution automation equipment already mentioned, F-LINE also introduced the Camion Custom, Daifuku's large-vehicle wash machine, in the facility's parking lot. Washing a large truck by hand typically takes about 1 hour and 30 minutes, whereas the Camion Custom can do this in only 4 minutes. F-LINE made this decision not only to reduce the workload of its drivers, but also to help it maintain a clean image as a food logistics company.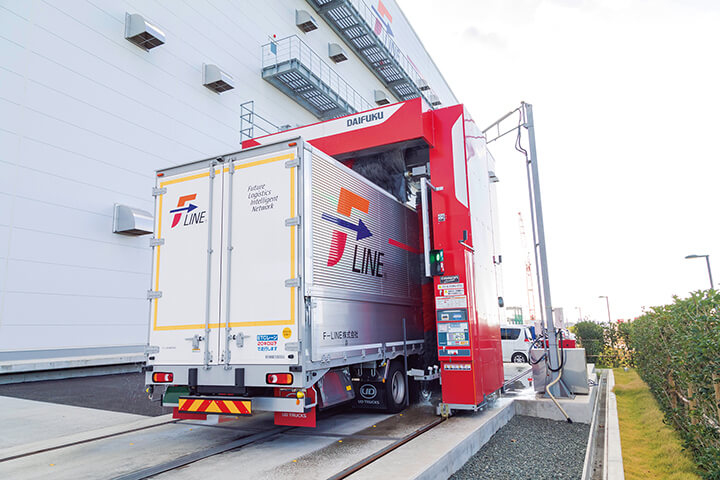 Customer's comment
Material handling automation delivers significant labor-saving benefits
By introducing automated material handling systems, on-site work, which previously required 100 personnel when done manually, can be completed with just 80. If we can bring this down to around 70, we will have more leeway with our work scheduling. We will continue to look at how we can further improve our work environment, increase efficiency and implement labor saving solutions through material handling systems.
View Case Study List
Contact Us
For product inquiries, please reach out to us via our Contact Us page.
Contact Us
Contact Us
For product inquiries, please reach out to us via our Contact Us page.
Contact Us(English)