Ensure stable storage facilities and increased productivity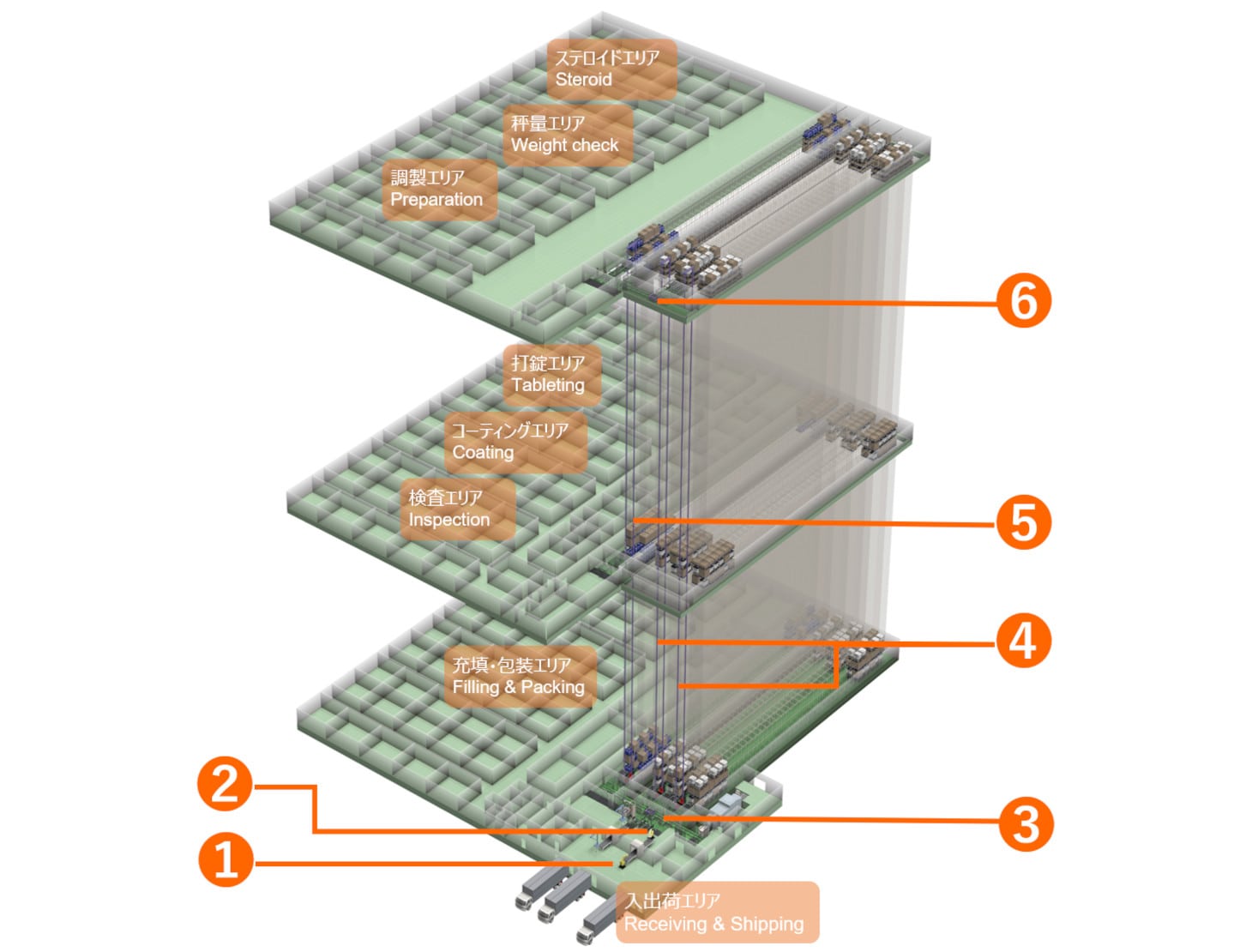 Nissin Pharmaceutical Co., Ltd. has produced generic medicines and contract-manufactured medical supplies since its establishment in 1957. Headquartered in Tendo, Japan, Nissin Pharmaceutical recently built their third Japanese plant in Tendo.
The new Araya Plant was constructed according to four specific parameters:
Earthquake resistant
Environmentally conscious
Computerized
Perfectly contained
With seismically isolated AS/RS and IT systems, and the most-advanced facilities in each production area, Nissin Pharmaceutical established a very reliable, highly productive supply system.
New plant produces 2.5 billion tablets per year
Nissin Pharmaceutical's business performance has steadily increased 10~20% every year, stretching its production capacity to the limit. The aging headquarter plant made it difficult to conform to GMP*. To solve these issues, Nissin Pharmaceutical built the Araya Plant. Including state-of-the-art facilities and various upgrades, the total construction cost was 12.5 billion yen.
The new plant is dedicated to producing solid medicines such as tablets. The plant is equipped with the world's first full containment system for production lines of highly-bioactive medical supplies like steroids. Full containment systems prevent ejection of hazardous materials during operation and equipment cleaning, and have a fully independent air-conditioning system. The plant deals with 330 different types of items and manufactures 2.5 billion tablets per year. This improved production capacity enables Nissin Pharmaceutical to respond to future increases in product demands.
Seismically isolated AS/RS reduces earthquake force by 75%
The Araya Plant is equipped with unit load AS/RS, high-speed Sorting Transfer Vehicles (STV), and palletizing robots. The AS/RS have seismically isolated floors that can reduce the force of a 400 gal quake to around 100 gals. In compliance with GMP* guidelines, raw materials and works-in-process are stored in one AS/RS, while packing materials and products are stored in the other two.
STVs move incoming materials through reception, inspection, air shower, palletizing and storage in the AS/RS. Raw materials undergo weight checks and preparation processes on the third floor; tableting, coating/sugar coating, and inspection processes on the second floor; and are then re-stored in the work-in-process AS/RS. Later, they are filled, packed, boxed, and loaded onto pallets on the first floor before being stored in the AS/RS. Packing materials (e.g., films, outer casing, packaging) are supplied to each process as needed.
The production management system is used in conjunction with the warehouse management system "WareNavi." This enables packing/raw material receiving, inventory control, and manufacturing instruction operations to be paperless. Tablet storage and retrieval operations using the AS/RS system provide much more flexibility than the conventional fixed terminal system.
Customer's Voice
Seiya Takahashi
General Manager, Production & Logistics Operations
Because of the large earthquake that occurred during the planning stage of our new plant, we recognized the need for earthquake resistant measures. We constructed our systems to include earthquake resistant AS/RS that are safe and reliable, even during disasters. We will continue to provide high quality medical supplies as a global leader in pharmaceuticals.
*

GMP stands for "Good Manufacturing Practice," a set of standards for production/quality control of medical supplies.
View Case Study List
Contact Us
For product inquiries, please reach out to us via our Contact Us page.
Contact Us
Contact Us
For product inquiries, please reach out to us via our Contact Us page.
Contact Us(English)
Contact Us
For product inquiries, please reach out to us via our Contact Us page.
Contact Us(English)