End-to-end Automation Improves Pharmaceutical Distribution and Disaster Response Capabilities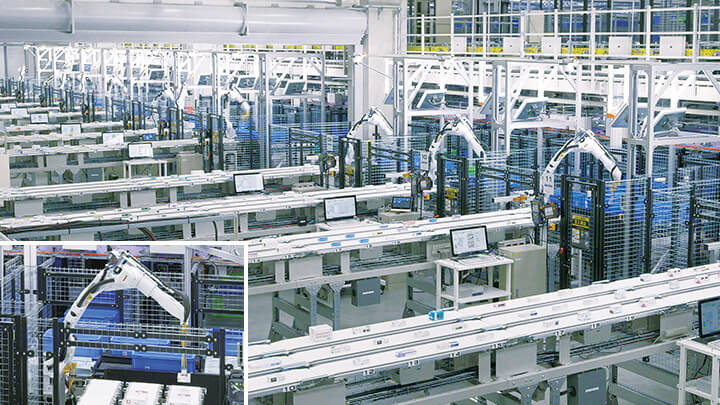 In September 2020, Toho Holdings Co., Ltd. commenced operations at TBC Dynabase, its highly sophisticated distribution center in Tokyo, Japan. The facility, which the company worked with Daifuku to automate, was established to 1) further strengthen Toho Holding's distribution capabilities, 2) ensure a stable supply of pharmaceuticals even in times of disaster, and 3) meet the complex distribution requirements for specialty pharmaceuticals such as orphan drugs, which are set to become the mainstream. TBC Dynabase is a highly efficient distribution center that has achieved improved logistics efficiency through end-to-end automation, which has seen the broad introduction of advanced robots and other material handling equipment provided by Daifuku, including unit load and mini load AS/RSs among a range of other systems. Further, the company has bolstered this improvement by jointly operating the facility with another pharmaceutical company.
Piece-picking automation enables over 99.99999% shipping accuracy
The 57,666-sq.m. facility handles approximately 25,000 items comprising ethical pharmaceuticals, medical equipment, and medical materials, and ships to numerous prefectures within Japan, including Tokyo, Kanagawa, Chiba, as well as Nagano, Yamanashi, Shizuoka, Niigata, Miyagi, and Yamagata.
To date, Daifuku has worked with Toho Holdings on two more of its pharmaceutical distribution centers in Japan – TBC Saitama and TBC Hiroshima – both of which have achieved a shipping accuracy of 99.99999%. The facilities, which commenced operations in 2013 and 2018 respectively, are equipped with state-of-the-art robotics technology and material handling equipment just like at TBC Dynabase.
TBC Dynabase has achieved an even higher rate of shipping accuracy thanks in part to automating 95% of its piece-picking operations. With products shipped in either their original cardboard packages or as single pieces, the company employed numerous robots for depalletizing, piece picking, and loading shipping carts. The installed AS/RSs act as buffers between processes, enabling a smooth flow of goods. The combination of storage, picking and other systems allowed on-site personnel to be moved to more value-added tasks and greatly improved the facility's efficiency.
View Case Study List
Contact Us
For product inquiries, please reach out to us via our Contact Us page.
Contact Us
Contact Us
For product inquiries, please reach out to us via our Contact Us page.
Contact Us(English)
Contact Us
For product inquiries, please reach out to us via our Contact Us page.
Contact Us(English)