Multi Shuttle Vehicle AS/RS "Shuttle Rack M"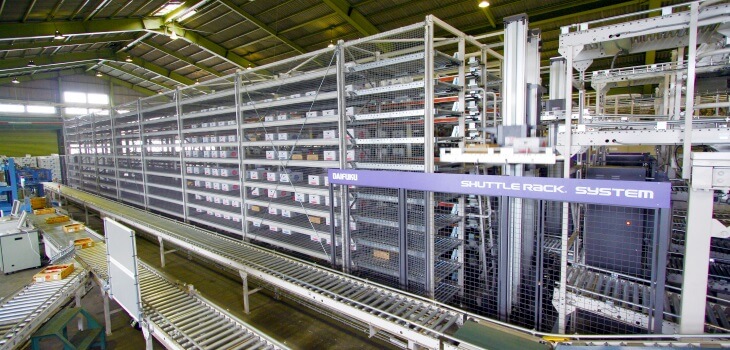 Daifuku's multi shuttle system "Shuttle Rack M" is a fast, vehicle-type AS/RS designed to provide temporary storage, sorting and sequencing function. It is perfect for following needs.
Buffering between the primary picking by batch and the secondary assorting by orders.
Picking inventory for Goods-To-Person picking system.
Buffering products from manufacturing lines and feeding to palletizing robots by product group.
Buffering of orders ready for shipping and quick feeding in group or sequence to delivery trucks.
System Configuration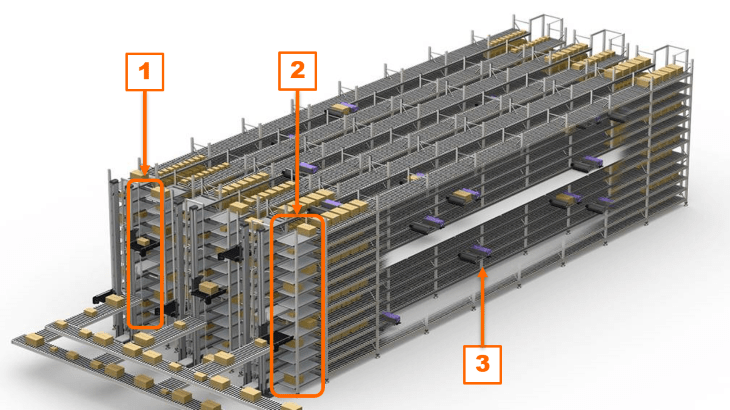 Features
High density storage with flexible location management
Shuttle Rack M can handle multiple types of containers and cardboard boxes. Free-allocation management function by the controller automatically adjusts the storage location according to the size of the cargo, allowing for high-density storage.
Easy Maintenance
Faulty shuttles can be replaced with little disruption to the system. Other shuttles continue to operate while maintenance is being performed on one shuttle. By controlling the number of active shuttles, maintenance can be systematically performed on each shuttle without interrupting the handling process.
Energy Saving
The system has one shuttle vehicle installed on every level. Each shuttle travels at high speeds to quickly store and retrieve loads. By using lightweight vehicles to transport loads, the "Shuttle Rack M" consumes 60% less power per cycle than conventional crane systems.
Add-ons
Diverting conveyors
The accurate diverting of loads into the right shuttle aisle is essential to a successful system consisting of multiple aisles. Daifuku offers the Shuttle Rack system with the best diverting solution meeting each customer's needs.
Contact Us
For product inquiries, please reach out to us via our Contact Us page.
Contact Us
Contact Us
For product inquiries, please reach out to us via our Contact Us page.
Contact Us(English)