Unit Load Automated Storage & Retrieval System (Unit Load AS/RS)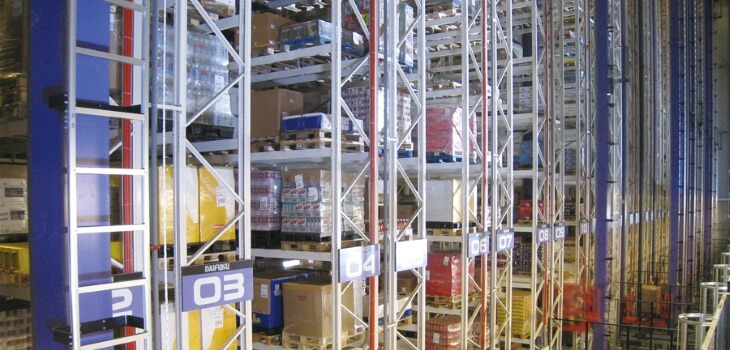 High-density pallet storage, high-speed operation, and versatility make Daifuku's unit load AS/RS the best-selling automated storage and retrieval system in the world. With its flexible design up to 40 m, the Daifuku unit load automated warehouse is customizable to fit your specific installation environment and operating conditions.
Features
1. Fast & Dependable
Daifuku offers a variety of AS/RS stacker cranes to fit your specific load profile and weight, building dimensions, and operating environment. All our AS/RSs feature high-quality drives for fast, smooth, and reliable performance.
2. Advanced Control System
Daifuku's local intelligent network control system offers a comprehensive solution: from front-end controls to full-scale inventory management computer systems. Our software provides full control of stacker cranes and their peripheral load-handling systems. The software monitors the system in real time to assist with trouble and control auxiliary equipment such as quantity indicator displays for order picking.
3. Improved Operational Efficiency
The high-speed stacker crane automatically stores and retrieves loads quickly and efficiently. Not only does this dramatically reduce cycle time, but it also reduces the number of forklifts and forklift traffic. Daifuku's stacker cranes reduce energy costs by using low electricity and regenerating power.
Load Handling
From industrial standard pallets to odd-shaped loads, Daifuku offers a variety of handling solutions.
Special Environments
A variety of models are available to match the installation environment and characteristics of the stored items. We have an extensive track record of delivering automated warehouses to a variety of special environments, including freezing specifications that are in high demand in the food industry, high temperature specifications of 40~55℃ required in the aging process of chemical products, and oil-resistant specifications that are essential around machine tools.
Contact Us
For product inquiries, please reach out to us via our Contact Us page.
Contact Us
Contact Us
For product inquiries, please reach out to us via our Contact Us page.
Contact Us(English)