5 Key Technologies You Should Know for Successful Hospital Automation

Singapore – The Healthiest Country
Do you know that Singapore is one of the healthiest countries in the world? With a life expectancy of 84 years (*1) and one of the best healthcare systems in the world (*2), the Singaporean nation enjoys both a healthy life and economic success as the Asian business hub. The key driving force of this situation is the strong government expenditure in the healthcare sector. The Singapore government has placed huge emphasis in providing quality healthcare at affordable rates to everyone living in Singapore.
Having high life expectancy and a low birthrate typically leads to aging society. According to a GlobalEconomy.com survey (*3), Singapore is among the world's 15 lowest fertility countries. Consequently, Singapore is facing challenges due an ageing population (*4) , which makes it difficult to fill up positions. Therefore, automation has been a key contributor to overcome this problem in various industrial sectors in Singapore for many years. The medical sector is no exception.
Automation reference in Singapore
The main trends of automation required in Singapore hospitals includes: automated storage and retrieval systems (AS/RSs), goods-to-person picking (GTP), picking robots, automated guided vehicles (AGVs), autonomous mobile robots (AMRs), and warehouse control systems (WCSs). Let's go through how they automate hospital processes and improve productivity.
Key Technologies in Hospital Automation
1. Automated Storage and Retrieval Systems (AS/RS)
As Singapore has limited land space, we must optimize the usage of land by providing dense storage solutions. Therefore, an AS/RS is a popular solution to hospitals with storage needs, especially in materials management departments (MMDs), pharmacies, and central sterile storage unit (CSSU).
An AS/RS allows hospitals to meet storage requirements while realizing necessary operations with only the minimum amount of personnel. Consequently, an AS/RS enhances accuracy in storage and picking operations as it reduces manual work by operators.

2. Goods-To-Person Picking (GTP)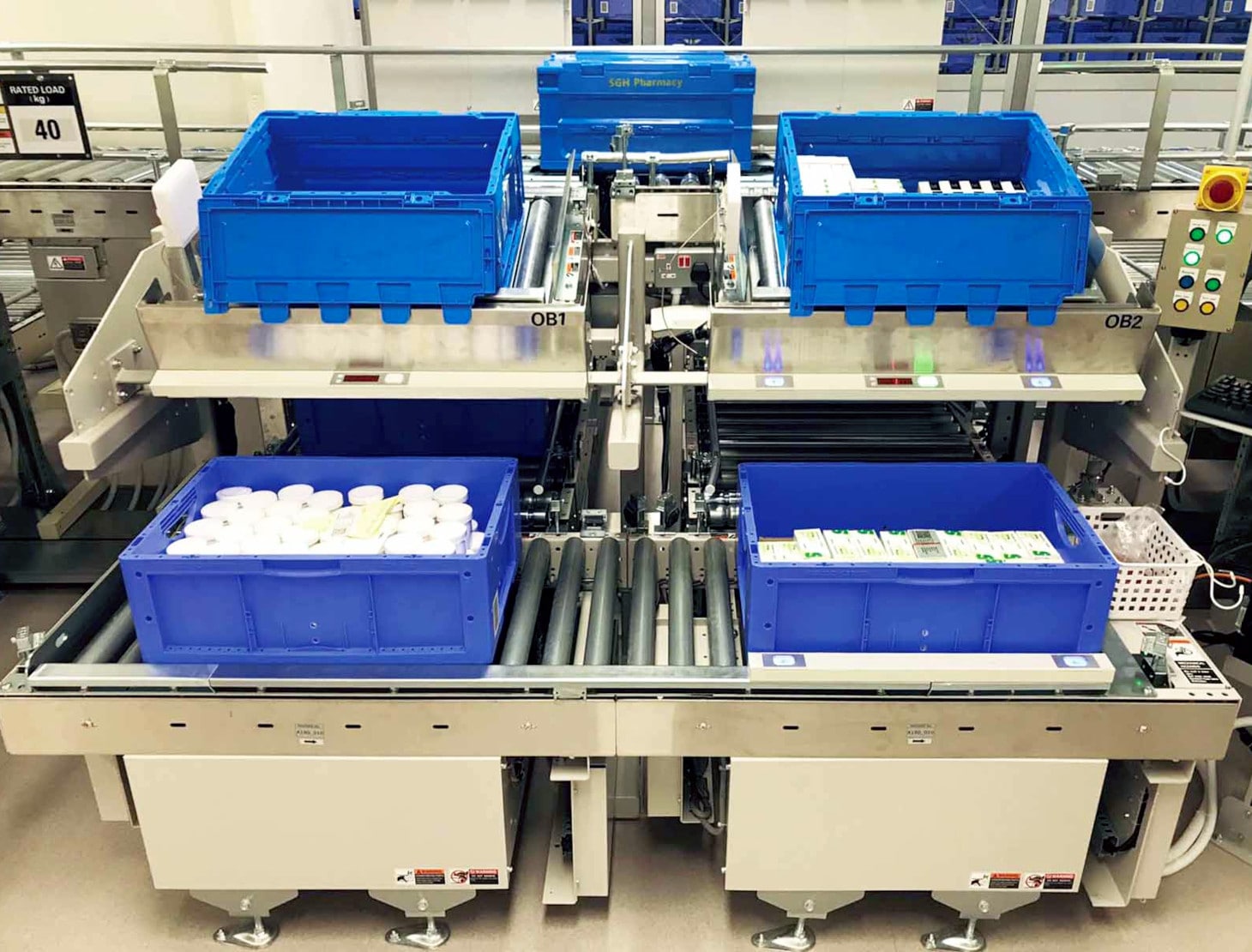 In order to further increase operator picking efficiency, a GTP system is deployed to allow operators to perform bulk pick by wave and then distribute the items into individual orders at the same station. This brings a severalfold improvement to picking efficiency as the operator can pick up to five orders at the same time. A GTP system is assisted by pick-to-light modules that display quantity and the correct bin to pick/place, which will significantly improves the accuracy and productivity of picking operations and consequently contributes to the safety of medical services.
3. Picking Robot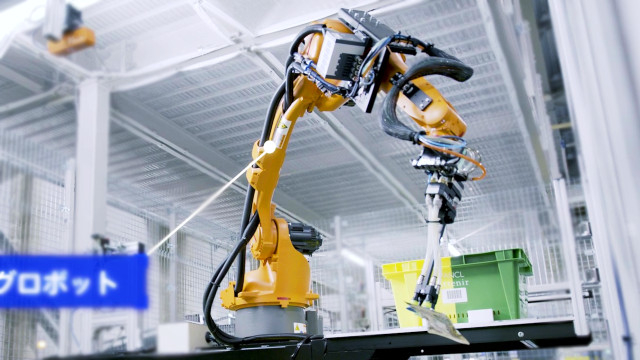 Picking Robots are commonly used in hospitals to dispense medicines at Pharmacies. Deploying robots reduces human contact between the pharmacist and patient. In view of the COVID situation, reducing human contact is an important consideration to reduce the spread of the disease.
Another consideration in using picking robots is to use them in conjunction with an AS/RS. The robots can transfer containers from the AS/RS into trolleys before they are dispatched to their respective destination, such as operating theatres or wards. This automation further streamlines the material flow, improving operational efficiency.
4. Automated Guided Vehicle (AGV) & Autonomous Mobile Robot (AMR)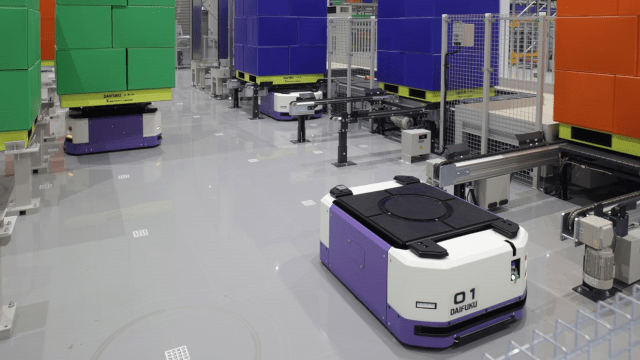 AGVs and AMRs can be used in hospitals to assist in moving trolleys from point to point – for example, moving a CSSU trolley from a storage area to an operating theatre, or an MMD trolley from storage to a ward. This can help to complement staff manually moving trolleys during busy periods or when facing staff shortages.
5. Warehouse Control System (WCS)
The heart of an automated material handling system (AMHS) is the warehouse control system (WCS), which is responsible for integrating all the automated equipment with the hospital's back-end system. A WCS optimizes material flow traffic between the various automated systems and gives a bird's eye view on the system, facilitating real-time information to the different levels of users of the AMHS. Depending on the types of back-end system that each hospital is using, a WCS may be required to interface with multiple systems using different methods, but a WCS is highly customizable depending on the type of automated equipment and back-end systems.
Conclusion
As explained above, there are several key technologies that can be deployed in hospital logistics. Choosing the optimal solutions solves labour shortages, improves operational efficiency and raises service quality. To learn how AMHS technologies are actually deployed at a hospital, read the Outram Community Hospital case study. If you are considering improving material flow in an existing hospital or planning for a new hospital, reach out to a Daifuku specialist. With our expertise in storage and transportation in the healthcare sector, we are able to design optimal solutions to your material handling challenges.
Reference:
Quek Yong Yong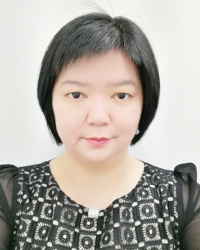 Head of Department, Intralogistics Division
Daifuku Mechatronics (Singapore) Pte Ltd
Quek Yong Yong has more than 28 years of experience in the automated material handling industry. She started her career in Daifuku as a software engineer providing AS/RS-focused software solutions to customers. She is now Head of Department and leading a team of software engineers developing customized software solutions and providing 24/7 support to customers.
About Daifuku Mechatronics (Singapore) Pte Ltd
Established in 1986, Daifuku Mechatronics (Singapore) Pte. Ltd., focuses on Intralogistics and Cleanroom automation. Since its founding, the company has served more than 80 satisfied customers in Singapore. It provides Daifuku automation solutions from sales, design, project implementation, and 24/7 after-sales service. The skilled Daifuku Mechatronics team continually delivers customers peace of mind in choosing and using Daifuku solutions.
Follow us on LinkedIn.
View all posts