Work-in-Progress Handling
Solving Challenges: Space Shortages, Production Inefficiencies, Labor Shortages, and Workplace Safety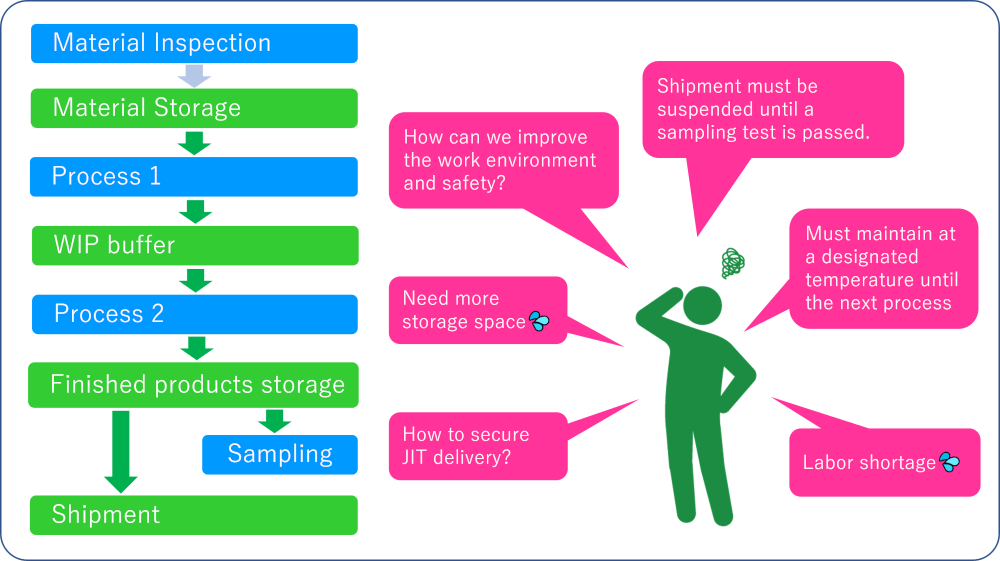 From raw material storage to processing, front-end and back-end processes, through to assembly and inspection, raw materials and works-in-progress (WIPs) on a manufacturing line go through many processes. The just-in-time (JIT) supply―the right goods, at the right time, in the right quantity―of materials and WIPs to each process is key to increasing production efficiency.
Further, with ESG and the SDGs now a social expectation, company efforts toward health and safety in the workplace are increasingly in the spotlight. According to Japan's Ministry of Health, Labor and Welfare, in 2018 there were 2,100 workplace accidents involving forklifts in Japan, of which 31% happened within the manufacturing industry.
Facilities that rely on manual labor and forklifts can face many challenges:
Insufficient WIP storage space: While WIPs can be stacked directly on the floor, there is a risk of them toppling and are a workplace hazard.
Front-end and back-end process sequencing: It takes considerable time and effort just to retrieve the necessary items from the storage area where multiple products are mixed.
Labor shortages: Maintaining a group of forklift operators can be challenging. All companies seek to assign their limited human resources to high-value tasks.
Safety: Accidents between forklifts and personnel or equipment occur.
Installing an AS/RS as an Inter-Process Buffer Solves Issues of Space, Labor, Safety, and Efficiency
By introducing a buffer system that combines an automated storage and retrieval system (AS/RS) with transport equipment such as shuttle carts or AGVs, it is possible to solve the above four problems and increase operational efficiency and safety.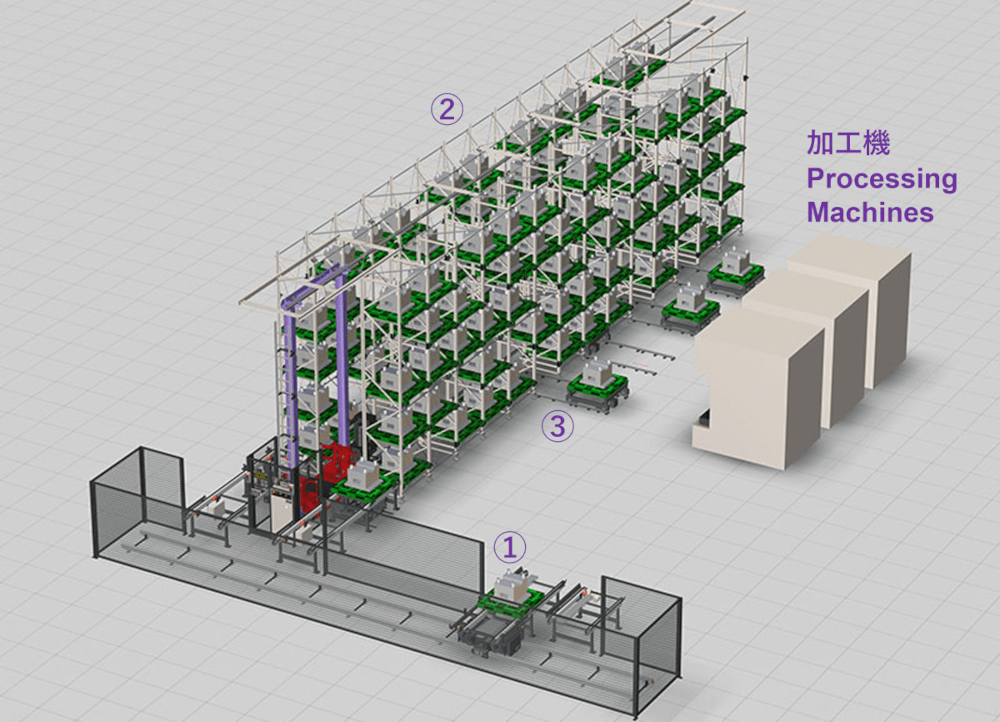 STVs (1) transport raw materials and WIPs to the AS/RS (2) from the raw material warehouse or previous process.
In response to a request from the processing side, the AS/RS delivers the required cargo to the self-propelled cart (3).
AGVs transport raw materials and WIPs to the processing equipment.
Goods that pass through many processes can be stored in the AS/RS between each process.
Model System
Configuration
2 banks x 14 bays x 5 levels
Size
25 x 4 x 8 meters
Floor area
100 m2
Load size
1,100 x 1,100 x 1,200 millimeters
Load weight
1,000 kilograms
Storage capacity
132 pallets
Equipment
1x stacker crane
4x shuttle cart
1x I/O conveyor
Contact Us
For product inquiries, please reach out to us via our Contact Us page.
Contact Us
Contact Us
For product inquiries, please reach out to us via our Contact Us page.
Contact Us(English)