5 Best Practices for Utilizing Your Warehouse to the Fullest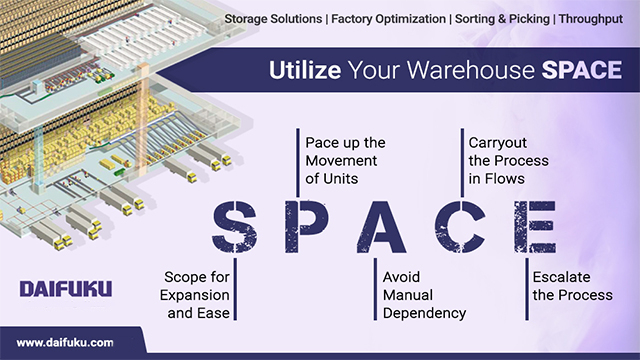 The Indian manufacturing industry has witnessed fast-paced advancement over the past few decades and every manufacturer in the industry has become a part of that journey. New tax policies, such as GST, have played a vital role in the manufacturing sector as well as in the development of the country by taking initiative in the advancement of businesses.
With supply chain logistics continuously evolving, the warehousing sector has to advance at the same pace. Warehouse managers always faces challenges of how to maximise and optimise warehouse space. Warehousing plays a major role in any manufacturing industry and its costs are cumulative costs of labour, inventory, finished goods, building, and land. Warehouses if not managed well are expensive to operate.
To get the most out of warehousing, a number of best practices can be opted to improve the productivity and overall process in your manufacturing facility. Although the best practices vary from industry to industry, there are some best practices in material handling, warehousing, and logistics management that can maximise your available warehouse space and ensure your products are handled with care.
S - Scope for Expansion and Ease
P - Pace up The Movement of Units
A - Avoid Manual Dependency
C - Carry Out the Process in Flows
E - Escalate the Process
Each element is distinct and complementary to the others. Implementing these practices can make an impact on your warehousing facility processes.
1. Scope for Expansion and Ease
With the faster pace of growth, there is also growth in land usage. However, this had lead to a land shortage, which has created a desperate need for vertical warehousing as horizontal expansion requires significant financial investment. Vertical storage facilitates the storage of bulk items in a confined space and provides space for a greater number of store keeping units (SKUs). When looking to use vertical space to store products, an automated storage and retrieval system (AS/RS) is the ideal solution. An AS/RS enables you better track inventory and follow particular shipping patterns such as first-in, first out (FIFO).
2. Pace up the Movement of Units
Your goal should be the rapid movement of material in and out of a system without any loss or delays. The dispatch and receive movements should not contradict each other. Optimise your available storage space and system to to best accommodate your stored items and thereby eliminate wasted space. Select the optimal storage containers, such as boxes and pallets, to ensure that your rack is used as optimally as possible.
3. Avoid Manual Dependency
Once space is in optimal use, it is possible to shift from manual dependency in your warehouse. However, there are various challenges in warehouses – some are visible and some are hidden. For example, one can avoid delays by ensuring the optimization of both equipment and personnel. Leveraging resources appropriately like time and labour, and ensuring synergy between manual and automated operations, can help ensure that your facility operates as efficiently as possible. Effectively using available space can support improved inventory management and visibility, thereby, removing unnecessary long travels times between storage locations.
4. Carry Out the Process in Flows
When a process is carried out in a warehouse there are a number of thing to consider: How many products must be stored? What are the storage bin requirements? What about storage and retrieval cycles? One should carry out a proper analysis of the product before storing it. This will help determine the optimal use of the storage area, which will allow you to store current and future goods as efficiently as possible. That will translate into increased customer satisfaction. The analysis carried out should be based on the storage processes in the warehouse, including storage location, storage duration, and item tracking.
5. Escalate the Process
Following the four elements of SPACE, one can lift up their warehousing in a faster way to achieve improved productivity. Automated systems help minimize errors typically found in manual systems, monitor the storing and retrieving levels to achieve significant growth in efficiencies. Improving your processes will streamline your operations, reduce delays, and bring customer satisfaction.
Conclusion
Optimized warehouse layouts help to achieve greater efficiencies, minimise travel time, reduce manual dependency, and monitor processes. Daifuku India can help to achieve optimized space utilization of the warehouse in your manufacturing facility. Daifuku provides a comprehensive range of products such as its unit load AS/RS, mini load AS/RS, and racking systems to its customers to meet varied logistics and manufacturing needs and increase productivity.
Daifuku Intralogistics India Pvt. Ltd.
Established in 1986, Daifuku Intralogistics India Pvt. Ltd., formerly known as Vega Conveyors and Automation Private Limited, is a leading provider of automated storage and conveying solutions in the Indian intralogistics market, with 350+ customers served. Employing around 200 people, the company is headquartered near Hyderabad, Telangana with offices in Mumbai and Pune as well.
Follow us on LinkedIn.
View all posts