Coca-Cola Bottlers Japan Inc.
Distribution and sales network optimization through advanced end-to-end automation
In February 2021, Coca-Cola Bottlers Japan Inc. (CCBJI) commenced operations at its newly built Saitama Mega DC on the grounds of its plant in Saitama. The facility offers one of Coca-Cola's largest storage and shipping capacities in Japan.
Since May 2016, the company has been engaged in its "Shinsei Project," which aims to optimize its logistics network to enable a quicker response to changing market conditions and diversifying consumer needs, through which it seeks to create a "high-quality, low-cost, and stable supply chain."
The Saitama Mega DC was established as part of that project and operates as the primary logistics hub for the Tokyo area and Saitama Prefecture.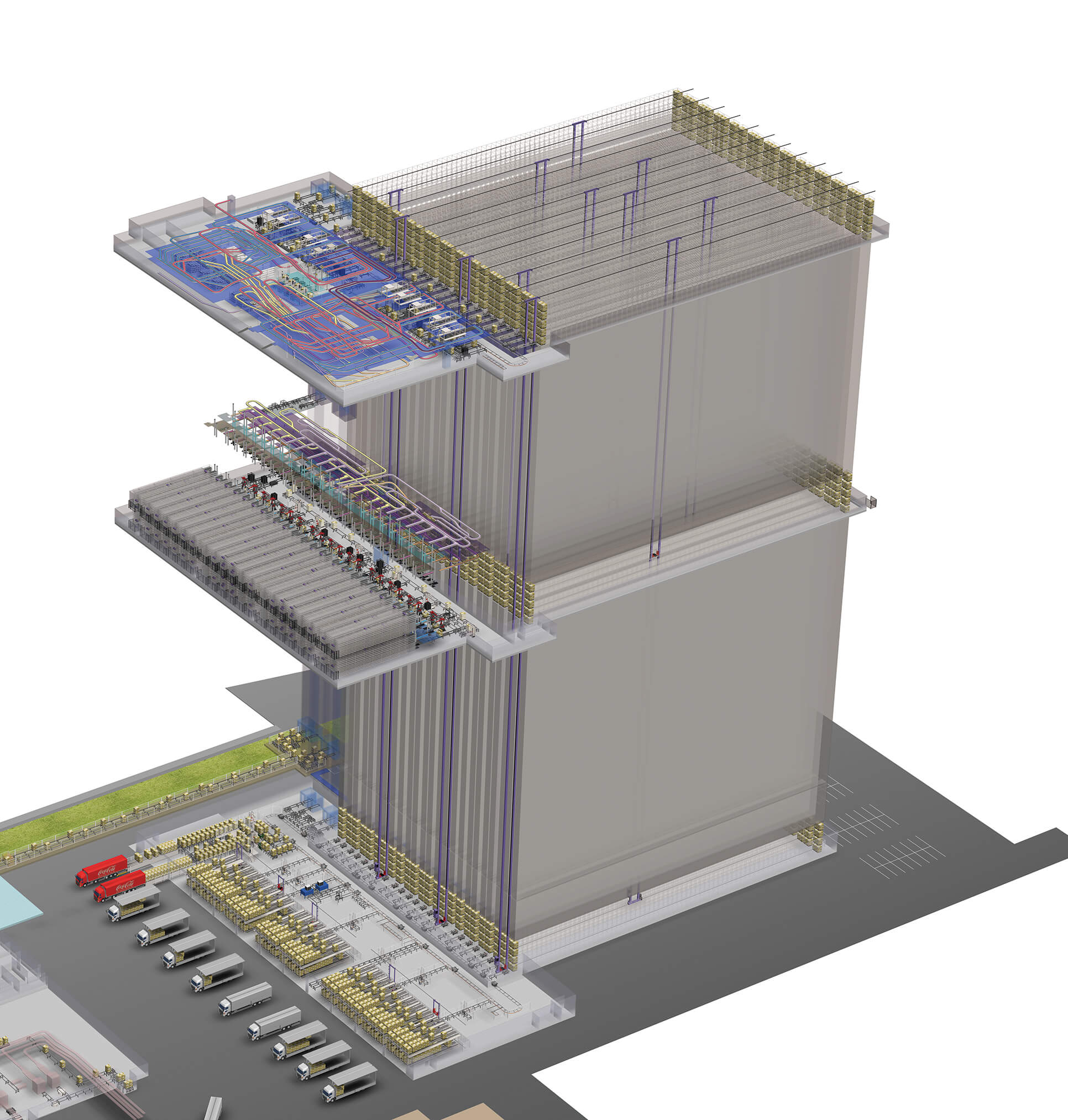 Logistics process consolidation delivers increased efficiency
The large distribution center integrates 24 smaller Coca-Cola logistics sites within Tokyo and Saitama and incorporates all their product sorting, picking, and other logistics processes, as well as warehousing and storage space. Handling both on-site manufactured goods and those made at other facilities, the Saitama Mega DC stores and ships a range of Coca-Cola products, including its global flagship product Coca-Cola, to supermarkets, convenience stores, drug stores and even vending machines.
The site achieves end-to-end material handling automation through a range of equipment, including a double-deep unit load automated storage and retrieval system (AS/RS) and Shuttle Rack M for storage; Sorting Transfer Vehicles (STVs); palletizing and depalletizing robots; and RORO (roll-on/roll-off) stations.
Along with delivering improved efficiency across logistics operations, the facility is building a network that achieves end-to-end product deliveries in a timely manner from manufacturing through to direct customers and vending machines.
"The Saitama Mega DC is as advanced as any of the other Coca-Cola logistics sites and I would even say that it is in the top 10 of automated systems that Coca-Cola has around the world," commented Bruce Herbert, chief supply chain officer at CCBJI.
In terms of the logistics flow at the facility, products enter the warehouse via one of two ways, either directly from the on-site plant or through delivery trucks carrying goods from other production sites. Products manufactured on-site are palletized before being loaded into the warehouse, where they join palletized products manufactured at other sites. Pallets delivered to the warehouse – each holds only product type at one time - are transported to the third floor via conveyors, lifters and Sorting Transfer Vehicles (STVs), however, in cases where products need to be shipped urgently, related pallets can be loaded into the AS/RS through the first floor. Products that are to be palletized into mixed pallets are sent to the third floor and broken down into individual cases via layer depalletizers and then transported by conveyor to the Shuttle Rack M system on the second floor for temporary storage.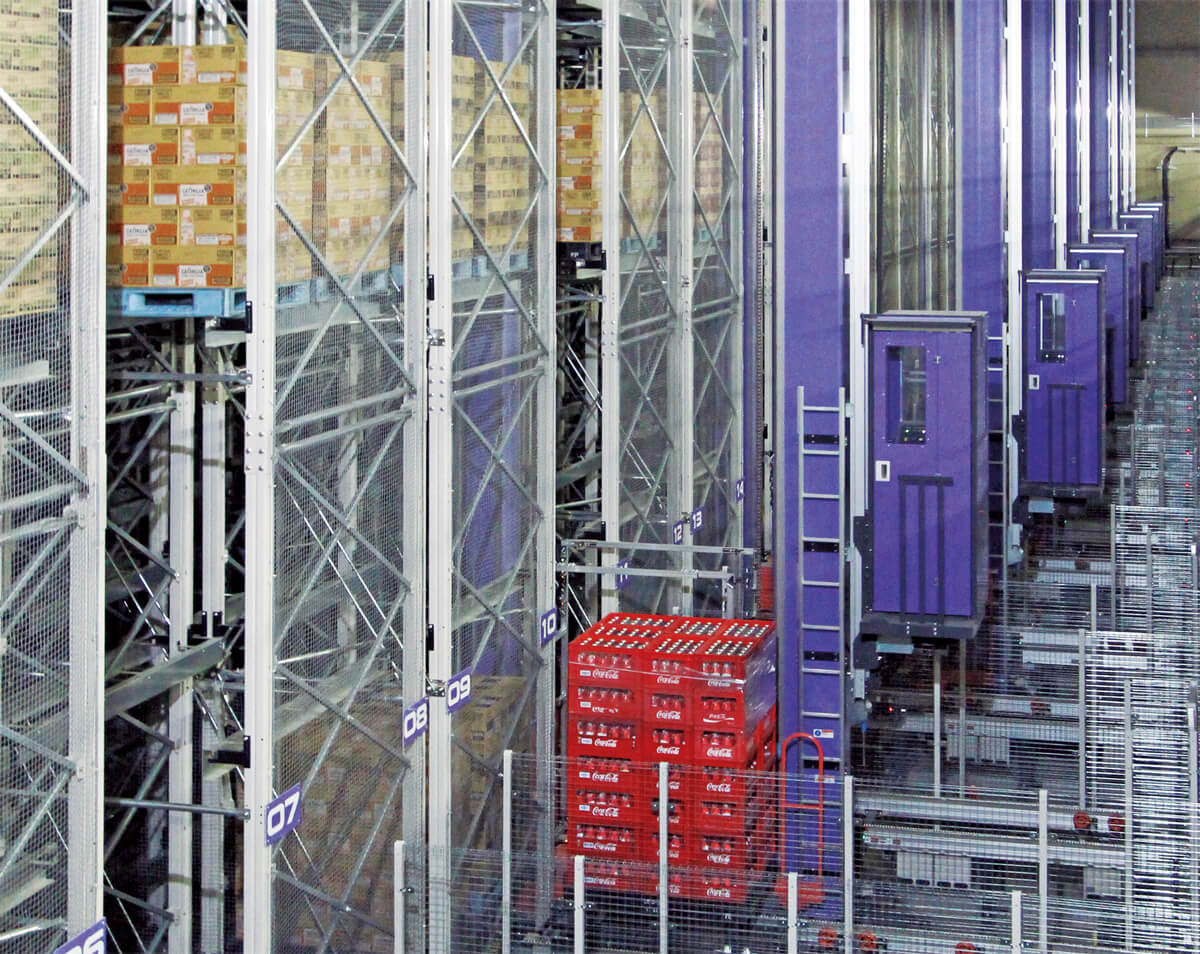 When ready to be palletized and shipped, cases are retrieved from the Shuttle Rack M and transported to one of 21 palletizing robots on the same floor. The robots quickly pick up cases, plastic totes and crates of varying shapes and sizes and load them into mixed load pallets.
Conventionally, mixed lots had to be shipped out via several Coca-Cola facilities, but by installing the palletizing robots, the company was able consolidate this task into the Saitama Mega DC, which has led to a significant increase in efficiency.
When the mixed load pallets are completed, they are transported to a wrapping machine and then sent to the shipping area on the first floor via STVs and lifters.
At the shipping area, STVs and stacker cranes load pallets into staging lanes, which consist of multi-stage inclined flow shelves that can accommodate one truck load for each destination. When the trucks arrive on site, loading and unloading work begins.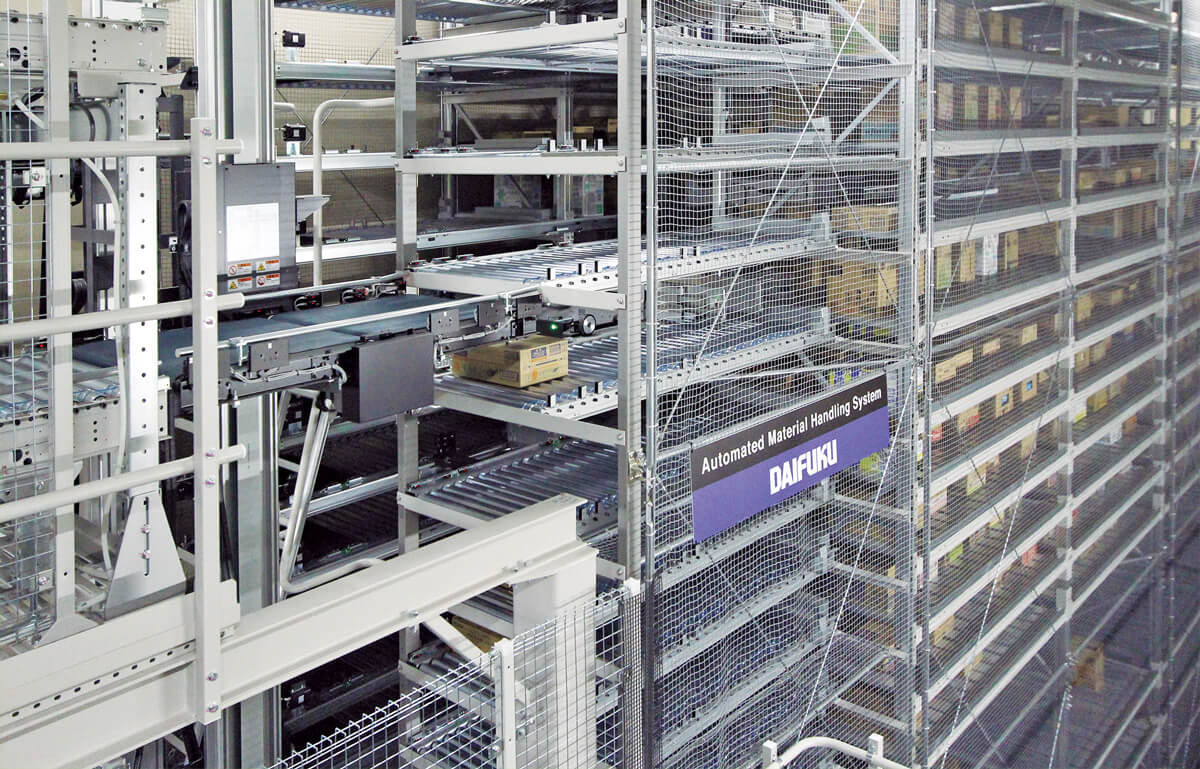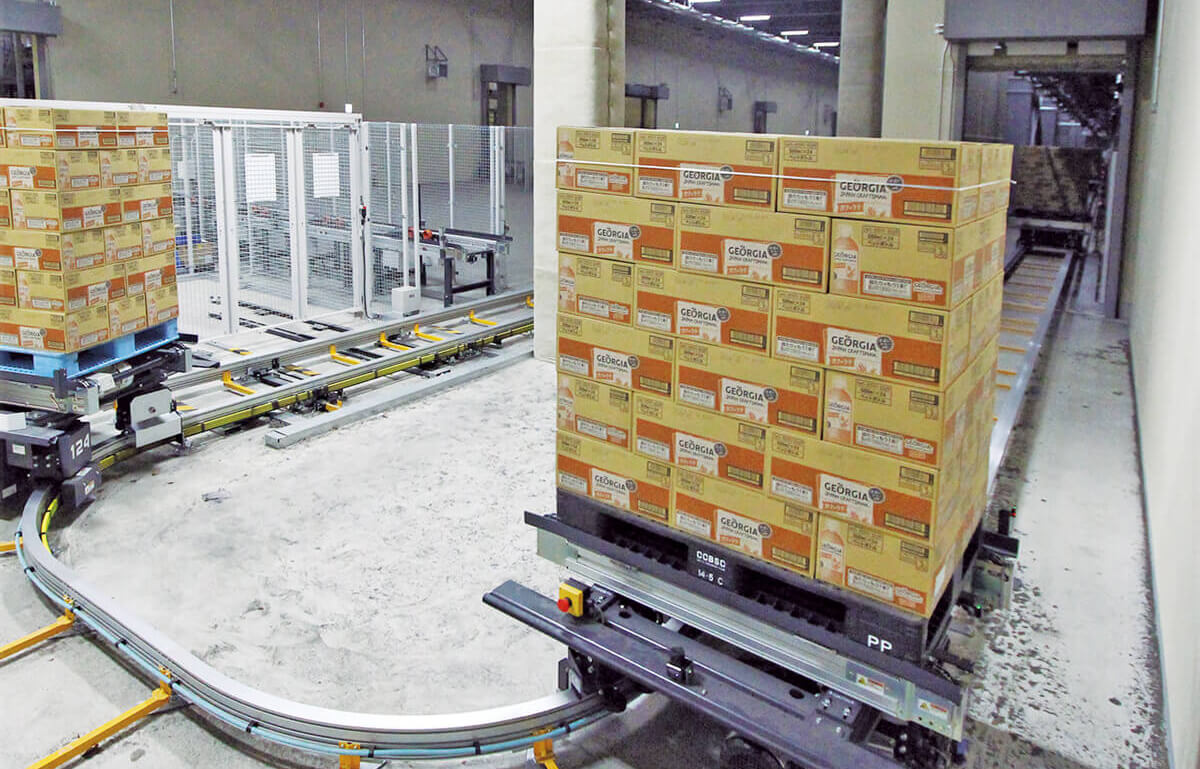 Automated truck loading and unloading reduces required loading and unloading to one third
In the staging lane area, two RORO stations, which are a first within Japan, fully automate the loading and unloading of truck loads in batches. Using forklifts takes about 60 mins to load one truck, but the RORO can achieve this in only 20 minutes.
As a result of the wide implementation of automation on site, the facility boasts a significant shipping capacity at up to 85 million cases per year.
The Saitama Mega DC has helped facilitate a high-quality, stable supply chain, and is expected to become the basis for sustainable growth of Coca-Cola systems in the future.
"Now, we are not simply operating a single warehouse, we are actually operating a network in a way that was done separately in the past - this is delivering wide-ranging efficiency. Starting with the Saitama Mega-DC, we are gradually transitioning from a traditional to an advanced model." commented Herbert.
RORO stations – Delivering maximum truck loading efficiency
The RORO (roll-on/roll-off) stations automate the loading and unloading of truck loads in batches. This not only reduces truck loading and unloading time, but greatly streamlines operations and decreases forklift traffic, which improves on-site safety.
Material handling system overview
| | |
| --- | --- |
| Unit load AS/RS | Double deep type. Stacker cranes: 12, pallet storage: 60,000 pallet locations including 15,000 pallets in the existing warehouse. |
| Shuttle Rack M | 21 systems, 462 vehicles, 74,000 cases |
| Sorting Transfer Vehicle | 1F: 24 units, 2F: 3 units, 3F: 15 units |
| Layer depalletizer | 8 units |
| Palletizing robot | 21 units |
| RORO station | 2 systems |
| Staging lane | 100 lanes |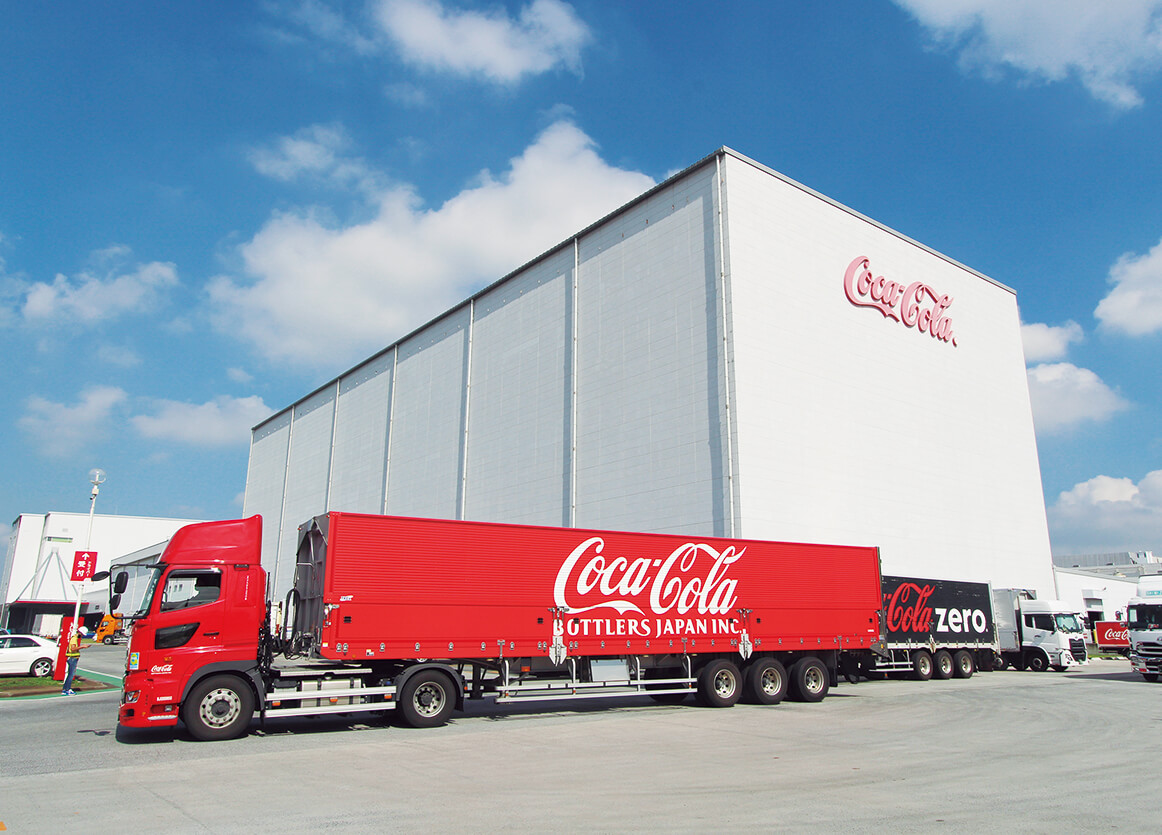 Saitama Mega DC Overview
Location: 943-1 Shimohosoya, Yoshimi-machi, Hiki-gun, Saitama Prefecture Coca-Cola Bottlers Japan Inc. Saitama Plant premises
Building area: 14,747m2
Floor area: 23,548m2 (3 floors)
Operation start: February 2021
View Case Study List
Contact Us
For product inquiries, please reach out to us via our Contact Us page.
Contact Us
Contact Us
For product inquiries, please reach out to us via our Contact Us page.
Contact Us(English)
Contact Us
For product inquiries, please reach out to us via our Contact Us page.
Contact Us(English)