Vertical Carousel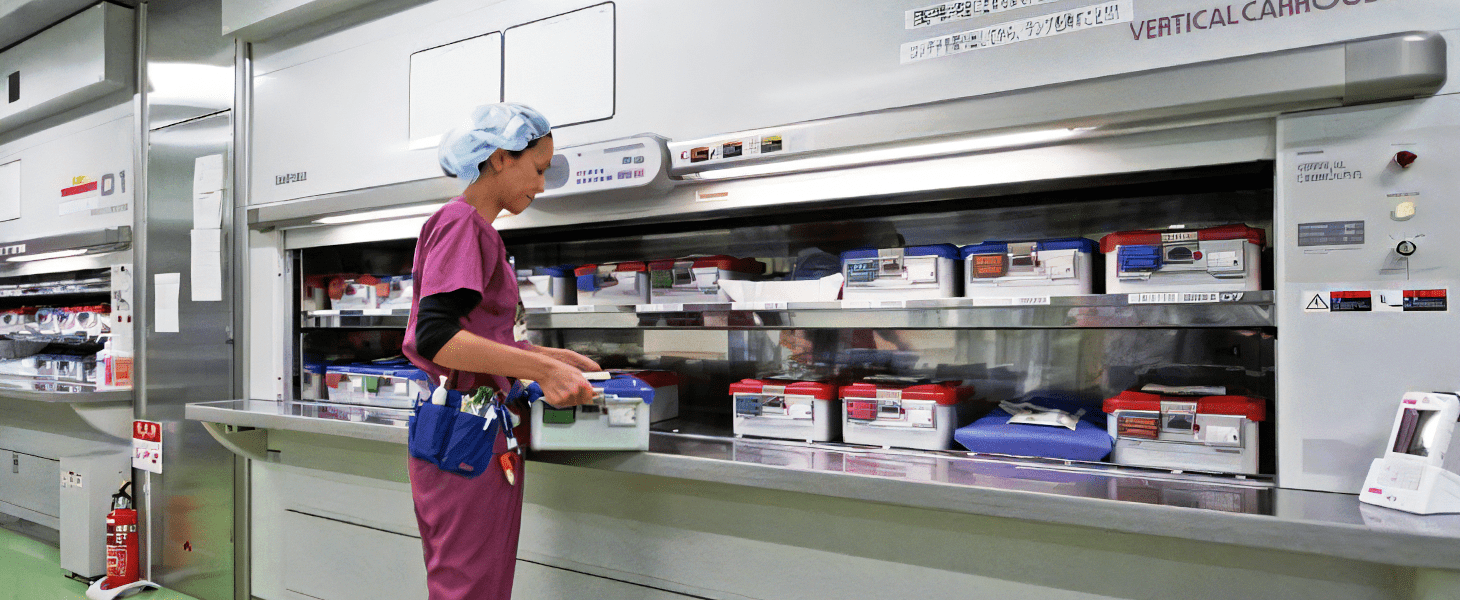 Daifuku's vertical carousel is an automated rotary storage system that makes effective use of vertical space. Compared to fixed racks, the vertical carousel can store large volumes of items in a smaller footprint. It is also an ergonomic solution – it removes the need for workers to move around the facility to find items and lets them perform pick operations from a pick window set at an ideal height. As another benefit, the system is surrounded by lockable panels, which offer increased security and protect stored items from dust.
Variations
Getting the right configuration
*

For two-sided and multi-level systems, only one pick window can be used at one time. If you require multiple points that can be used simultaneously, we recommend our mini load AS/RS.
Sanitation control - hospitals, hotels, and related facilities
When storing items that require a clean environment, such as tableware, medical instruments, and sterilized containers, the carousel's main body panels, shelves, and tables can be made of stainless steel, which is well suited to such conditions. Also, the system can be equipped with a sterilization light to prevent the growth of bacteria on stored items that have already been cleaned, disinfected, and sterilized - it cannot sterilize or disinfect items that are entered into the system unclean.
Basic Specifications
Shelf depth (a)
400 / 520 / 620 millimeters
Shelf height (b)
Single-tier
199 ~ 405 millimeters
Single-tier with dividers
219 ~ 415 millimeters
Two-tier
76 ~ 181 millimeters
Shelf length (c)
1,800 / 2,300 / 3,000 millimeters
(pick window height is 580 mm)
Unit width (d)
2,412 / 2,912 / 3,612 millimeters
Unit depth (e)
1,295 / 1,535 / 1,735 millimeters
Unit height (f)
2,250 ~ 6,000 millimeters
No. of shelves
8 ~ 32
Max. load weight
300 kg per shelf
Power supply
Three-phase AC 200 / 220 V (50/60 Hz)
Power draw
4.5 KVA (less than 20 shelves)
6.0 KVA (over 22 shelves)
Operating temperature
0~40℃
Installation requires space of at least unit width+200 mm, height+100 mm, and depth+100 mm .
Unit is fixed to the floor with anchors that requires a floor concrete thickness of at least 150 mm.
Model Specifications
Single tier / shelf depth 400 mm - height 324 mm / shelf width 2,300 mm
No. of shelves
Unit height
Unit weight
10
2,600 mm
1,630 kg
12
3,000 mm
1,790 kg
14
3,350 mm
1,950 kg
16
3,750 mm
2,120 kg
18
4,150 mm
2,280 kg
20
4,500 mm
2,450 kg
22
4,900 mm
2,600 kg
26
5,650 mm
2,930 kg
Contact Us
For product inquiries, please reach out to us via our Contact Us page.
Contact Us
Contact Us
For product inquiries, please reach out to us via our Contact Us page.
Contact Us(English)