Daifuku America Corporation, a subsidiary of Daifuku North America Holding Company, (Daifuku) offers a complete line of chain conveyor systems, components, and accessories. In 1919, we set industry standards by designing and manufacturing chain conveyors. These conveyors offer a cost-effective and versatile method to move products from point to point through manufacturing and processing operations. Minimal maintenance is required considering their durability and load carrying capabilities.
Click the link to locate Conveyor Integrators/Distributors near you.
Unibilt Enclosed Track Conveyors
Unibilt Power Only Conveyors
Unibilt power only conveyors can be used for continuous flow or indexing operations. The conveyor is designed for straight overhead or inverted applications. The enclosed track can handle individual loads up to 250 lb. (113 kg). The Unibilt enclosed track conveyor is strong enough for large-volume production runs, yet more economical than standard, heavy-duty I-beam conveyors. Unibilt power only conveyors offer maximum flexibility, optimum use of space, and greater efficiency for your operation.
Inverted power only conveyors offer all the advantages of the overhead conveyor with the added ability to protect the product from contamination. It is ideal in clean-room applications. Inverted Unibilt conveyor can mean fewer product rejects, and that means greater productivity.
Unibilt Power & Free Conveyors
Unibilt® power & free conveyors are ideally suited to demanding industrial environments that require a high degree of versatility. Overhead conveyors, utilizing the power & free concept can accumulate loads, switch and reroute products, and pace production speeds. In addition, power & free features on line accumulation and diagonal banking capabilities.
They are ideal for handling load capacities from 25 lb. (11kg) up to 3,000 lb. (1361 kg) using a four trolley load bar configuration. Power & free conveyors provide direct, positive control of each load in the system making them ideally suited to industrial applications that demand maximum versatility, productivity, and efficiency.
Unibilt Over-N-Under Enclosed Track Conveyors
Unibilt® Over-N-Under conveyors are highly flexible and can be tailored to bypass floor aisles and other obstacles. Over-N-Under conveyors can be configured to detour around obstructions and over aisles and provide economical storage, live accumulation, and transfer of parts or loads over designated distances. With these power options; gravity, power driven, and power & free, Unibilt gives you a choice of economical and efficient Over-N-Under conveyors to suit your space and cost requirements.
Unibilt Hand-Pushed Trolley Conveyors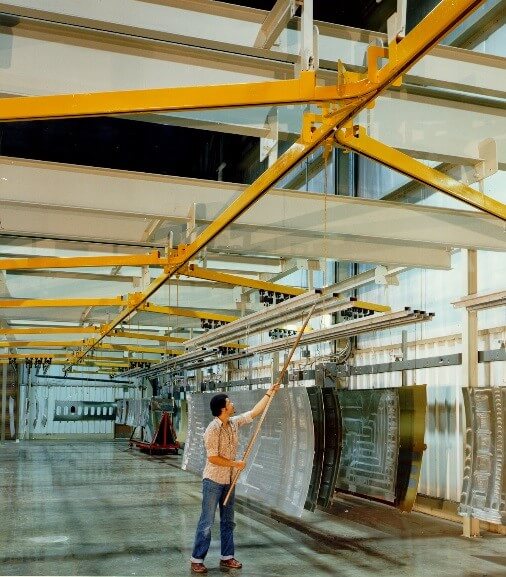 Unibilt® hand-pushed conveyors are used in areas where mechanized conveyors are not required. They move product with minimal effort due to quality component design. Hand-pushed trolleys have a load capacity of 250 lb. (113 kg) per trolley and up to 1,000 lb. (452 kg) with four trolleys connected with load bars. These trolleys are the most durable and reliable in the business. The unique patented side guide rollers are the secret that keeps Unibilt hand-pushed trolleys rolling smoothly, reducing wear on the flange, and controlling side sway.
Properly configured hand-pushed systems can also be converted to powered conveyors at a later date.
I-Beam Conveyors
Unibeam
Unibeam conveyors remain the top choice for companies in all industries seeking a durable conveyor that delivers reliable results. It was developed from the conveyor style that helped revolutionize mass production in 1919 using forged rivetless chain. Today, Unibeam includes a complete line of the finest quality 3", 4" and 6" I-beam conveyors with rivetless chain to move materials continuously down an assembly line or anywhere in your manufacturing facility. In addition, the Unibeam line offers a complete line of quality, cost-effective 3" and 4" I-beam conveyor components and accessories.
Don't leave quality to chance. Choose Unibeam, the pioneer of heavy-duty conveyor systems and components.
Power & Free Conveyors
Inverted and Overhead Power & Free
Wide Wing power & free conveyors are specially designed to accommodate industrial applications which demand a high degree of versatility and adaptability. Power & free variable chain speeds, high-speed indexing, recirculation of products, balancing of operations, and surge and stripping capabilities provide maximum material flow and the cost-effectiveness required in flexible manufacturing systems. Both inverted and overhead power & free conveyors improve productivity, flexibility, and control without stopping the entire production line.
Our exclusive Wide Wing design trolleys and lug channel track provide smoother conveyor to conveyor transfers, increased load stability, and a stronger track section than other manufacturers. Load capacities range up to 16,000 lb. (7,200 kg).
Towline Conveyors
Towveyor Towline Conveyors
Towveyor® conveyors are simple, easy-to-maintain, non-synchronous towline systems that provide high-volume, unattended material transport via tow carts that move above in-floor tracks. For decades, towline conveyor systems have played a significant role in the successful automation of warehouse and distribution facilities, plants, freight terminals, and newspaper printing plants.
These proven towline systems offer accumulation, live storage, and automatic dispatching to accommodate a wide range of production-oriented environments. Applications include sorting, transporting, order picking, automatic loading/unloading, storage and retrieval, as well as assembly operations – particularly in finishing environments.
Today's models are far more sophisticated than their earlier versions, incorporating computer controls and other technological enhancements. Cart capacity ranges from 400 to 2,000 pounds, but heavier loads can be accommodated. Towline systems help reduce operating costs, enhance productivity, improve inventory control and increase workflow efficiency
Shallo-Tow Conveyors
Shallo-Tow conveyors are light-duty, low-profile conveyors designed for use in facilities where track depth and quick installation are most important. High-strength Daifuku rivetless chain continuously travels inside the Shallo-Tow track, towing carts that engage the moving chain.
The track depth is approximately three inches and functions without trolleys. The chain assembly slides along lubricated replaceable wear bars within its low-profile track. The standard Shallo-Tow track is self-anchoring, eliminating the need for concrete anchors. The rivetless chain is made from heat-treated, forged steel. It consists of four basic parts: center, side, pusher links, and a chain pin. The chain requires no special tools and can be assembled or disassembled by hand.
Shallo-Tow conveyors are adaptable to most industrial applications except those where grit and abrasive materials are encountered.
Hand-Pushed Conveyors
Trolley Conveyors
This is our most economical four-wheel hand-pushed trolley. Daifuku's hand-pushed trolleys are engineered to accommodate loads from 500 to 4,000 pounds. Their unparalleled performance relies on Red SealTM trolley wheels and our patented side rollers. The rolling action prevents unnecessary wear on the conveyor track and trolleys and eliminates side sway.
The retainer-type Red Seal trolley wheels have been developed specifically for rugged conveyor applications. Wheels full complement precision bearing in hardened steel races. This provides the lowest friction and highest load rating possible for a ball bearing of this size and style, promoting longer life and lower maintenance under all conditions.
Our patented side roller is standard on all hand-pushed trolleys and keeps the trolley running smoothly and prevents the brackets from rubbing on the flange of the I beam around curves.
Contact Us
For product inquiries, please reach out to us via our Contact Us page.
Contact Us
Contact Us
For product inquiries, please reach out to us via our Contact Us page.
Contact Us(English)
Contact Us
For product inquiries, please reach out to us via our Contact Us page.
Contact Us(English)