Manufacturing Innovative systems for lean manufacturing and just-in time requirements
Daifuku North America offers the widest variety of material handling technologies to ensure that you receive the best solution to meet your manufacturing needs. Whether it's increasing productivity, reducing operating costs or improving inventory management; our automated systems keep things moving efficiently and effectively.
Our innovative systems are designed specifically for your business and make lean manufacturing and just-in time requirements easier to achieve.
Manufacturers around the world have implemented tailored systems from Daifuku North America to optimize their operations across a variety of industries, including aluminum, battery, bulk handling, food & beverage, industrial, newspaper, paper, paint & finishing and pharmaceutical & cosmetics.
Solutions for Manufacturing
Automated Storage/Retrieval System (ASRS)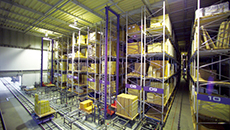 Automated Storage & Retrieval Systems vary in sophistication from relatively simple, manually-controlled order-picking machines operating in small storage structures to fully- automated, computer-controlled systems that are integrated into complex manufacturing and distribution processes. AS/RS is effective for staging in a lean inventory environment.
Automatic Guided Vehicles/Carts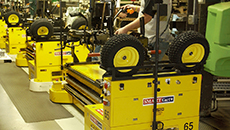 Our Automatic Guided Vehicles (AGVs) are an integral part of hundreds of manufacturing systems, including heavy-duty AGVs that deliver 25-ton paper rolls to SmartCart AGCs that form assembly lines in state-of-the-art battery plants.
Conveyors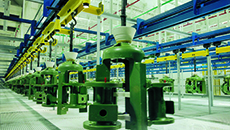 For nearly a century, we have provided products that have changed the way products are manufactured. That legacy continues today with our diverse line of reliable conveyor systems. While our belt conveyors move bulk materials in power and biomass plants, our Unibilt enclosed track conveyors carry parts through paint systems, and our heavy-duty power & free conveyors transport anodes in an aluminum facility.
Software & Controls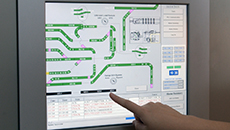 Warehouse management system (WMS) is a computer-based inventory management system that provides real-time control of inventory, labor, and equipment in a warehouse. Our warehouse control systems (WCS) are computer-based systems that bridge the gap between the WMS and the various possible configurations for automation material handling equipment.
Sorting & Picking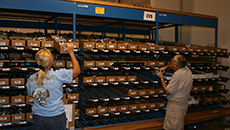 Whether deployed in a manual or fully-automated operation, Daifuku North America's sorting and picking systems enable electronic communication to workers or equipment regarding the location and amount of inventory to be distributed or stored. We have years of experience providing customized sorting and picking systems that are fast, efficient and accurate.
Contact Us
For product inquiries, please reach out to us via our Contact Us page.
Contact Us
Contact Us
For product inquiries, please reach out to us via our Contact Us page.
Contact Us(English)