We have an extensive lineup of storage products that can meet the diverse needs in the field of logistics as well as manufacturing. Daifuku's automated storage and retrieval systems (AS/RS) provide versatile material handling solutions for factory automation as well as warehouses and distribution centers. Our AS/RS line includes the best-selling unit load for pallet-size loads and the high-speed mini load for smaller items stored in totes or cases. Both offer high-density storage capacity with a compact footprint. Along with this, we have cleanroom credentials that are crucial for the production and maintenance of semiconductors and LCD panels that are being used in smartphones and also storage systems for parts distribution.
Manufacturing and Distribution
Unit Load AS/RS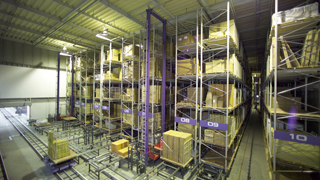 An automated warehouse that stores palletized products and parts in racks. There is a standalone unit load AS/RS that can be easily installed into an existing building, and a building-integrated version that supports the roof and walls with the racking. The systems are capable of storing a wide variety of items, including room temperature, refrigerated and frozen goods, hazardous materials, long items, and metal molds among many others.
Mini Load AS/RS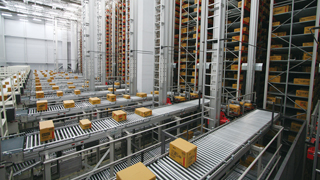 An automated warehouse that stores small products and parts in containers and cardboard boxes. The stacker crane's extractor comes in an array of models according to application and required capacity, including a single-fork model that retrieves and deposits one case at a time, and a twin model that can handle two cases simultaneously.
Rack-Supported Building AS/RS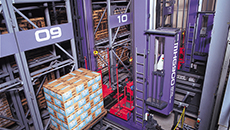 Daifuku North America's rack-supported building AS/RS is a multilevel automated warehouse in which the rack is integrated into the building. The storage rack serves as the basic structural system and integrates material handling and information systems together to form an optimum storage option. The rack-supported building AS/RS seamlessly integrates with unit load automated storage and retrieval systems.
Cleanroom Production Lines
Semiconductor Production
In semiconductor fabrication, efficiency and cleanliness are crucial to productivity. Daifuku's Semiconductor Transport Systems utilize Daifuku's own HID non-contact voltage induction systems to eliminate particle generation. We offer handling systems for virtually all carriers and sizes.
Daifuku Storage Systems are fast, efficient and reliable. Coupled with a Daifuku Transport System, our storage units will maximize your production capabilities and efficiency. Our Storage systems are available in various sizes and purposes.
Clean Stocker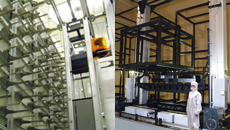 The Clean Stocker CLS-40 for 200mm wafers combines speed, reliability, and expandability in a 200mm cleanroom automated storage system. Because of its modular design, the CLS-40 can be easily expanded horizontally as needed. The CLS-50 provides the speed, size, and expandability you need in a 300mm cleanroom automated storage system and features a modular design so it can easily expanded horizontally as needed. The Clean Mini Stocker for 300mm wafers delivers a space-efficient solution for tall or multi-floor storage in an automated cleanroom environment.
Zero-Footprint Storage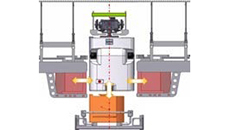 The Daifuku ZFS-series (Zero-Footprint Storage) enables storage of 300mm FOUPs without use of valuable fab footprint and can be installed either side or below of a track.
Reticle Stockers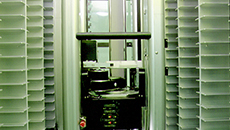 The Daifuku Reticle Stockers offer accurate and safe storage of reticles in SMIF Pods or Nikon pods. The proven Daifuku name assures the reliability of our Reticle stockers.
Zip Tower 30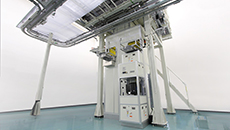 The Zip Stocker 30 is a rotating shelf system maximizing storage capacity within a compact footprint. The Zip Tower is a configuration of the vertically stacking Zip Stocker that provides storage and lifting functions using free space under floors and roofs.
Nitrogen Purge Stocker
The Nitrogen Purge Stocker is a stocker enabling the containers being stored to be filled with nitrogen. This enables response to miniaturization, a keyword in the evolution of semiconductors.
Automobile Production Lines
SPDR, a parts temporary storage and sorting system.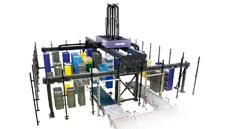 The SPDR (pronounced spider) grabs and transports storage cases for parts placed on the floor inside the area automatically using its arm, and sorts and stacks them for storage. The chucking part of the arm is of unique construction and is the first in the world to be able to handle cases of different sizes. It is able to grab a single case or multiple stacked cases, and enables the picking retrieval of the lower tier cases, multiple retrievals, and grouping retrievals to flexibly respond to the requirements from the production line.
Contact Us
For product inquiries, please reach out to us via our Contact Us page.
Contact Us
Contact Us
For product inquiries, please reach out to us via our Contact Us page.
Contact Us(English)
Contact Us
For product inquiries, please reach out to us via our Contact Us page.
Contact Us(English)