We have an extensive lineup of storage products that can meet the diverse needs in the field of logistics as well as manufacturing. Daifuku's automated storage and retrieval systems (AS/RS) provide versatile material handling solutions for factory automation as well as warehouses and distribution centers. Our AS/RS line includes the best-selling unit load for pallet-size loads and the high-speed mini load for smaller items stored in totes or cases. Both offer high-density storage capacity with a compact footprint.
Manufacturing and Distribution
Automobile Production Lines
SPDR, a parts temporary storage and sorting system.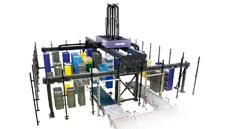 The SPDR (pronounced spider) grabs and transports storage cases for parts placed on the floor inside the area automatically using its arm, and sorts and stacks them for storage. The chucking part of the arm is of unique construction and is the first in the world to be able to handle cases of different sizes. It is able to grab a single case or multiple stacked cases, and enables the picking retrieval of the lower tier cases, multiple retrievals, and grouping retrievals to flexibly respond to the requirements from the production line.
Contact Us
For product inquiries, please reach out to us via our Contact Us page.
Contact Us