The full-scale material handling and logistics demo center Hini Arata Kan features the range of advanced technology that Daifuku, a leading material handling company, has developed over 80 years of operation.
Hini Arata Kan visitors will benefit from experiencing Daifuku's latest, in-house developed and manufactured, cutting-edge systems, along with products capable of integrating with Daifuku systems from over 30 other logistics vendors. Tours are available in Japanese, English, Chinese, and Korean.
In addition, the facility is wheelchair accessible, part of our effort towards the realization of a universal design.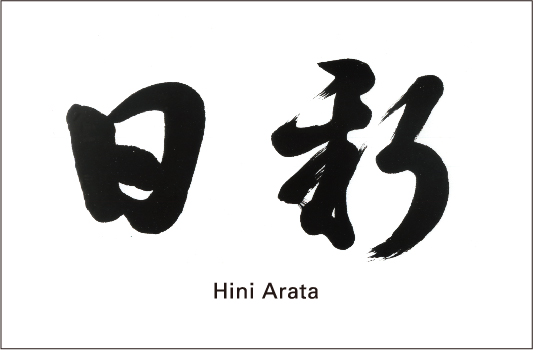 The name of Hini Arata Kan comes from Daifuku's corporate motto, "Hini Arata," and was given by an in-house application.
Building area
6,049 sq. m (65,110 sq. ft)
Building height
25.1m (82 ft)
Floor space
19,482 sq. m (209,702 sq. ft)
Parking space
Parking available for busses (up to 3) and cars (up to 27)
Operation hours
9:00~16:30 (Tour hours* / 9:50~15:15)
*Reservations required
Closed
Saturdays, Sundays & Holidays
Facility
Event Hall (Up to 100 people)
Meeting Room (Up to 14, 8, 6 people)
Restaurant (Reservations required)
International Conference Hall (Up to 37 people)
Operating Department
Operating Department
Hini Arata Kan (Daifuku Co., Ltd.)
Representative
Yasuhiro Kato, Center Director
Address
1225 Nakazaiji, Hino-cho, Gamo-gun
Shiga 529-1692 JAPAN
Directions
TEL
81-(0)748-53-3970
FAX
81-(0)748-53-3921
History of Hini Arata Kan
June 1, 1994
Hini Arata Kan established
Exhibits automotive production line systems, storage and transport systems, and picking and sorting systems
1999
Visitors to Hini Arata Kan exceed 100,000
Opens the Comprehensive Exhibition Hall
2005
Visitors to Hini Arata Kan exceed 200,000
2006
Exhibits electronic devices produced by Contec
2007
Exhibits storage and transport systems for cleanrooms
Exhibits a car wash machine
2008
Opens the Global Corner
2010
Installs a photovoltaic system to reduce 110 tons of CO2 annually

Visitors to Hini Arata Kan exceed 300,000

2014
Implements a carbon offset program toward achieving zero CO2 emissions
2015
Introduces a shuttle bus using recycled fuel
2016
Visitors to Hini Arata Kan exceed 400,000
2017

Sets a new Guinness World Record—longest chain of origami sculptures—to commemorate Daifuku's 80th anniversary

Opens the 3D movie corner—VR LAB
2018
Exhibits airport-related systems
2022
Visitors to Hini Arata Kan exceed 500,000
June 1, 2022

Opening of the renewed Hini Arata Kan
54 of the latest material handling systems and equipment newly on display
New videos introducing case studies and the systems operating on-site
Environmental Effort
Photovoltaic System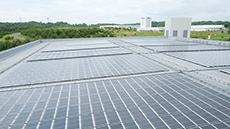 Daifuku installed solar panels on the roof of Hini Arata Kan. The system generated approximately 270,000 kWh of power, which reduced CO2 emissions by 110 tons.
Carbon Offset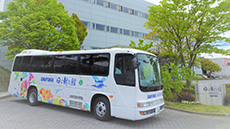 Since 2014, Hini Arata Kan has offset 100% of the yearly CO2 emissions generated from electricy and LPG use at the center and shuttle busses (including the use of biodiesel fuel).
EV Station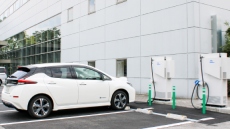 Hini Arata Kan installed two charging stands for electric vehicles and plug-in hybrid electric vehicles*. The stands utilize fast chargers with a rated output of 50kW. Visitors can charge their vehicles during the tour.