DAIFUKU Solutions

GTP Utilized to Substantially Optimize Order Picking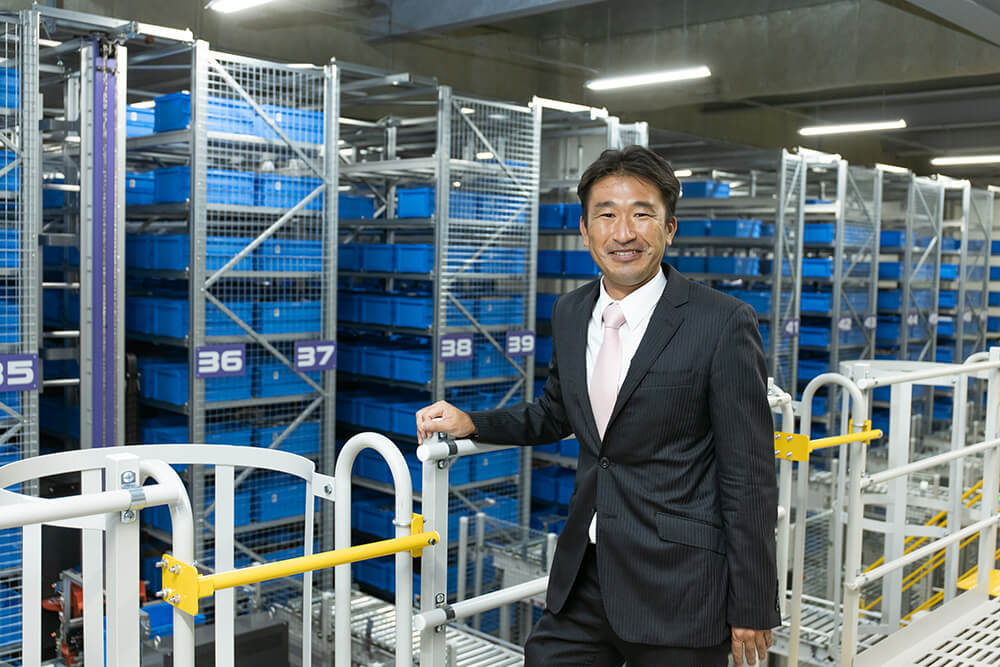 "Delivering heart pounding moments of delight" is the motto of Japan's leading TV shopping company, Jupiter Shop Channel Co., Ltd. (hereafter referred to as Jupiter), which utilizes media such as cable TV and satellite broadcasting for its operations. Jupiter opened a new logistics base in Funabashi, Chiba Prefecture in April 2022 in response to the logistics challenges peculiar to its business, where the top-selling items change on a daily basis. Jun Takei from the Corporate Administration Division's Logistics Department Shipping Control Group told us about the situation at the new logistics center now that it has been in operation for over six months.
GTP: Goods to Person, where order picking is carried out at a set position. The inventory container and collection container are delivered automatically to the worker. GTP improves work efficiency and can reduce the physical burden on the workers since, unlike cart picking, there is no need to walk around in search of items.
Although TV shopping and internet shopping are both forms of mail order commerce, their business models are very different, aren't they?
The biggest difference between them is the top-selling merchandise trends. Internet shopping is a long tail business; with TV shopping, however, items that are featured in programs predominate sales. Jupiter does also handle catalog shopping and online shopping, so we do have some standard merchandise with stable sales, but of course the items which sell the most on a given day are those which were featured in our TV programs.
Our main programs are Shop Star Value (SSV), broadcast daily from midnight, and Go! Go! Value (GGV), which starts at noon every day. The programs feature different bargain items. Orders are concentrated on the day of the broadcast, so our sourcing requires us to predict demand in advance and secure the merchandise. Although some items are only sold in limited quantities, cooperation with manufacturers is essential for us to procure the merchandise, and we decide on the lineup roughly six months in advance.
What are the main buying patterns of your customers?
Our most highly recommended items are featured on SSV, so many of our customers are in the habit of watching SSV before going to bed. There's also a flat rate for shipping up to 6 items purchased in one day, so many customers order an SSV item at night and then add more merchandise later that day after watching GGV or looking on the Jupiter website. Roughly 50% of our customers purchase multiple items. There are also some who are fans of the program's cast and who order merchandise introduced by their favorite presenter.
With the top-selling items changing daily, what innovations do you employ in your logistics?
Our average daily shipment is around 52,000 boxes, including items shipped directly from the production area. Roughly half of them are single orders, mainly for SSV and GGV merchandise, so we've set up four dedicated lines we call "single order speed lines." They only handle single orders, and we aim to boost efficiency by allowing workers to focus on packing items into cardboard boxes for delivery. The program content changes daily, so the items handled by the single order speed lines change every 24 hours. Sometimes they handle small items such as accessories, cosmetics and items of clothing, and sometimes large items such as futons or domestic appliances; the single order speed lines are capable of handling almost all our merchandise.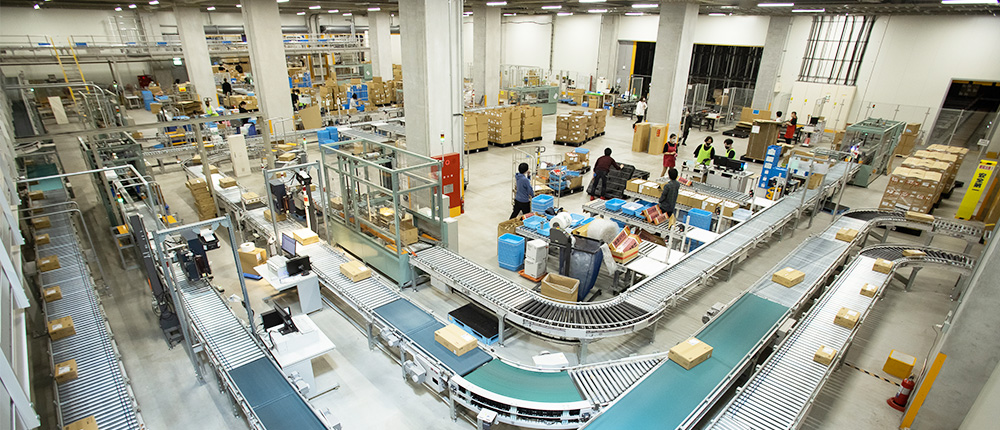 How do you handle other orders?
Orders that combine SSV or GGV merchandise with other items, and orders for items from our catalog or website, are handled by the GTP picking system suggested by Daifuku. We adopted the system in our new Funabashi logistics base that came into operation in April 2022. Our previous center utilized cart picking, where staff moved around the warehouse collecting items. After repeated discussions on how to boost productivity, we decided to use a system in the new center where items are automatically delivered to the staff responsible for picking. During order picking, a container holding the applicable item is dispatched from the 57,728 rack Fine Stocker mini load automated storage and retrieval system (AS/RS), travels along the conveyor, and is delivered to a member of our staff at their workstation. Empty containers in which picked items will be placed, and containers for which the picking process is not yet complete, are temporarily stored in the Shuttle Rack M (5,000 racks). Productivity has soared since staff no longer move around to do their picking but simply have to place items in the containers sent to their workstation. The single order speed lines, which ship hot-selling SSV merchandise, are located away from the GTP work area, which handles diverse items, so that the staff in their respective work areas can carry out their tasks without confusion.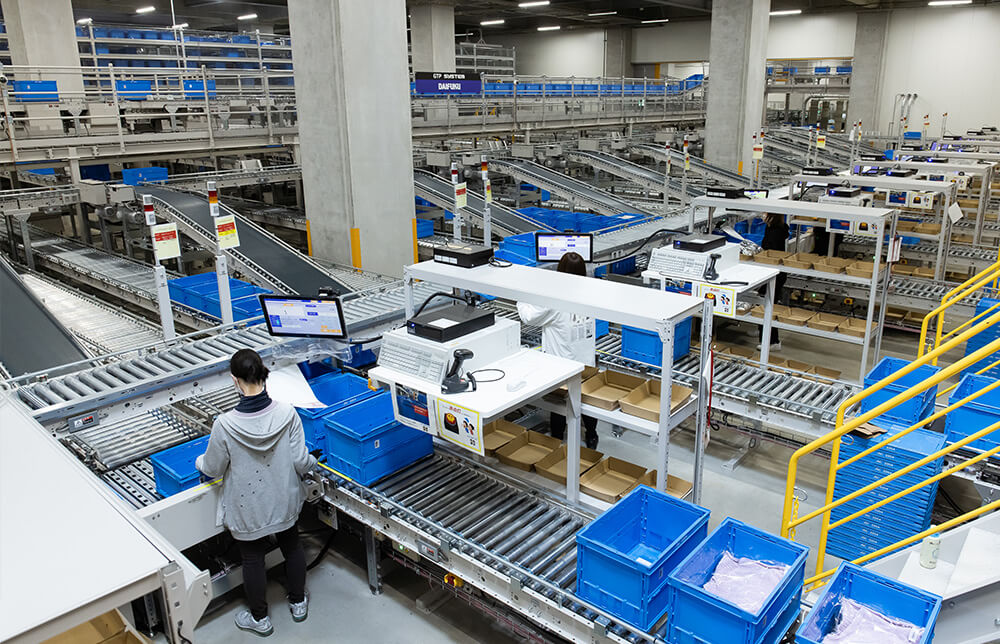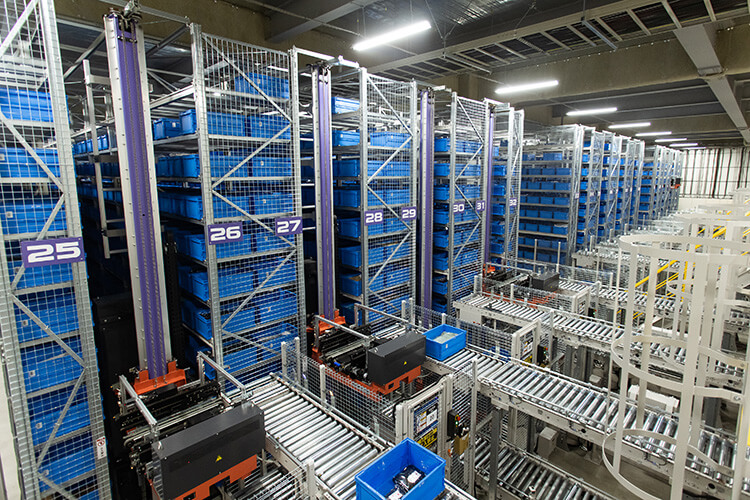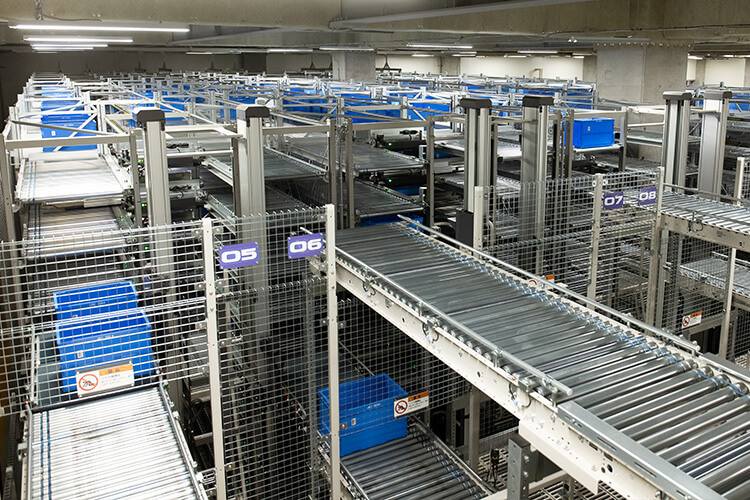 The mini load automated storage and retrieval system (left) stores the merchandise inventory, and the Shuttle Rack M (right) temporarily stores containers for which the picking process is not yet complete.
Utilizing automated equipment to boost productivity and deal with labor shortages
Your new logistics center is located in Mitsui Fudosan Logistics Park (MFLP) Funabashi III, a huge logistics facility in Funabashi, Chiba Prefecture. Please tell us about the facility and why you relocated there.
We wanted to update our equipment and consolidate our bases. More than a decade had passed since our main logistics center in Narashino, Chiba Prefecture came into operation in 2007, and it was time to consider updating our equipment. In addition, our operations were divided between five bases since we had expanded our facilities and equipment as the scale of our business grew. We wanted to consolidate them and boost our efficiency. Being in a single location eliminates the need to convey stock between bases, boosting productivity. It also enables us to ship orders for multiple items in a single shipment. This reduces shipping costs, which is good not just for us but for our customers as well.
MFLP Funabashi III is a huge logistics facility occupied by several companies. We chose it based on conditions such as scale and rent, as well as by its location, a nine-minute walk from Minami-Funabashi Station on the JR Keiyō and Musashino lines. Like the logistics centers of many other companies, securing operators is a major business challenge for us. This location makes it possible for employees to commute by train, and the facility also has a lounge, rest area, restaurant, and convenience store. There are also large condominiums in the area, and we felt that overall, it was an environment where it would be easy to secure a workforce.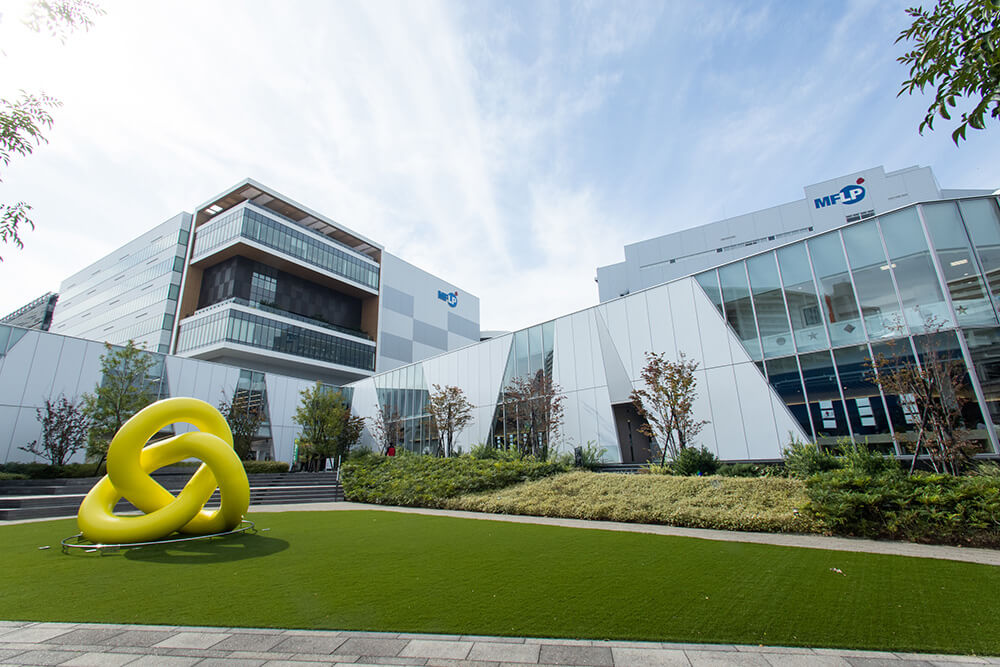 The building has eight above ground floors, of which Jupiter utilizes floors six to eight and half of the fifth floor, a total floor space of roughly 100,000 m2. We deliberated adopting a unit load AS/RS and a mini load AS/RS to cope with expanded inventory. There are many material handling manufacturers, but Daifuku was the most promising candidate right from the very start. I went to Daifuku's Hini Arata Kan demo center in Shiga to see the actual products and decided to ask for the company's services. Daifuku provided detailed customizations during the installation, such as adjusting the angle of the DPS display and the tilt of the racks to suit our work.
Were there any particular points you focused on with regard to adopting new material handling systems?
Storing our merchandise inventory was a challenge, so we've installed a Shuttle Rack D3, Daifuku's newly developed ultra-high density unit load AS/RS. The system is designed to store multiple pallets and increase storage space. This system is constructed so that several pallets can be stored along the depth of the racks, reducing the amount of conveyance space required for storage and retrieval, and expanding the storage space available to achieve ultra-high density storage. All the merchandise enters the center from the seventh floor. When items stored on a pallet are placed on the seventh floor receiving conveyor, they are automatically transported by a high-speed transport vehicle (STV) to the Shuttle Rack D3 on either the seventh floor (3 aisles, 2,793 racks) or the eighth floor (4 aisles, 4,593 racks), where they are stored. Based on the marketing plan, SSV items are retrieved from the Shuttle Rack D3 and temporarily stored in the Compact System unit load AS/RS (741 racks) on the sixth floor. Meanwhile, when items stored in a case are placed on the seventh floor receiving conveyor, they are automatically transported to the mini load AS/RS on the sixth floor. By connecting the conveyors and lifters on each floor, we've created a layout where shipping tasks can be carried out without having to be aware of the floor on which an item is stocked.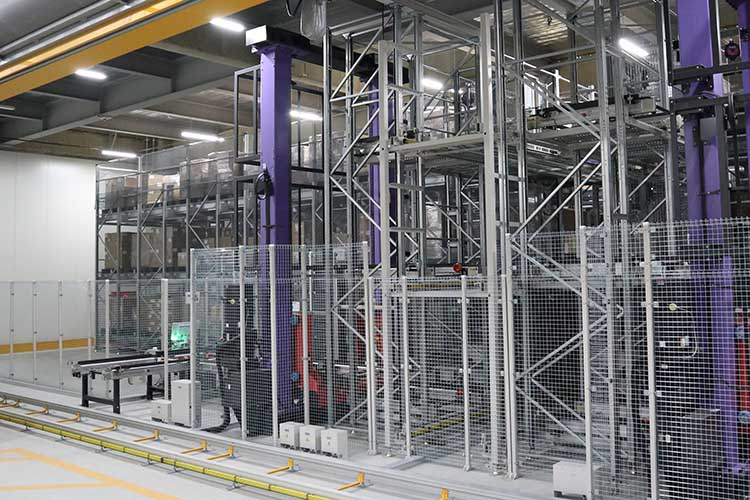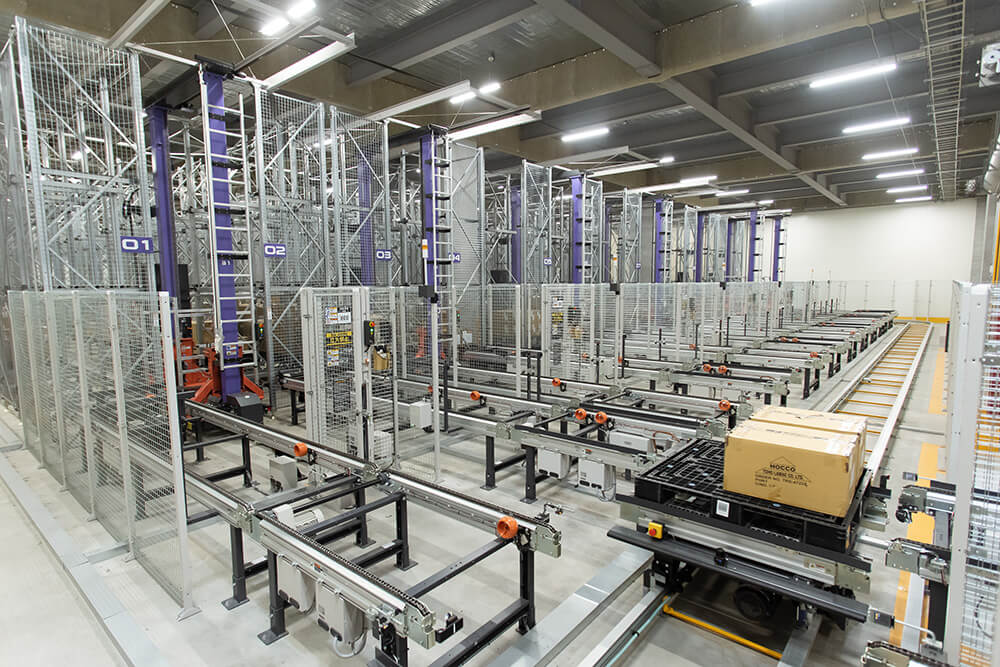 The Shuttle Rack D3 (left) and Compact System (right) efficiently store palleted merchandise.
Automation was a very significant keyword in designing our new base. Many tasks were done manually at our previous center, such as assembling boxes and sticking on shipping labels. This time we've adopted the use of carton formers to assemble cardboard boxes, sealers to close their lids, and automatic labelers, greatly improving work efficiency. We're still thinking about how work can be divided between people and machines in ways that will boost productivity. For example, GTP has nine workstations, one of which has more space available so that we can install a robot at some point in the future. We still don't have any detailed plan for this, but we may eventually install one on a trial basis.
It seems it's no easy matter to find the optimal solution for your work.
No. I think we need to fine-tune the operational aspects as we become more experienced. One example of that is our improvement to the packing operations. The size of the cardboard box for delivery is automatically decided in the shipping instructions, and packing lane staff pack merchandise into uniformly sized boxes. We previously had a system whereby, if the packing lane was full, the overflow would be sent to a lane that handles the process manually. However, we realized how inefficient that was since the staff on the manual line had to select the optimum box and assemble it. We handled this issue by revising the software, and are aiming to boost efficiency even further.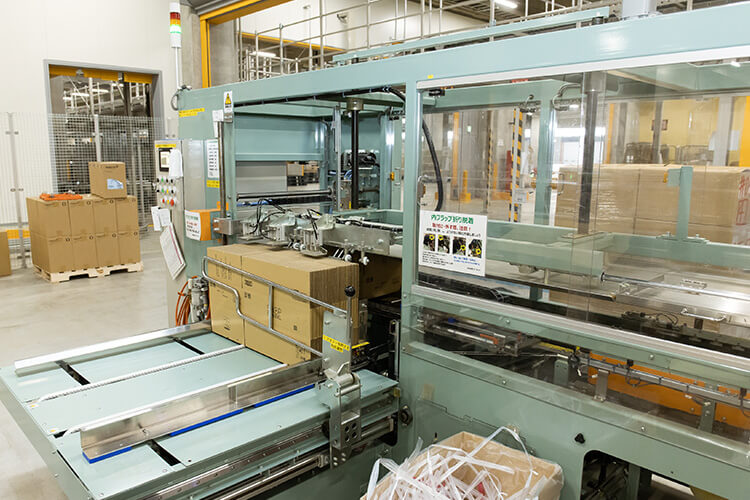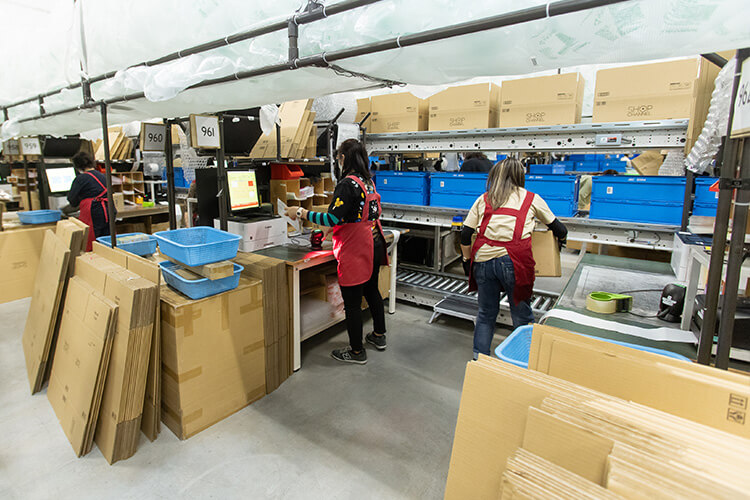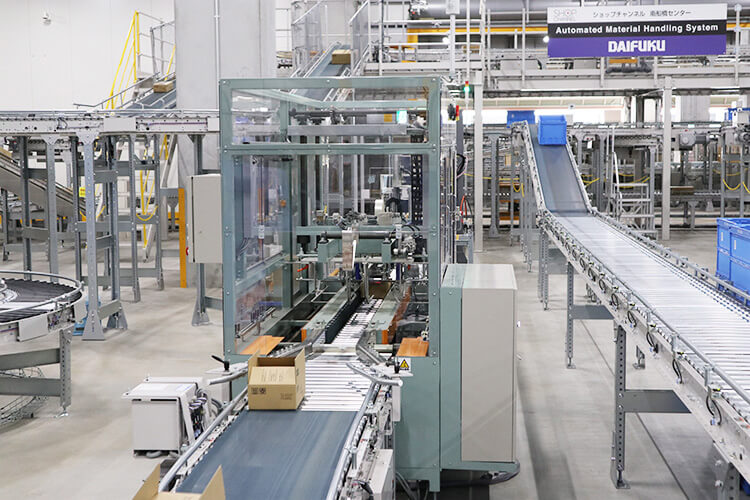 Staff in the packing lane (center) insert cushioning material to protect the merchandise they pack into cardboard boxes assembled by the carton former (left). Boxes are then placed on the conveyor and pass through the sealer (right), after which the shipping label is automatically attached.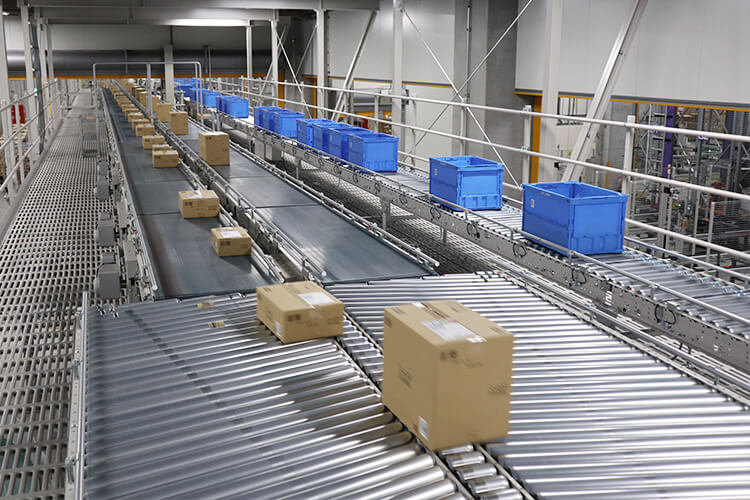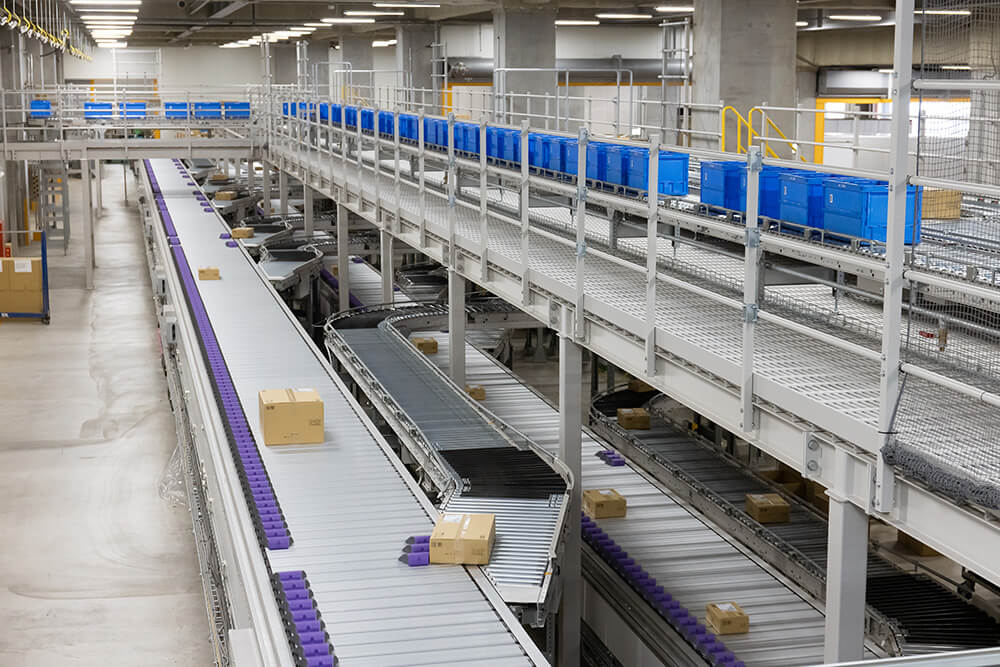 Merchandise packed in the single order speed lines and packing lanes converge before being sorted according to destination by the Surfing Sorter.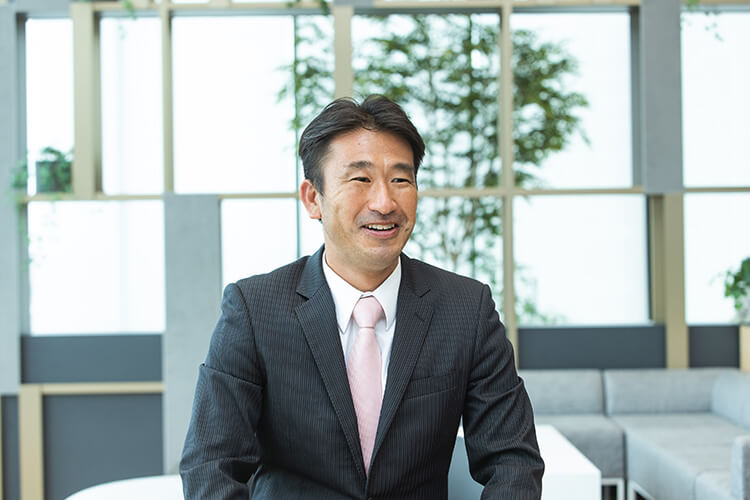 "Nearly all of the items we handle are goods that enrich people's lives rather than things they use on a daily basis. When our buyers seek out merchandise, and our staff and presenters broadcast our programs, they have in their minds an image of the heart pounding moment of delight our goods deliver. Those of us in charge of logistics share that stance. As we tackle our work, we're constantly aware of that moment when our customers open the box and see the merchandise." (Jun Takei)
Jun Takei
Shipping Control Group,
Logistics Department,
Corporate Administration Division,
Jupiter Shop Channel Co., Ltd.
Joined Jupiter Shop Channel Co., Ltd. in 2006. He spearheaded the project to consolidate the company's five logistics bases, including the main Akanehama Logistics Center in Narashino, Chiba Prefecture, and establish their new logistics center in Mitsui Fudosan Logistics Park Funabashi III in Funabashi, Chiba Prefecture in April 2022. He led the project from planning the move to the launch of the new facility, and was involved in aspects such as the material handling selection and design. He is currently engaged in work to boost productivity in the Shipping Group.