Relationship to SDGs
Goal
Target
No.
Initiative
8. Decent work and economic growth
8.7
Take immediate and effective measures to eradicate forced labour, end modern slavery and human trafficking and secure the prohibition and elimination of the worst forms of child labour, including recruitment and use of child soldiers, and by 2025 end child labour in all its forms
10. Reduced inequalities
10.2
By 2030, empower and promote the social, economic and political inclusion of all, irrespective of age, sex, disability, race, ethnicity, origin, religion or economic or other status
10.3
Ensure equal opportunity and reduce inequalities of outcome, including by eliminating discriminatory laws, policies and practices and promoting appropriate legislation, policies and action in this regard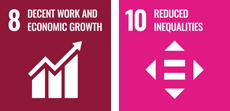 KPI
Initiative
Target
FY2021
FY2022
FY2023
Promotion of workplace understanding of human rights
Carry out human rights training for Group employees
Carrying out due diligence for human rights
Formulate policies and carry out due diligence for human rights and ensure the wide-spread human rights knowledge inside and outside the Company
Promotion Framework
To be mindful of the human rights of all of our stakeholders, a Human Rights Supply Chain Subcommittee has been set up under the auspices of the Sustainability Committee and comprising appointees from across multiple departments, including Procurement, Personnel, Legal Affairs, and Sustainability, and this Subcommittee manages the creation and administration of a human rights due diligence system.
Human rights initiative
In April 2014, Daifuku joined Global Compact Network Japan (GCNJ), which is a local network of the UN Global Compact (UNGC). The GCNJ partners with other participating companies and organizations and conducts activities aimed at realizing a sustainable society, by focusing on various subcommittees based on 10 principles in the four fields of human rights, labor, the environment, and anti-corruption. In fiscal 2019, we took part in the Environmental Management Subcommittee, Anti-Corruption Subcommittee, ESG Subcommittee, Disaster Prevention and Mitigation Subcommittee, SDGs Subcommittee, and the Reporting Research Subcommittee. We are working to solve various issues using the knowledge and findings that we acquire from these committees.
Action
Addressing workplace harassment
Daifuku has established the Personnel Consultation Office to handle in-house rules and personnel evaluations as well as consultations regarding sexual harassment and power harassment. With a focus on privacy, we strive to create an environment that encourages employees to discuss any problems they may face.
Compliance with Modern Slavery Act
In response to the Modern Slavery Act 2015 of the UK, the Daifuku Group has published an "Anti Slavery Statement 2020" on our UK website.