DAIFUKU Solutions

The Substantial Value Produced by Automation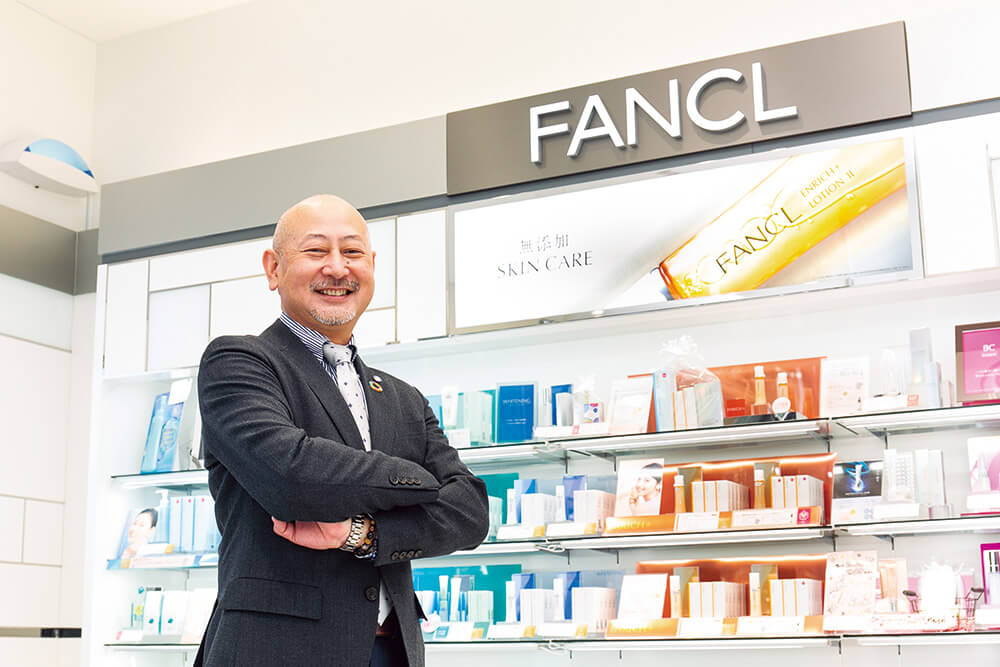 FANCL Corporation (hereafter referred to as FANCL) is well-known for its preservative-free cosmetics and supplements. It has a vertically integrated system whereby it handles everything itself, from R&D and manufacturing to distribution and marketing. Following its Kanto Logistics Center launched in 2008, FANCL established its Kansai Logistics Center in Kadoma, Osaka, in 2021. We interviewed Junji Nagasaka, a senior executive officer at FANCL Corporation, about the strengths of the Kansai Logistics Center, which was designed to incorporate the experience FANCL had amassed in the Kanto region, and about the company's logistics strategies.
I understand your company uses a variety of sales channels to market its various in-house developed products, including preservative-free cosmetics, could you elaborate?
We have continued to operate mail-order sales ever since our founding, and at 50%, they account for the largest share of our total sales. Directly managed stores then account for 23%, drug stores and convenience stores for 18%, and international shipments for 9%. FANCL's strength is that we are a manufacturer with our own sales functions and are directly connected with our customers.
At one point, store and distribution sales increased to a level comparable to mail-order sales due to inbound tourism, but then they fell sharply as a result of the COVID-19 pandemic. However, we still outperformed other competitors thanks to our mail-order sales. Furthermore, having our own mail-order system allows us to analyze data swiftly and respond to changes in the market environment.
So the benefits far outweigh the challenges of handling everything in-house?
Yes, our business is based on our founder's simple approach: the desire to deliver fresh products to our customers. Our products are preservative-free and, unusually for cosmetics, are clearly marked with their date of manufacture as well as a use-by date. They would lose their freshness if there were a long lead time to delivery, which is why we turned down offers from department stores to handle our products and only did mail order sales when we were first founded. As time passed, our channels gradually expanded and we started to sell our products at directly managed stores and department stores in response to feedback from our customers. We also began to wholesale supplements after being approached by convenience stores.
We also do wholesale marketing outside of Japan. With a few exceptions, products destined for international markets are shipped together by sea, they are normally shipped directly from the factory without going through a distribution center.
Your Kansai Logistics Center commenced operations in June 2021. Please fill us in on the background to opening this new base.
Previously, FANCL products, such as preservative-free cosmetics and supplements, were handled at the Kanto Logistics Center in Chiba Prefecture, and anti-aging cosmetics marketed by our group company ATTENIR were handled at a logistics center near our Shiga factory, but both facilities were approaching the limits of their shipping capacities. The Kanto Logistics Center was built on the assumption that we would build a logistics base in the Kansai area a few years later. Although plans for the new Kansai base were delayed for longer than expected due to business performance, we were able to restart the project in fiscal 2017 when results improved, partly as a result of booming inbound tourism.
The Kansai Logistics Center plan is based on VISION2030, which outlines how we want the Group to be in 2030, the year we celebrate our 50th anniversary. We compiled the plan to include BCP (business continuity plan) perspectives and considered how the center needed to be to actualize our vision. We also included how we should handle logistics overall, with balancing the burden placed on the overstrained Kanto facility and reorganizing ATTENIR logistics as core considerations.
Please tell us which points you particularly emphasized when planning the Kansai Logistics Center.
For us, the most important point was setting up a material handling system via our own investment. The Kanto facility was constructed using third-party logistics (3PL) investment which meant that, although our initial investment was kept lower, we continued to pay administrative costs even after the depreciation of the facilities was completed, and we couldn't upgrade equipment when we wanted to.
The biggest advantage of in-house investment is that we can shape things as we want them. We want to approach logistics optimization from the perspective of the customer whereas 3PL emphasizes productivity and investment efficiency, which means we can't achieve the logistics we're aiming for without coming to a compromise. Thus we determined that in-house investment was the best choice for the project.
It seems you've installed many devices not found at your Kanto facility, such as piece picking robots.
With the Kansai Logistics Center, we aimed to boost the quality and speed of material handling. Daifuku gave us the best proposal which met those conditions, and we decided on specifications while exchanging ideas about how much efficiency can be achieved by installing state-of-the-art equipment, and how advantageous it would be to utilize automation and robotization.
We installed piece picking robots because they increase efficiency and reduce the workload strain on our personnel. Your company did advise us the investment might not be justified, but we were determined to install them. 20% of the best-selling products we handle in the Kansai region are sold in large quantities, and many customers buy them in bulk via mail order. Robots are good at repetitive tasks so we can leverage that characteristic, particularly in the collection of high-frequency products.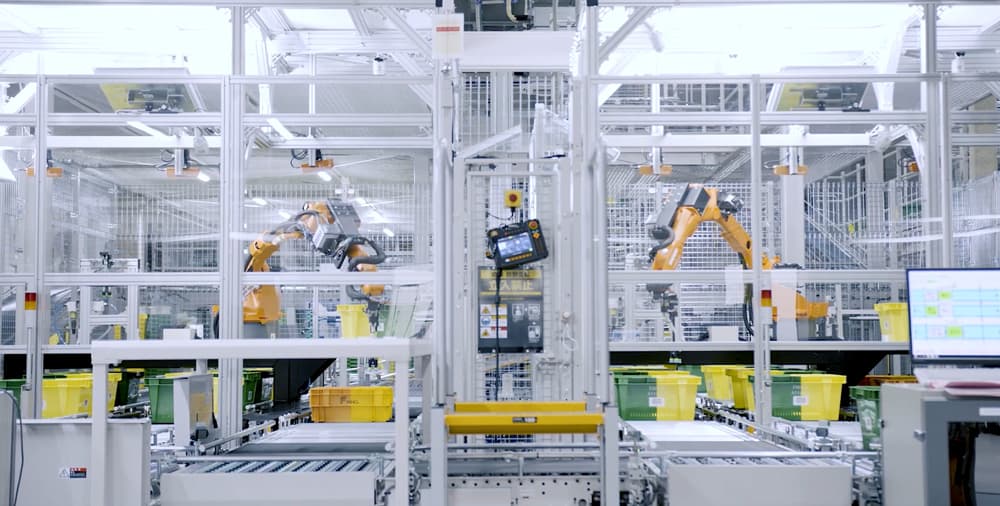 In-house investment allowed
decisions to be made from a long-term perspective
Why are you so insistent on automation and robotization?
Japan's workforce is decreasing rapidly. Many tasks would be quicker performed by people but if we cannot hire the appropriate number of workers, logistics will grind to a halt and products will no longer be shipped. Labor shortages are predicted to continue which increases the difficulty of hiring experienced workers, and we believe that automation and robotization is the only option to enable any new hire to immediately start working since difficult tasks are covered by the systems in place.
And the automated loading and picking line is also a system that helps increase efficiency.
Yes. I'd seen it previously at the Daifuku showroom (Hini Arata Kan) and wanted to install it in our next logistics base. Why? Because it reduces the number of times a product needs to be handled by workers. Logistics productivity is determined by the number of times a worker is required to handle a product. At the Kanto Distribution Center that is five or six times: picking the product from the shelf, placing it on the preliminary stowage stand, and loading it into a container, after which it is removed for scanning at the packing station. Each time the product may only be handled for a few seconds, but they all add up to a substantial amount of work time.
With an automated loading system, a product that has been picked and placed on the stand is automatically loaded into a container and its weight checked at the same time, this decreases the shipping lead time, thus increasing total efficiency.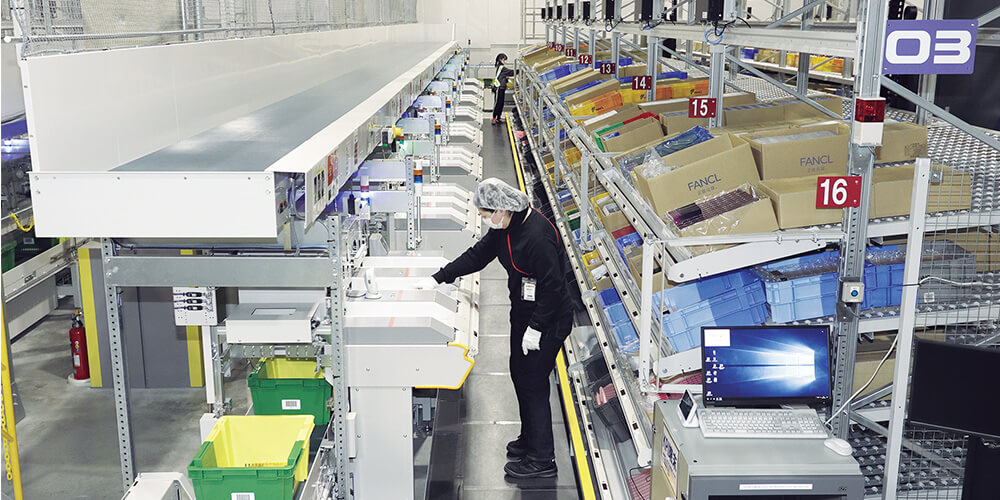 In addition, the installation of the Shuttle Rack M means that the product consolidation flow, from picking to packing, for directly managed stores can be carried out in a single location. I think this is a great system that both increases efficiency and decreases workload.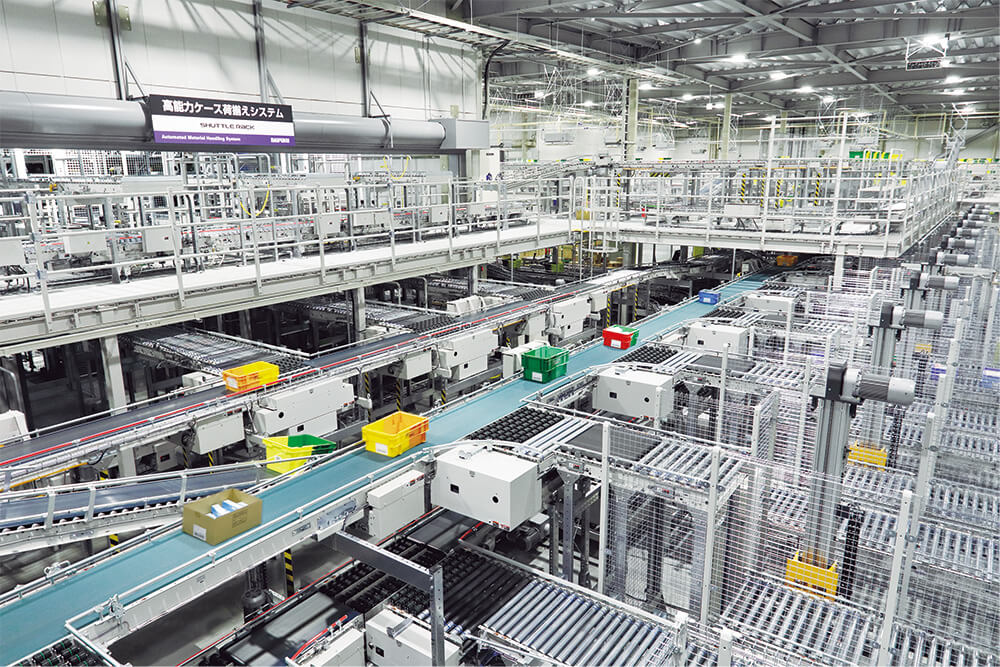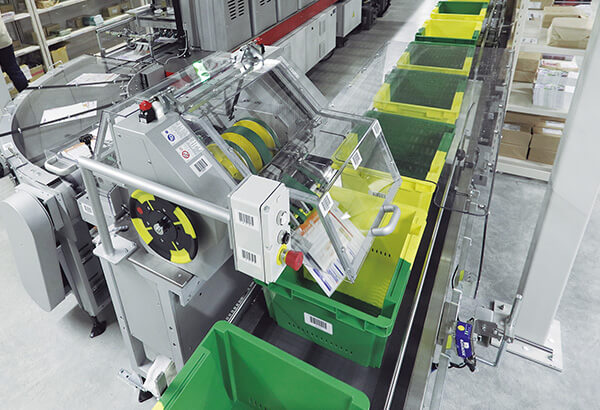 The automatic leaflet insertion system selects various documents such as purchase lists, invoices, and pamphlets from amongst 24 items and deposits them in the container
Is there anything you've realized or challenges you've noticed since the center began operations?
The biggest concern for distribution centers is fixed costs, a major one being payment for the land lease, so we want to make maximum use of the space available. The Kansai Logistics Center has a 7-meter-high ceiling, but the space at the top is barely used. That's a point I want to improve going forward.
Overall, I'm satisfied with the distribution capabilities of the Kansai Logistics Center. Even though the automatic leaflet insertion system is made by another company, you've integrated it skillfully and helped us raise the efficiency of our material handling. I wish the packing area could have been automated further but it wasn't possible given the time limitations and the question of cost effectiveness. Oh, and I'd like to boost storage efficiency.
With our corporate philosophy of "Can Achieve More,"
we want to create logistics that boost customer satisfaction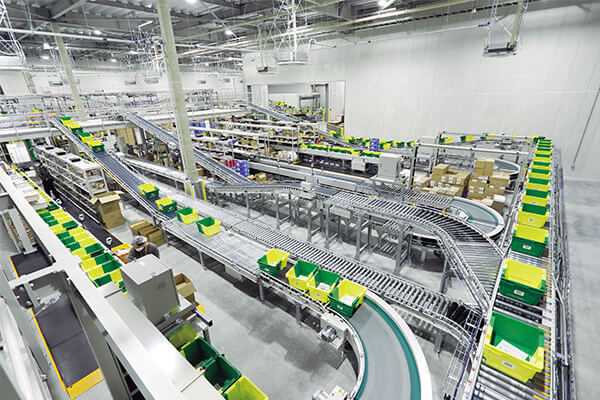 Next-day delivery to western Japan is now possible thanks to the operations of the Kansai Logistics Center
Please tell us about the results achieved through the operation of the Kansai Logistics Center.
We sought automation and a solution to labor shortages in the operation of the Kansai Logistics Center, and achieved greater operational efficiency compared to our Kanto Logistics Center. It has also augmented our shipping capabilities. Our daily shipping volume has increased 1.5-fold, from 34,000 items to 50,000 items. The shipping lead time has been minimized, and next-day deliveries to Kyushu, the Chugoku Region, and Shikoku are now a reality. By shortening the delivery distance to those areas, we anticipate a reduction in shipping costs of 200 million yen per year.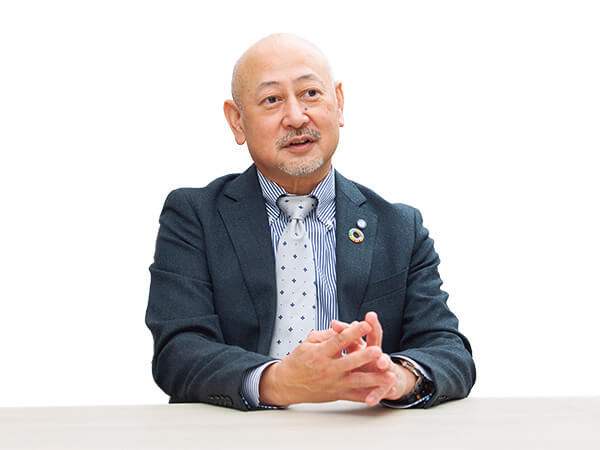 "The installation of material handling systems on a large scale has enabled us to strengthen our ability to deliver products swiftly and reliably. We are currently focusing on further expanding our sales, and are planning to build a new logistics center in the Kanto area. In accordance with our corporate philosophy of 'Can Achieve More,' we're aiming to make our logistics even more sophisticated and efficient so that we can boost customer satisfaction even further." (Mr. Nagasaka)
Junji Nagasaka
Senior Executive Officer & GM-Administration, Head of the Health Support Section
FANCL Corporation
Joined FANCL Corporation in 2005. Installation Project Leader at the Kanto Distribution Center where he has worked since August 2008. After working in positions such as manager of the Personnel Department Salary and Welfare Group, and general manager of the Personnel Department, was appointed executive officer and general manager of the Personnel Department in July 2015. Has been in his current position since June 2020.
*

The affiliation and job title are those at the time of the interview.
*

This article is based on the content of "Creative Flow" featured in DAIFUKU NEWS No. 234 (published in April 2022).