Daifuku breaks ground for a new manufacturing plant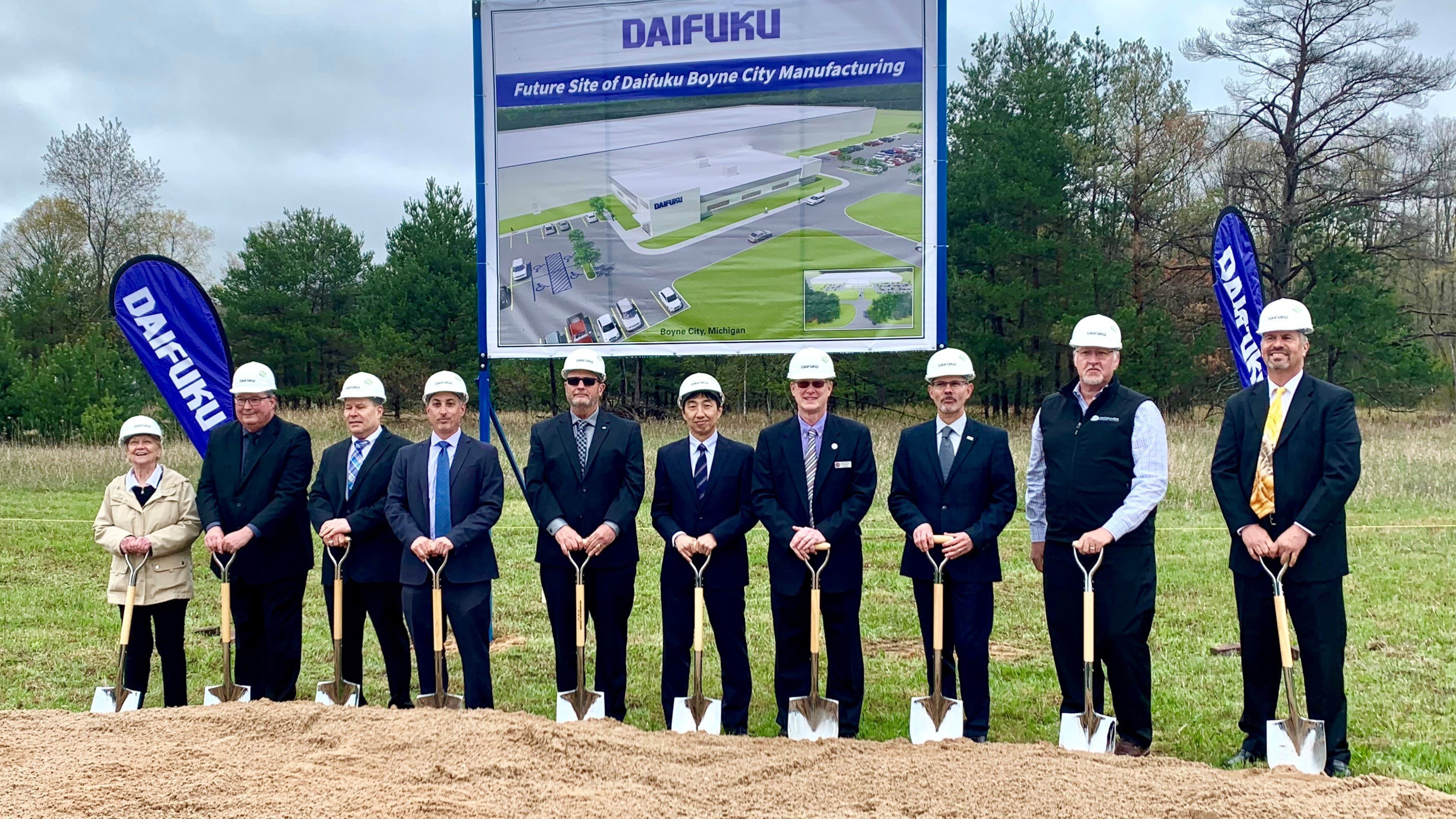 Novi, MI (May 3, 2021) - Daifuku North America Holding Company announces a Groundbreaking Ceremony, held on May 3, 2021, for their new manufacturing plant in Boyne City, Michigan.
Daifuku is investing $21 million to build a world-class 210,000 sq. ft. facility on a 22-acre piece of property at the Boyne Business Park. This new facility, which will be operated by Jervis B. Webb Company, a wholly-owned subsidiary of Daifuku North America, will combine the operations of the existing Harbor Springs, Pellston, and Boyne City plants under one roof. It will be the manufacturing hub for automatic guided vehicles and airport baggage handling products.
In attendance for the Groundbreaking Ceremony were key Daifuku executives, Boyne City's Manager, members of City Council and Boards, Boyne Valley's Township Supervisor, Northern Lakes Economic Alliance's President, as well as the designers, architects, and construction contractors for this project.
"For over 55 years, our business has been part of the Boyne City, Pellston, and Harbor Springs communities," said Tim Hund, President of Jervis B. Webb. "We are proud of this new endeavor and look forward to consolidating our skilled workforce in one location to expand our manufacturing capability and best serve our customer's needs."
Daifuku's state-of-the-art manufacturing plant is expected to open in the second quarter of 2022. Employees from the Harbor Springs, Pellston, and Boyne City plants can begin working at the new location, and additional people will be hired to fill open positions.
"We are very excited that Daifuku has continued to invest in this community," said Michael Cain, Boyne City Manager. "Our Boyne Business Park will serve as an excellent location that offers competitive business advantages while supporting the local economy."
Jervis B. Webb Company builds conveyor components for complex systems that support airports, automotive, and general industries. Some product lines include Mobile Inspection Tables, Conveyors, Vertical Sortation Units, Baggage Claim Carousels, and Automated Guided Vehicle Systems.
About Jervis B. Webb Company and Daifuku North America
Jervis B. Webb Company is a material handling manufacturer based in the United States and has been in business since 1919. The company was purchased by Daifuku in 2007 and is now a wholly-owned subsidiary of Daifuku North America Holding Company (Daifuku North America). Daifuku North America is wholly owned by Daifuku Co., Ltd., headquartered in Osaka, Japan. Operating since 1937, Daifuku Co., Ltd. has over 10,000 personnel worldwide and is the largest material handling company in the world in terms of sales. The business includes consulting, engineering, manufacturing, installation, after-sales services for logistics systems, baggage handling systems, and material handling equipment.