Daifuku Airport Solutions: Providing More Convenience and More Comfort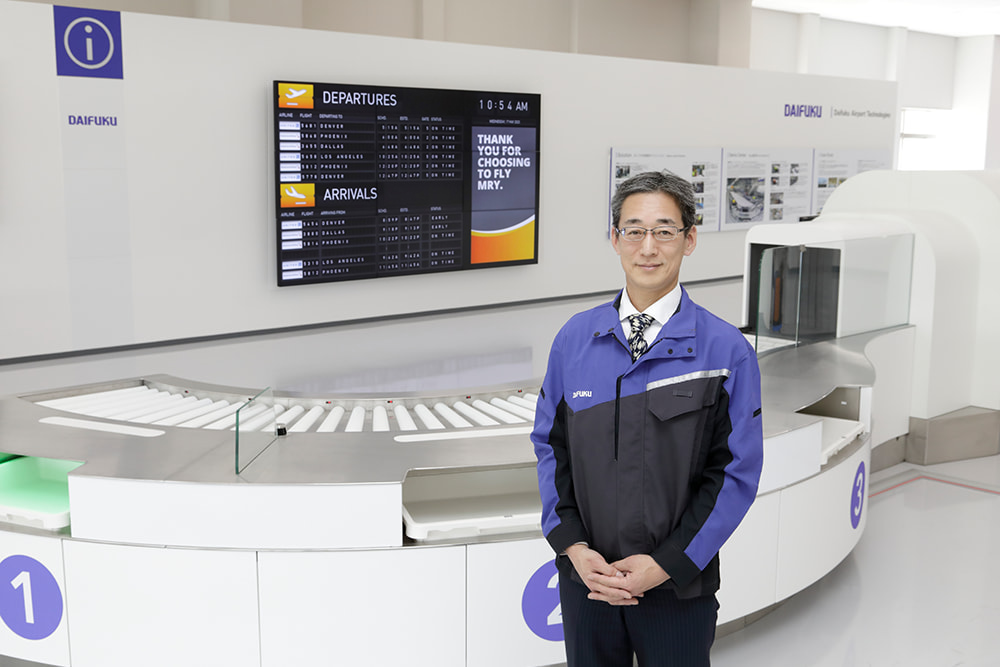 The Daifuku Group provides a wide range of solutions for airports. From enhancing security to improving the accuracy and efficiency of baggage handling and more, Daifuku solutions further the global transition to smart airports. Shingo Ebara, Manager of the control design group in Daifuku's airport division, explains about Daifuku's airport solutions.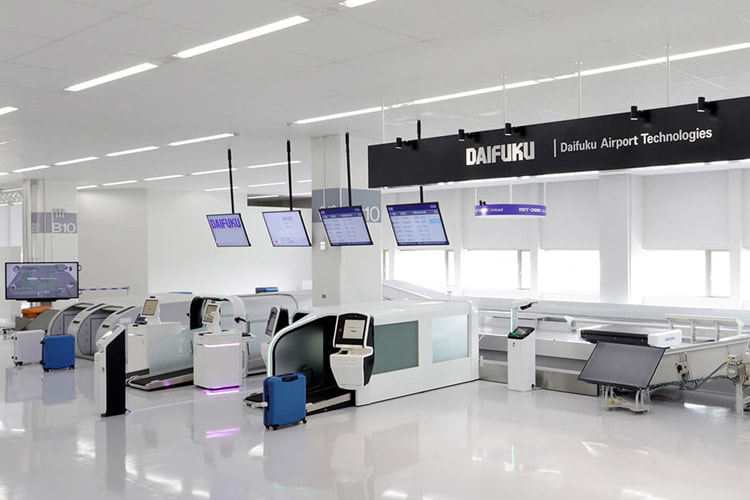 Starting in 2020, the airline industry found itself in a difficult situation due to COVID-19, but now in 2023, the demand for global travel is showing signs of recovery and former numbers are returning. Even further market revitalization is anticipated and demand for capital investment is strong, as airports move to renovate their existing facilities to increase baggage handling efficiency and security. In North America, many airports are renovating or constructing terminals, and further growth in the market is expected.
Airports are critical social infrastructure, and as such cannot stop functioning at the time of equipment replacement. Thus, they require service organization and equipment redundancy to ensure that operations continue even in the event of system trouble.
The following outlines what systems are attracting attention to ensure airports are a convenient and comfortable place for passengers and staff alike, and the solutions Daifuku provides.
Delivery record of MITs

Mobile Inspection Tables (MITs) provide greater ergonomics and efficiency for airport staff.
Number of installed SBDs

Our self bag drops (SBDs) have been delivered to airports around the world.
Transport speed

Our Baggage Tray System operates at world class speeds.
Improving airport flows
The systems in an airport can be broadly classified into those for the flow of people and those for the flow of baggage. Passengers drop off their baggage when checking-in, pass through a security checkpoint, and board their aircraft, and pick up their baggage at the airport of their destination.
Meanwhile, checked baggage is transported on its own route through the airport, loaded onto the same aircraft, and delivered to the destination for passengers to pick up.
Airports are increasingly transitioning to smart systems, and Daifuku is providing systems such as self bag drops, Smart Security Lanes, and baggage handling systems to aid in the transition.
Daifuku airport solutions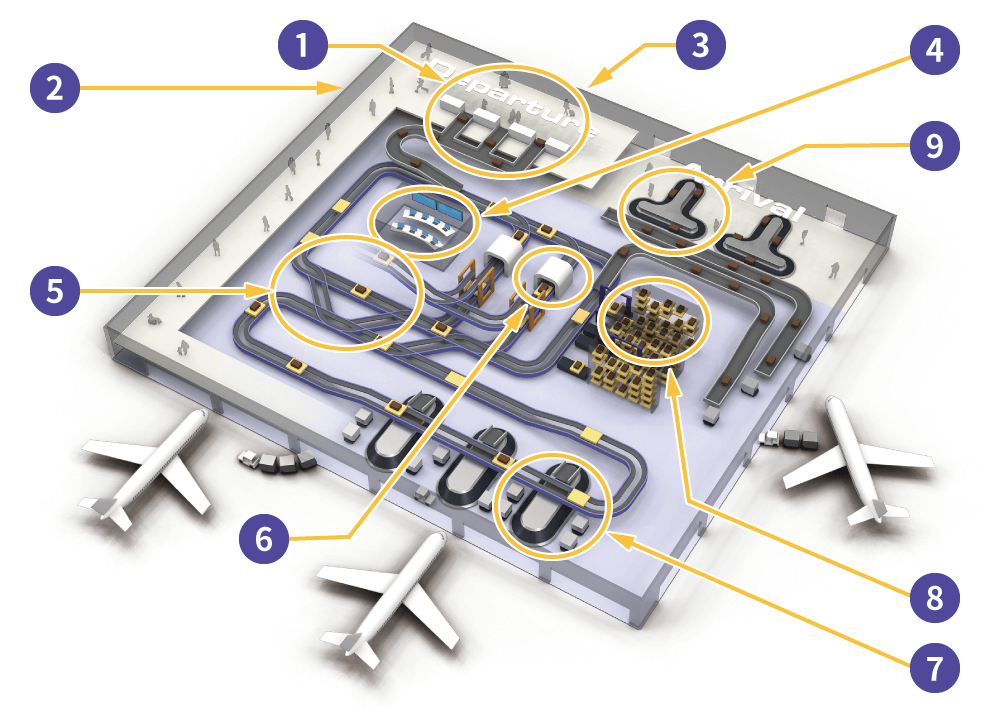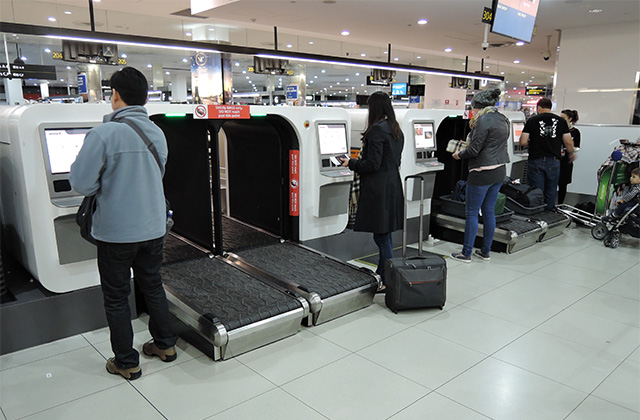 Self bag drops
Reduce the workload of staff by using automation to improve the efficiency of checking baggage.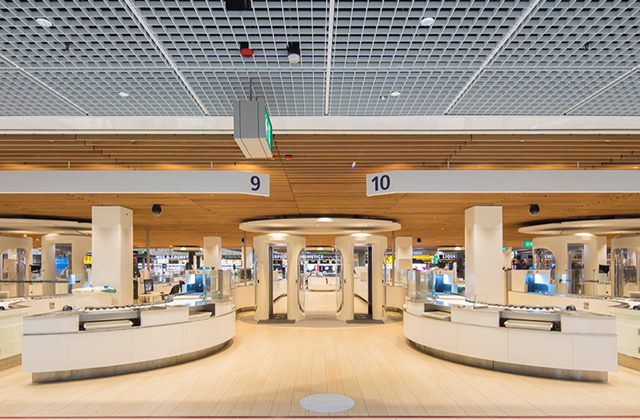 Screening systems at security checkpoints
Provide improved efficiency and enhanced security through carry-on baggage inspection.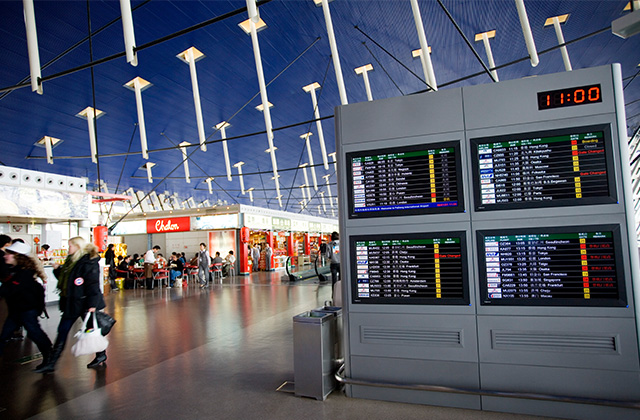 Airport operation system
Assist in displaying information throughout the airport, including flight information and flight status.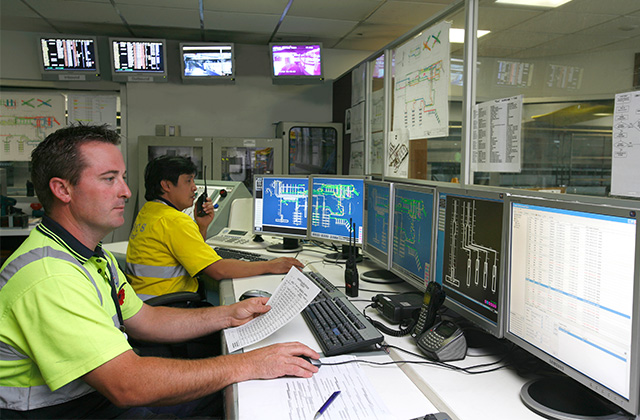 System monitoring
Improve the efficiency and accuracy of airport operations by monitoring the operational status of baggage handling systems.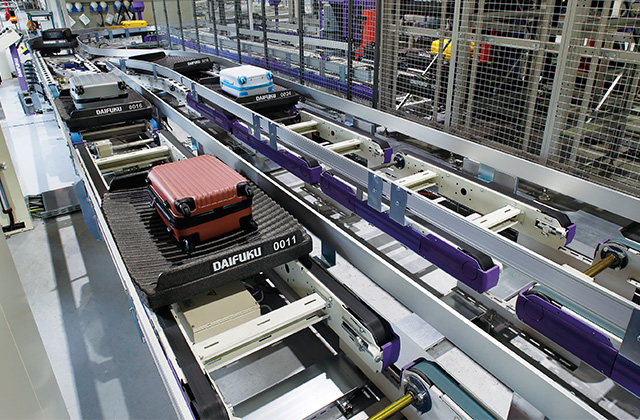 Baggage handling and sortation systems
We provide the optimal systems to meet the scale and needs of each airport, including belt conveyors, tilt tray sorters, and our high-speed and accurate Baggage Tray System.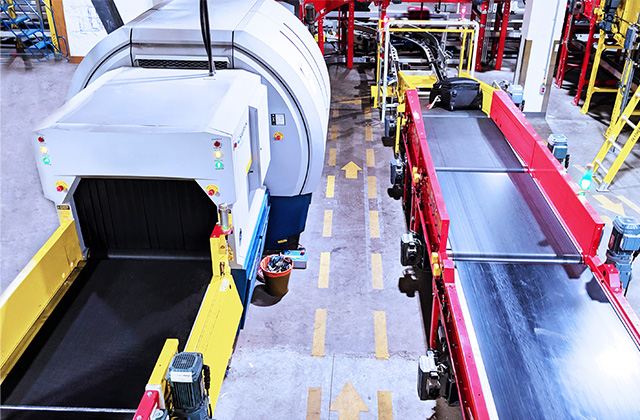 Security system
Explosive detection system to inspect checked baggage for anything suspicious.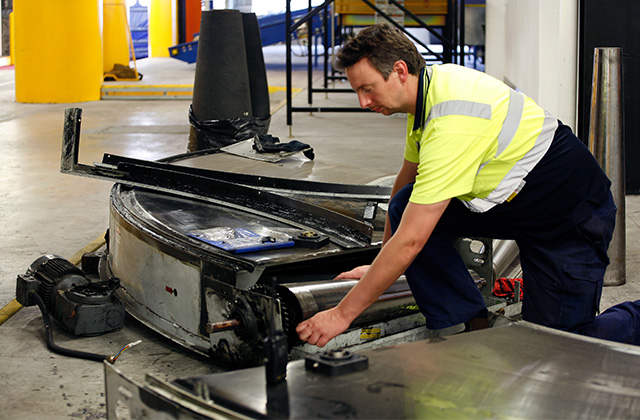 Operations and maintenance service
We provide stable equipment operation through our maintenance service of baggage handling systems, passenger boarding bridges, ground support equipment, and more.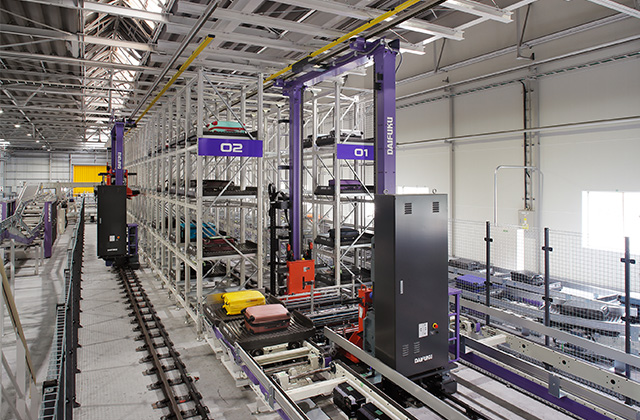 Early baggage storage system
Temporarily stores baggage that is checked in early or is for transit and retrieves it in accordance with flight times.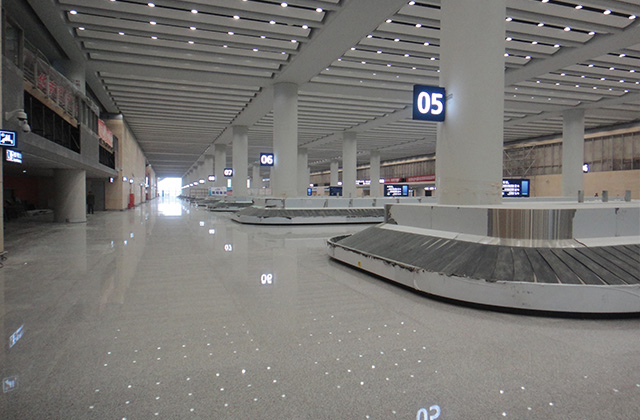 Baggage claim
Carousels that support baggage of all shapes and sizes allow for the smooth delivery of the large volume of checked baggage needing to be received by passengers.
At an airport, all baggage processing, from drop off to loading onto the aircraft, must be done within a limited amount of time. Current baggage handling systems need to have high processing capacity due to increasing airport sizes and growing passenger volumes. In addition, the baggage handling system must also provide alternative lanes so that processing capacity can be maintained even in the case of unforeseen circumstance. This inevitably leads to complicated path selection as the system, in addition to being long, will have many branching and merging lanes. Ensuring that baggage continues to be transported without any impact on the operation of aircraft is of upmost importance when designing a baggage handling solution.
Baggage comes in various shapes and sizes. There are not only rectangular suitcases but also non-standard shapes such as golf bags, baby carriages, umbrellas, backpacks, and souvenir bags, and they must all be safely and properly transported.
Self bag drops allow passengers to perform self-check-in and drop off their baggage. These systems are also capable of confirming the weight of the baggage.
Lane shape devised to alleviate congestion at security checkpoints
When passengers finish checking-in, they must pass through a security checkpoint before heading to their boarding gate. Although the screening method differs to some extent depending on the airport, passengers normally put their carry-on baggage in a tray, push the tray to a dedicated lane, and then pass through a body screening system empty-handed. Security checkpoints tend to always be congested with long waits for passengers. If a passenger is taking longer than expected to put their carry-on baggage in the tray or if the baggage needs to be screened again, the congestion worsens.
To solve this problem, Daifuku offers its Smart Security Lane. Although the basic mechanism of putting carry-on baggage in a tray and passing it through a scanner is the same, Daifuku has devised a curved lane shape that allows multiple people to simultaneously prepare for screening. In addition, RFID is used to automatically sort the baggage that passes through the scanner into a retrieval lane and an additional screening lane.
Ordinarily, the used baggage trays are collected by staff and carried to the security checkpoint entrance, but our Smart Security Lanes stack two tracks on top of the each other, with the upper one used for screening and the lower one used to automatically return the trays. Used trays are placed at a designated location at the end of the system which returns them to the start of the system along the lower track. Furthermore, the lower track is fitted with an ultraviolet germicidal lamp to clean each tray before it is used by the next passenger.
A Smart Security Lane screening carry-on baggage. The lane is not straight but uniquely curved to allow multiple passengers to prepare for screening at the same time.
Using real time monitoring to control complicated baggage flow
Before being placed on the conveyor for transport, a barcode sticker issued at check-in is commonly affixed to the checked baggage. Since this barcode contains both owner and flight information, automated barcode readers can be used to guide the baggage along the optimal route to the make-up area.
At an airport with only a few flights a day, the routes will be simple, while at a hub airport with hundreds of flights a day, they can be quite complex. Furthermore, baggage is not dropped off in departure order, some will be dropped off quite early and some dangerously close to departure time. The baggage handling system will assign each of these bags the appropriate route for sorting and transportation.
There is always the chance of something unexpected leading to congestion during baggage transport, including sudden increases in volume or an accident such as a golf bag or umbrella catching on something. Daifuku provides a real-time monitoring system to monitor and quickly report whether there is any place where baggage is being held up.
A security check must always be performed on checked baggage. The baggage passes through a scanner while still on the conveyor, and if there is an alert, screening is performed again. At many airports, the staff remove the baggage from the conveyor by hand to inspect it, but lifting and lowering baggage poses a significant physical burden on the staff.
Reducing burden on inspectors by employing autonomous baggage inspection tables
The Mobile Inspection Table (MIT) developed by Jervis B. Webb Company (hereinafter "Webb"), a Daifuku Group company, is a system utilizing an automated guided vehicle (AGV). The AGV has baggage placed on it and moves autonomously. If there is an alert, the baggage is automatically placed on the MIT and transported to an inspector, who checks the baggage while it remains on the AGV, so there is no work to lift and lower baggage, eliminated heavy strain. While construction work is not necessary to install MITs, the system requires space for the autonomous movement of multiple AGVs, so is recommended for cases where the necessary space can be easily secured, such as when building a new airport or adding a new terminal.
Webb's Mobile Inspection Table (MIT) utilizing an automated guided vehicle (AGV). If a security check triggers and alert, the AGV transports the baggage to an inspector and then delivers it back to the original lane when the inspection finishes.
Solving the various challenges of airport flow with Daifuku systems
After screening, the baggage is placed in a container to be loaded onto the aircraft. Baggage that was dropped off early is temporarily stored and then loaded at the specified time. Baggage ordinarily begins to be accepted two hours before departure, but Daifuku offers an early baggage storage system. This enables passengers to check their baggage even earlier, allowing them to shop and eat in the airport, and even enjoy some sightseeing.
In most airports at present, airport staff carry out the work of loading baggage into containers due to its varying shapes and sizes. Since transferring heavy baggage is hard work, Daifuku anticipates that automation needs in this area to be high. Advancing the automation of airports will surely make them a much more convenient and comfortable place.
The wide-ranging experience of the Daifuku Group allows us to provide total solutions tailored to the needs of each airport. We have Group companies in the Americas, Europe, Asia, and Oceania, each with their own unique technologies. We will continue to provide cutting-edge solutions by combining the technologies each of the companies excel at.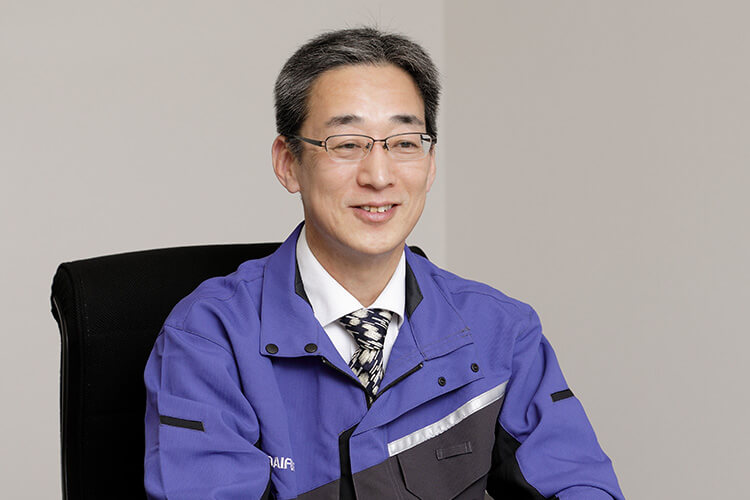 Shingo Ebara
Manager
Control Design Group, Airport Division
Daifuku Co., Ltd.